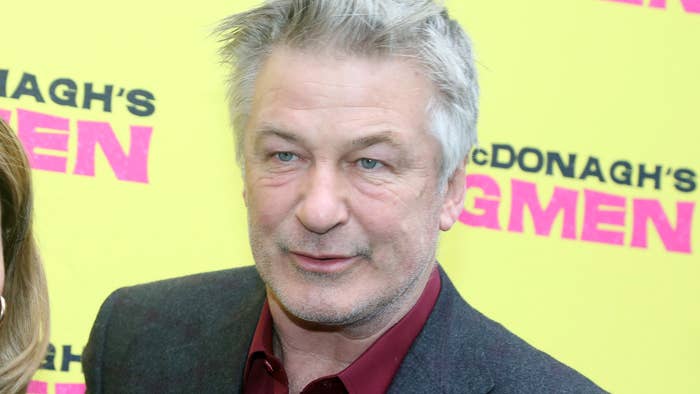 UPDATED 04/25, 9 p.m. ET:  More than a year after cinematographer Halyna Hutchins was fatally shot on the set of Rust, production of the Alec Baldwin-starring film is back underway.
The New York Times recently visited the Yellowstone Film Ranch, and reports real guns are no longer allowed on the set. Instead, the production staff will rely on "facsimiles of weapons, from rubber to replicas."
"I've said it, and I'm going to say it every single time: There are no weapons on set," first assistant director Gerard DiNardi told the crew. "There is nothing that fires. There are a lot of facsimiles of weapons, from rubber to replicas."
The film has enlisted a new armorer, Andrew Wert, who's implementing dummy rounds, which are made of rubber and painted gold. 
"There have been days leading up to today when I honestly didn't know how I was going to get out of bed in the morning. And the reason I could was all of you," Rust director Joel Souza told his crew. "I know [Halyna would] be anxious for us to get to work, so why don't we do that? We get to make a movie today. We might as well make it a good one."
See original story below.
Alec Baldwin held a gun the wrong way on the new set of Rust on Friday (April 21), a day after involuntary manslaughter charges were dropped against him relating to the fatal on-set shooting of cinematographer Halyna Hutchins.
Per The New York Post, footage from the set in Montana showed the actor wearing a gray shirt and pants in combination with a brown overcoat and matching boots while holding a rifle by its barrel in his right hand.
The moment comes after a prop gun fired a real bullet that killed Hutchins and struck the film's director, Joel Souza, in October 2021. Baldwin has maintained his innocence and claimed he didn't pull the trigger and pleaded not guilty to the involuntary manslaughter charges.
Hannah Gutierrez-Reed, the armorer on the original Rust set responsible for the safe use of weapons for a film, is still facing involuntary manslaughter charges of her own related to the fatal shooting.
Criminal charges against Alec Baldwin were dropped on Thursday, but prosecutors said they might refile pending an additional investigation.
The filming for Rust relocated to the Yellowstone Film Ranch in Montana's Paradise Valley from New Mexico, where Hutchins was killed in the shooting in October 2021.
David Halls, an assistant director for the Rust, received six months probation for not checking for live bullets in Baldwin's prop gun before it went off. He had pleaded no contest to a charge of petty misdemeanor negligent use of a deadly weapon and was ordered to take a firearms safety course, complete community service, and pay a $500 fine.
Baldwin is one of the very few original crew members to stay with the production. The production was temporarily suspended after the shooting incident. Filming was supposed to restart in January 2023, but Baldwin was hit with two charges. Production restarted the same day charges against Baldwin was dropped.