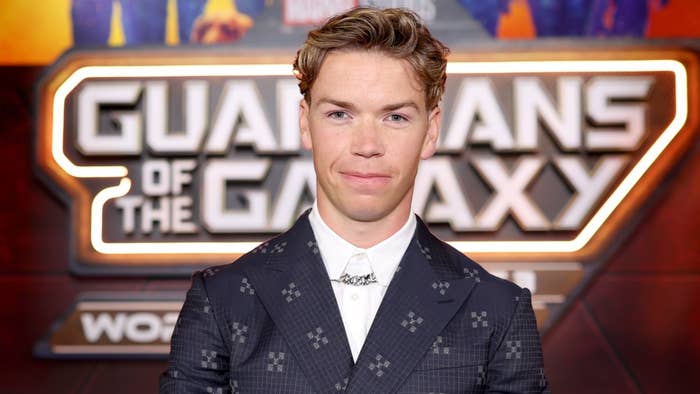 Will Poulter has opened up about how it felt when a fan mistook him for Sid, the animated bully from Pixar's Toy Story.
The Guardians Of The Galaxy Vol. 3 star was having a conversation with Light, Cameras, Barstool and said his weirdest fan interaction occurred while he was standing at a urinal, with a fan approaching him and asking the 30-year-old actor to list off a few of the films he's been in.
"Also I can't answer that without sounding like a real...asshole," Poulter said at the 70-minute mark. " So I didn't list any of the things I've been in I didn't wanna turn into Troy McClure and be like, 'You might remember me from such things,' like I didn't wanna do that, least of all in the bathroom. So I said, 'I don't know man I'm an actor I've done a few things. I'm sorry I don't know what you watched."
He continued, "Then he went, 'I know what it is, Toy Story.' And I was like how do I explain that that character is animated? That it came out in 1996? He was very sweet about it, but I think we was just a bit discombobulated and I was also urinating at the time so I was a bit discombobulated by the question. Anyway, we ended up taking a photo once hands had been washed and stuff."
Elsewhere in the interview, Poulter, who plays supervillain Adam Warlock in. new Marvel flick, said he was confused why people were having debates as to whether or not he was conventionally attractive.
"I am very comfortable and secure in the knowledge that I'm not conventionally attractive as I've always had remarks about looking unusual—whether it's my eyebrows or whatever else, people have made a thing of that," he said. "I think it just speaks to a wider issue, of: 'Why are we discussing or spending so much time discussing people's physical appearance?' Especially in the case of women. But whether you're male or female, why is that the focus so much? Unfortunately, social media has created this problematic idea that everyone's opinion on everything matters equally."
James Gunn's final film for Marvel opened with $114 million domestically last week, marking the second highest opening for the Guardians franchise. Guardians of the Galaxy Vol. 2 opened with $146.2 million in 2017, while the first movie in the franchise opened with $94.2 million domestically in 2014.