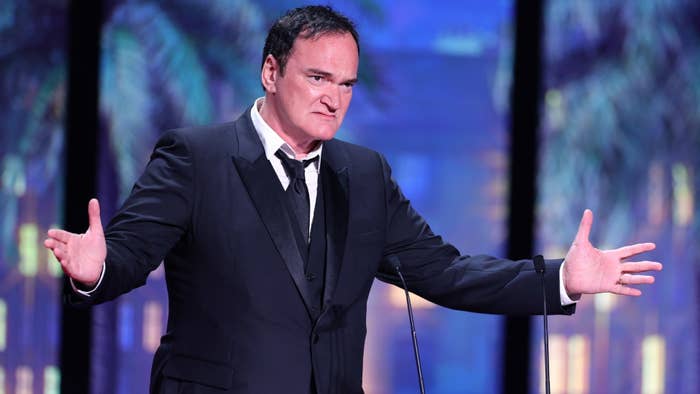 Quentin Tarantino has said he intentionally avoids killing anything in his movies that aren't human, saying it's a "bridge" he "can't cross," and that moviegoers aren't "paying to see real death."
In an hourlong conversation at the Cannes Film Festival, the Pulp Fiction director reflected back on his legacy and said despite the gory nature of his films he has to draw the line somewhere, and that animal killings could never be done in a way that isn't disturbingly realistic.
"I have a big thing about killing animals in movies. That's a bridge I can't cross," Tarantino said. "Insects too. Unless I'm paying to see some bizzarro documentary, I'm not paying to see real death. Part of the way that this all works is that it's all just make believe. That's why I can stand the violent scenes, cause we're all just fucking around."
He continued: "Some animal, some dog, some llama, some fly, some rat, doesn't give a fuck about your movie. I'd kill a million rats, but I don't necessarily want to kill one in a movie or see one killed in a movie, because I'm not paying to see real death."
People had a lot to say about Tarantino's claims, with a few fans pointing out Tarantino did in fact kill a horse in Django Unchained.
Elsewhere in the conversation, the director addressed some parts of his book "Cinema Speculation" and teased his 10th and final film, "The Movie Critic," which is expected to be set in late 1970s Hollywood with a woman protagonist.
Per The Hollywood Reporter, the film could potentially focus on the influential film critic Pauline Kael, though it's not confirmed.
"It is possible the story focuses on Pauline Kael, one of the most influential movie critics of all time," THR wrote. "Kael, who died in 2001, was not just a critic but also an essayist and novelist. She was known for her pugnacious fights with editors as well as filmmakers. In the late 1970s, Kael had a very brief tenure working as a consultant for Paramount, a position she accepted at the behest of actor Warren Beatty."
This of course isn't the first time Tarantino has teased his retirement. In December, 2019, Tarantino revealed that before he departs Kill Bill: Vol. 3 was "definitely in the cards."
"I do have an idea of what I would do with it," QT told Andy Cohen at the time. "That was the whole thing was conquering that concept of exactly what's happened to the Bride and what do I want to do because I wouldn't want to just come up with some cockamamie adventure. She doesn't deserve that. You know, the Bride has fought long and hard but now I actually have an idea that could be interesting. I wouldn't do it for a little bit. ... It would be, like, at least three years from now or something like that but—look—it is definitely in the cards."