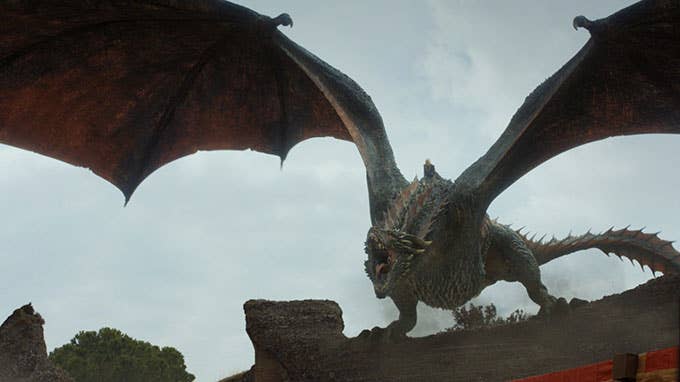 If you think it's torturous to wait for the final television season of Game of Thrones, imagine how desperate book readers are for the next book in George R.R. Martin's series, A Song of Ice and Fire. The first book in the series was released all the way back in 1996, and it has been over six years and counting since the last entry in the series was provided to the public.
Though the show has now passed the books, some fans are not content to wait for the George R.R. Martin version of the Game of Thrones story. Like Zach Thoutt, a full-stack software engineer who built a type of artificial intelligence in an effort to predict the events of the next book, titled The Winds of Winter.
Tired of waiting on Martin to get his act together and drop the heat the streets need, Thoutt built what's known as a recurrent neural network—RNN for short—in the hopes of predicting where Martin's series will head next. Since Game of Thrones the TV show has moved forward with only light guidance from Martin, book readers like Thoutt remain interested in how Martin will wrap up the renowned book series.
He admits his effort isn't perfect, however. "A perfect model would take everything that has happened in the books into account and not write about characters being alive when they died two books ago," Thoutt told Motherboard. "The model is striving to be a new book and to take everything into account, but it makes a lot of mistakes because the technology to train a perfect text generator that can remember complex plots over millions of words doesn't exist yet."
Warning: Game of Thrones spoilers will follow.
So what are the juiciest predictions made by Thoutt's machine? The very first sentence in the AI-produced book indicates Sansa Stark is actually a Baratheon, which would be quite the kick in the teeth for Thrones fans. Another character whose ancestry is a lie! Proposterous!
There are, however, some more realistic claims made by the machine. Aligning with a few of the series' most popular fan theories, the AI believes Jaime Lannister will be the one to kill Cersei Lannister, Jon Snow will eventually ride a dragon, and most shockingly, that Varys will poison Daenerys at some point. It probably wouldn't be safe to bet on the trifecta, but they all have a realistic shot at happening in both the books and the show, particularly with the way season 7 ended.
If you're not satisfied with those results, tough break kid. Either build your own recurrent neural network, or wait on the books like the rest of us poor saps out here.