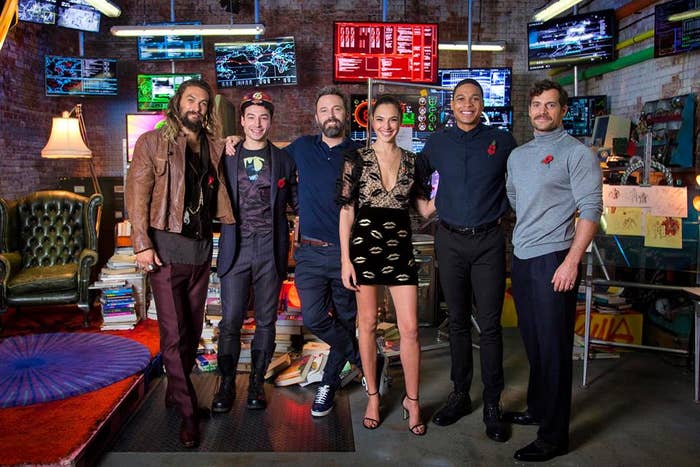 Hopefully the cast of Justice League keeps that same happy energy from the above photo when they wake up today to the news of their Rotten Tomatoes score, which is at a disappointing 43 percent. You won't see this on their website though, as they decided to reveal the rating via their See It/Skip It Facebook show (which The Hollywood Reporter reveals is only the third time they've done so).

You can't be surprised about this rating at all; last week, critics flooded Twitter with their initial takes, which were predominately in the middle of the road. Many praised the characters and FUN contained in Justice League while criticizing what they considered "weak" CGI, meh villain (which is a problem all over the superhero genre) and thin plot. And, if we're keeping it funky, this is par for the DC course. Sure, Wonder Woman is sitting at a stellar 92 percent rating, but Man of Steel is at 55 percent, while Suicide Squad is at an abysmal 27 percent.
What does any of this mean, though? For fans, not much. Whether the film is genuinely shitty (Suicide Squad) or solid (Wonder Woman), DC's going to murder the box office this weekend, and many weekends to come (hell, we'll see how many weekends it owns before the release of The Last Jedi in December). DC fans want to see these films no matter what the critics say, hence the 98 percent "want to see" rating on Rotten Tomatoes.
The question is, how many more Ls will DC take critically before something has to give?