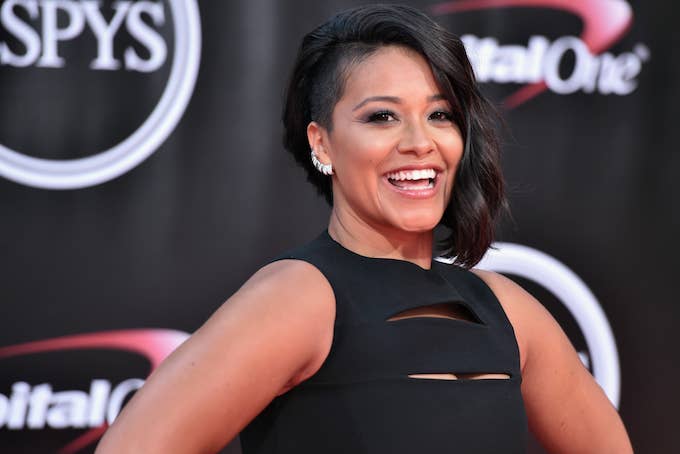 Talking with Gina Rodriguez is like getting a personal inspirational pep talk from Oprah. Even over the phone, the actress exudes warmth, grace and humility, despite the fact that's she on the cusp of becoming even more famous. The 31-year-old actress broke out in 2014 on The CW's delightful telenovela, Jane the Virgin, a show with an absurd premise (virgin gets accidentally inseminated, becomes pregnant, remains virgin) that has morphed into one of the most joyful, funny shows on television, and one that gives much-needed representation to Latina women. Rodriguez's star-making performance on the show (don't believe me, look at the awards she's racked up) is now rightfully catapulting her onto the silver screen. This fall, she'll star in Deepwater Horizon opposite Mark Wahlberg, and in 2017, she'll be in the hugely anticipated Annihilation, director Alex Garland's follow up to Ex Machina. 
Rodriguez is using her blossoming fame to make a platform to create change in the world. She's involved in charity work, and has co-founded a lingerie line that insists on body positivity while making sure to financially give back to women. Now, she's involved with Verizon's "Bienvenido a lo Mejor" campaign, which encourages Hispanic millenials to use their constantly "plugged in" lifestyles to culturally connect, by inviting them to engage with social influencers and celebrities like Rodriguez. 
I got the chance to speak with Rodriguez about the importance of media representation, using her personal platform for good and begging for Jane the Virgin spoilers. 
Growing up as a Latina woman, I never saw myself on TV at all. It's so great seeing Jane the Virgin move representation forward of Latina women on television. How do you want to continue helping that representation in TV and film move forward?
That's what drives me as an artist. Growing up like yourself and not being able to see that kind of positive representation on screen, it makes you feel a certain way about your culture and you don't even know why. Especially when you're surrounded by love and positivity and strength and hard work and persistence. You're like, why don't I ever see that reflected on my screen? There's a desire for us to be able to relate to media, having our culture represented, or women represented, in a positive, independent, fearless, uplifting way. To see that is imperative to somebody's psyche and molding who you are. So because not having that broke my heart, that's what I had to do in my art. When somebody tells me, "Oh, I don't know what to work for, what my motivation would be." Think about what breaks your heart. 
What you've been doing on your own social media, giving exposure to other actors and actresses of color with Movement Mondays, seems like such a natural extension of that.
One hundred percent, yeah. And you know my heart, which to be honest is probably the best compliment—because I can feel you feeling my heart. Because that's all I've put out there, that's all I've ever wanted to project. Movement Mondays had come out of the #OscarsSoWhite campaign, which I thought was so negative. The kind of world I want to live in is bringing positivity and solutions to every situation. So instead of sitting in the funk, I thought, well, regardless of who's nominated, I know plenty of amazing artists that are of ethnic backgrounds or culturally diverse or religiously diverse and they're doing phenomenal work in the world. So why not just bring that to people's attention instead of "Why don't they pick me?" It's being like, "Actually, let me show you where we are. You think we're here—I'll show you where we actually are." 
Have you heard from people you've showcased on there? Has it gotten them more exposure? 
It's crazy because when I first did it, I didn't think about what the positive repercussions could be. I only thought about how I wanted to bring positivity to the situation and my gratitude for all those that had done it. Now, the artists that I highlight, they get so excited, they get more followers and get exposed in such a beautiful light because I'm talking about their culture, their background and their projects, talking about what people can support. It's been a really cool blessing because I really enjoy highlighting someone every week now. I must keep to it because it does something for me. I learn about a new friend that I didn't even know about, their past. I learn about someone new and then they become my friend. It's very cool.
You recently featured actress Tessa Thompson, whom you just worked with in Alex Garland's Annihilation. Is there anything you can spill about the film?
Oh my God, Annihilation is freaking awesome. The script is incredible, Alex Garland is amazing, the women that I worked with are outstanding. I got to see a teaser right before I left London two weeks ago. It's so strong, it's such a beautiful film, and so different from anything I've ever done. I play a vastly different character from myself and Jane and Deepwater Horizon, but it is a really, really, really cool film and I can't wait for the world to see it. But Tessa Thompson is one of the loves of my life. And she has such a diverse background. I wanted the world to see that and to check her out because she's doing some wonderful things.
So, this season of Jane ended with that huge cliffhanger with Michael right after you guys finally get married. I'm beside myself! I'm sure you guys haven't even started filming yet, but…
I can't tell you anything! I don't know anything! 
You don't know anything at all?
I sadly don't know anything. I start shooting in two weeks, so if you want to try to get the scoop in like a month…but it's going to be damn good, I promise you that.