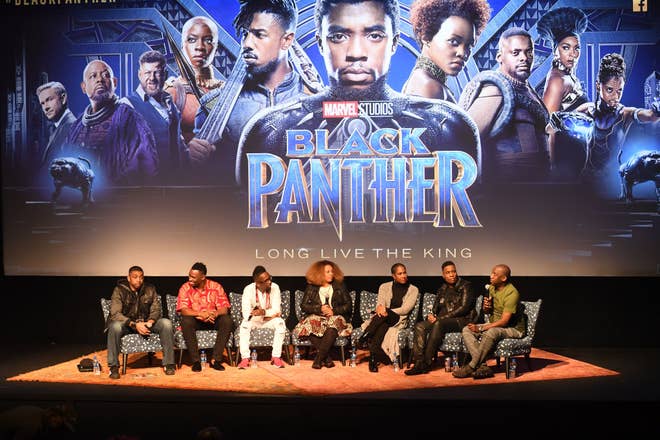 Black Panther is coming through the four-day weekend heading toward an astonishing projected $218 million debut, estimates show on Sunday, according to Variety. The Marvel-Disney film premiered at 4,020 locations in North America over the long President's Day weekend and raked in a record-breaking $192 million for the three-day weekend.
The film held an approximate $200 million production cost. The most original estimate from January 25 predicted the Ryan Coogler-directed smash to bring in $100 and $120 million. The latest number doubles the initial prediction.
The Thursday preview alone became the second-largest preview gross for a Marvel film and the largest Thursday night preview gross for a February opener, bringing in an incredible in $25.2 million. Adding to the long list of impressive milestones, Black Panther also killed the record for the largest President's Day weekend, beating out 2016's Deadpool, which reached the $152 million mark. The film, starring Chadwick Boseman, officially secured the fifth-biggest domestic opening of all time, the best of all superhero films besides Marvel's The Avengers, which brought in $207.4 million in its first three days (not including inflation).
"This is proof that the big screen experience may arguably be the most powerful platform of change in our society," comScore senior media analyst Paul Dergarabedian told Variety. "The emotional, communal, immersive, and bigger-than-life theatrical experience has an impact that virtually no other medium can match."
Black Panther also has the highest scoring for a superhero film on Rotten Tomatoes at 97% and holds the record for biggest opening for an African-American director. Along with Boseman, the movie features a star-studded cast including Lupita Nyong'o, Michael B. Jordan, Daniel Kaluuya, Letitia Wright, Winston Duke, Angela Bassett, Forest Whitaker, and Andy Serkis.