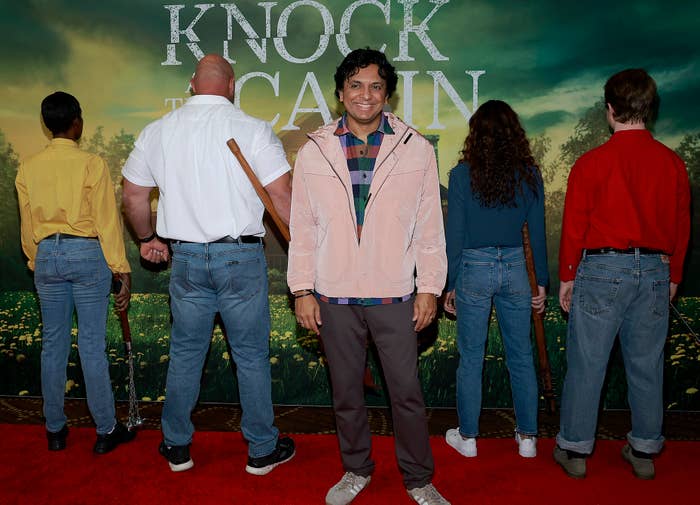 For the past three decades, M. Night Shyamalan has had a way of making audiences slowly inch their way to the edge of their seats. He's mastered the art of finding fear in the familiar and makes room for curiosity in the vastness of the unknown. 
Shyamalan is attempting to keep his crown as the king of suspense with his latest film, Knock at the Cabin, in theaters Friday, Feb. 3. His films are known for their unexpected twists and turns, and this one, based on the 2018 novel The Cabin at the End of the World by Paul G. Tremblay, is no different. The psychological thriller tells the story of a family, made up of a little girl and her two dads, who are vacationing in a remote cabin when four armed strangers hold them hostage and demand that they make an impossible decision in order to stop the world from coming to an end.
The film stars Dave Bautista as a soft-spoken second-grade teacher named Leonard who is the leader of the four strangers, and the role is a sharp departure from his usual action-centered roles in Guardians of the Galaxy and Army of the Dead. The film also stars Jonathan Groff, Ben Aldridge, Nikki Amuka-Bird Abby Quinn, and Harry Potter's Rupert Grint. 
Shyamalan has a long list of films like The Sixth Sense and Signs that have cemented him as one of the most renowned filmmakers of our time, and while his track record also includes films fans didn't like such as The Last Airbender, that doesn't stop him from trying to outdo himself. The director's style and attention to detail in his films are what separate him from the rest. He makes movies with the intention that fans won't want to look away from the big screen. So he believes streaming services would do a disservice to the kind of experience he wants his viewers to have. 
 "I believe in this art form of the movie theater. I don't believe the narrative that has been told. I knew [streaming services] weren't going to work. It's what it is, an elaborate home video," Shyamalan tells Complex. "There's no urgency, and there needs to be. You need to stop your day, you need to stop multitasking, you need to leave your home, do all these inconvenient things, and experience it together and have this collective experience together like these fans are going to have tonight." 
Universal Pictures held a special screening and Q&A for the film hosted by Pete Davidson (who replaced Kid Cudi last minute) this week in New York City, and Complex sat down with the famed director before the event to talk about his latest project. Fans were lined up outside of the door to get a seat and were thrilled to get a glimpse of Shyamalan, the way most people respond to movie stars. And in a way, he has become just as much a star of his films as the actors are. Shyamalan holds this kind of power by not diminishing his art. He has made it a point to not subscribe to the streaming services agenda, and might not do so any time soon. He believes in the communal experience of movie-going and hopes to continue giving fans that shared experience with Knock at the Cabin. 
Check out an exclusive video from the event above and read our full conversation with the director below where he talks about making movies specifically for theaters, his precise directing style, working with Dave Bautista and Rupert Grint, and whether or not he's able to choose a favorite from all of his films.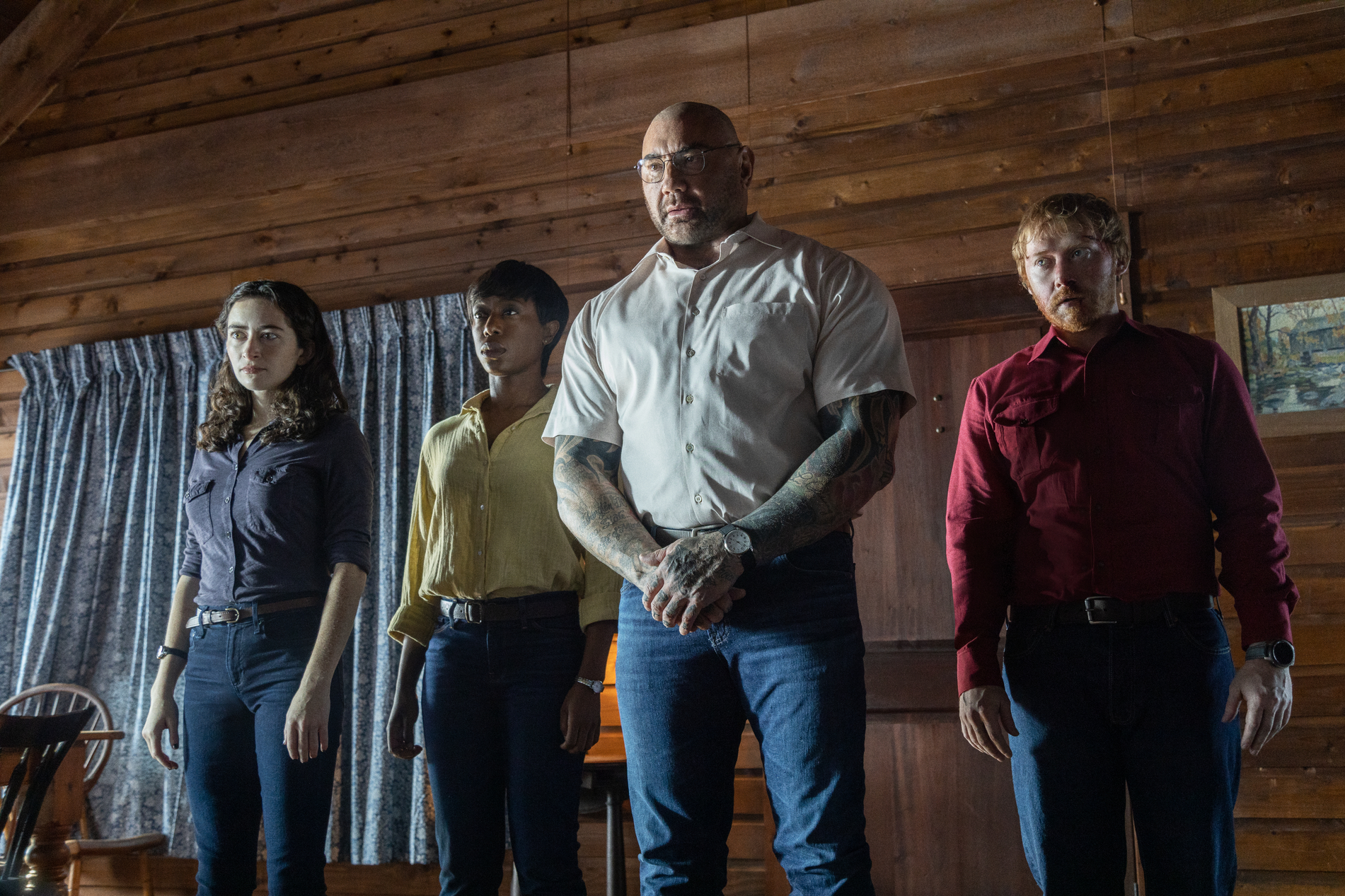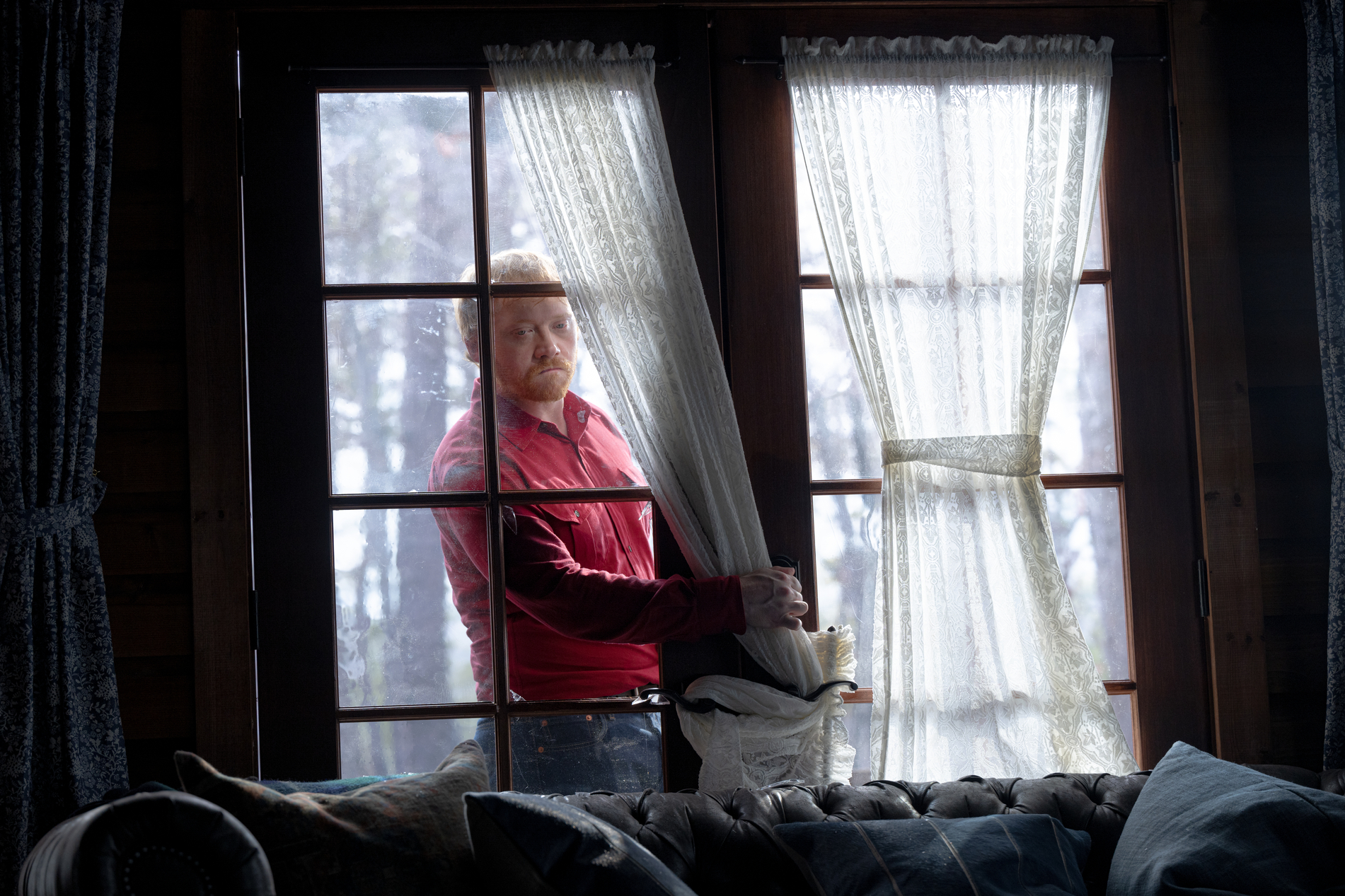 Rupert Grint said something really beautiful about working with you and how patient you are with your directing style while making a movie. Can you talk about your methods when it comes to bringing the actors along with this journey to bring these characters and the story to life? And, as you said, the minute details that make the film what it is.

There are all ways to direct. There's the leave it up to the actors, and then those directors are usually saying, "Run faster. Do this," or whatever. And then there are the super quiet ones who are just like, "Can you do this again?" And there's a kind of mind trick that goes on with that. I'm on the other far end of it.
I'm hyper-articulating every single thought and every single idea, and saying, "What you just did made me feel…" and "What was the intention?" and how that differs or is a beautiful way to go with the character and "Keep going down that thing." Conjuring just what to say to that human being playing that role is a code-switching craft that's intended to get him or her to that height.
Sometimes when I do say, "Let's do it again," after I've given a huge amount of notes over the last six takes and I go, "Let's just do it again." It isn't that—they know this intuitively—it doesn't mean I've run out of ideas. It's, "You are so close with the direction you're going and if you go one more step we're going to be there. But if I say, "Go one more step," then they'll push. So it's always a leading it. Even the way I say "action" is a cadence for them, whether they know that or not. I'm like an orchestra conductor telling them where I want them to go. 
Abby said that working with you was one of her lifelong goals in her career. You mentioned earlier that you are pretty much the star of this movie as well as the actors, and we don't get to see that a lot with directors. How does it feel to hear that the actors, even people that are super young, starting their careers, say you are someone that is on their vision board to work with?

It's crazy. These are the things that are being said to me everywhere. There was a person that interviewed me today that said it was on their vision board dream to interview me one day, and they spent the last 10 years working up to it. She was shaking as she was interviewing and I'm like, "You're doing an amazing job."
I don't even accept it as me at all. I accept it as a set of value systems that allows them to see cinema and inspire like art does, and it makes you inspired. So for me, it just doubles down on my need to be that careful about what I'm doing, and the decisions I'm making. So I'm not really a good person to be in a disposable art form.
For sure. Not the one for that job.

I'm not the one for that. You're wasting my time and their time, because they're going to look down and do their laundry and look up and not understand what happened. Because seven subtle things happen, and they will be like, "That movie made no sense."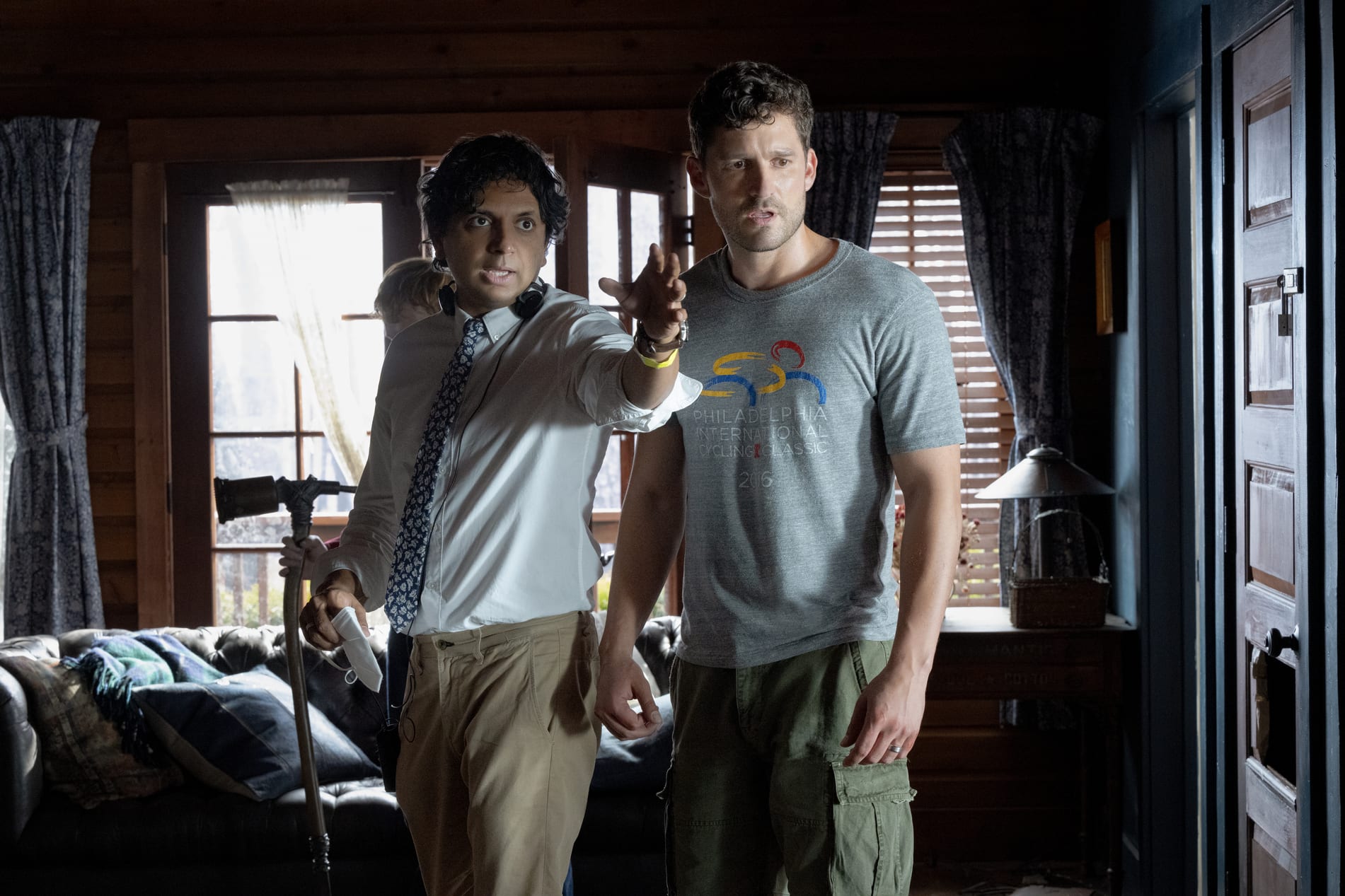 Your work is definitely not background content. Dave Bautista has also talked about you giving him this opportunity to take on a new type of role. Same with Rupert. He has his Harry Potter past and you also work with him on Servant. How was it for you to work with these actors and then try to showcase a different side to what we know from them?

It's amazing. It's what gives me joy. Again, you come to Knock at the Cabin and you should be surprised by many things, and one of them is the performance is from the individuals that you may know in a different way as a child actor or as a wrestler or something like that. Now you're seeing an angry, pained adult grappling with stuff. And then you're seeing a delicate man talking with nuance and philosophy. It is what you coming to the movie theater should be, you can't see it anywhere else. You've never seen anything less. You want to go see Rupert like that? You can't. You want to see David like that? You can't. You got to come to Knock at the Cabin. Make it so there is only one place to catch any of this. And I tell them, if we did it correctly, you can never duplicate it. It can't be done again.
We're doing a ranking of all your movies. Are you able to choose your favorite?

No. No. Not like that. They have such wildly different impacts. From the fans and how they've impacted their lives, I've had people that have gotten married to the dialogue in The Village or tattoos obviously from so many of the movies. One lady had all the Lady in Water characters on her legs, and the other had all the symbols from Lady In the Water. Lady in the Water gets a lot of religious love from fans. But Signs, there was a guy who took off his shirt in the street and he had the crop circle on his back. Obviously, the Unbreakable trilogy, the quotes from it, "The broken are the more evolved," I see. And so it affects people deeply not just as entertainment, which is so amazing. It's just amazing.