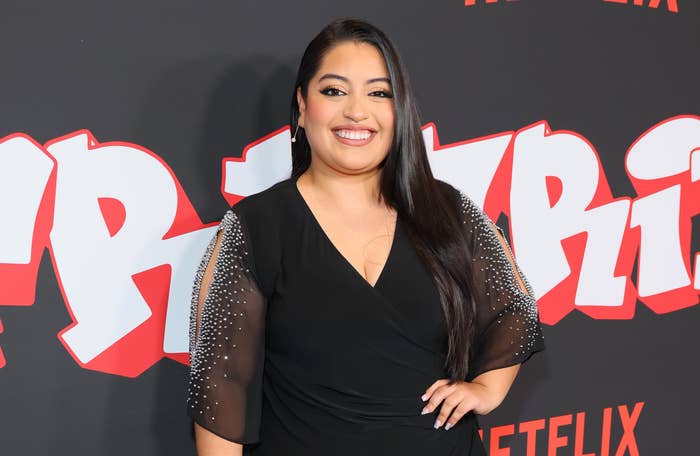 After getting calls to work with comedy greats like Larry David and Quinta Brunson, it was only a matter of time before Netflix came knocking on Keyla Monterroso Mejia's door. 
While David represents the comedic legends of Hollywood and Brunson represents the now, Mejia is the future. After a scene-stealing breakout role in Season 11 of Curb Your Enthusiasm as aspiring actress Maria Sofia Estrada, Mejia also made an appearance on Brunson's Abbott Elementary Season 2 as a teacher's aide named Ashley Garcia. Both of the roles were larger-than-life characters who lean so much into physical, over-the-top comedy that is both overwhelming yet incredibly entertaining—all while effortlessly matching the seasoned talent around her on both hit shows. 
Mejia, who is first generation-American of Guatemalan and Mexican descent, is a star, even if she doesn't realize it yet. When speaking to her ahead of the release of her new Netflix teen-comedy Freeridge, Mejia seems humbled and surprised about her sudden burst of success and is filled with gratitude about the way comedy has become a vessel for her to achieve her dreams of being an actress. Being funny wasn't something she thought she could be at first, but by chance, she auditioned for a role in The 90 Day Plan before realizing that it required "good comedic timing." Mejia might not have auditioned if she saw the clause ahead of time, but she ended up landing the part and it unleashed a whole new side of her talent that has become the launching pad for her career. 
"If somebody had told me, 'Write down your dream career,' it wouldn't even have crossed my mind. I would've never written down Curb or Abbott or even Freeridge," Mejia tells Complex. "Truthfully, it's just so much more than I thought was possible for myself. These opportunities are so much more than what I ever thought I would be able to do." 
Freeridge is a spin-off of Netflix's On My Block, which was a show about four friends from South Central Los Angeles. The series ran for four seasons and it was lauded for its diverse cast. Mejia appeared in one episode of the show and says its stars like Jessica Marie Garcia showed her that there was a space for people who looked like her on TV. Mejia plays the lead Gloria on Freeridge. She is the firstborn daughter who assumes the responsibility of taking care of her little sister Ines (Bryana Salaz), their dad, and their home after their mother passes away. Unlike her previous zany characters, Mejia got to navigate more emotional depth and feelings with Gloria as she deals with love, taking care of her family, and navigating her complicated life and friendships. 
Freeridge is, of course, still a comedy, but it also makes clear that Mejia can play more than just a funny side character—it is proof that she can be the lead on any show. Complex caught up with Mejia to chat about Freeridge, which is now streaming on Netflix, and all about her journey, representing Latinas and why she is trusting the universe to guide her career this year.