 At the Gaylord Springs Golf Links in Nashville, Tennessee, the comedian Katt Williams is three hours late to his 10 a.m. tee time. Not that anyone should mind. It's Friday afternoon. The sky is clear. The green is calm. Even the comedian Mark Curry, the earliest riser among us, is just now renting his clubs for the day. We're all off to a sleepy start. Until a young woman named Lena Smith—Katt Williams' longtime stylist—blasts into the apparel shop and starts causing happy commotion. She's snatching golf shoes from the walls and jackets from the racks. Price tags fly. The cashier smiles. Lena Smith warns our photographer: "You never seen black people on a golf course before."
In Nashville, Williams is on the tenth stop of a hundred-city tour for his latest stand-up comedy special, Conspiracy Theory. On stage, and here at Gaylord Springs, Williams comes accompanied by several friends and peers, including the comedians Red Grant, Ashima Franklin, and Curry, who, tonight, will open for Williams' headline set.
Williams, 44, says golf is his timeless, standard excuse to assemble his closest confidants. "Golf is a game with morals," he says. "There's always an opportunity to be a scoundrel. That's why it's a gentleman's game."
How congenial for a man whose stage presence is so famously yappy and bellicose. In person, it comes as some surprise that Williams can speak so low and seem so shy. He talks, just not so much about himself, and rather about nature, birds, women, brotherhood, competition, and the score.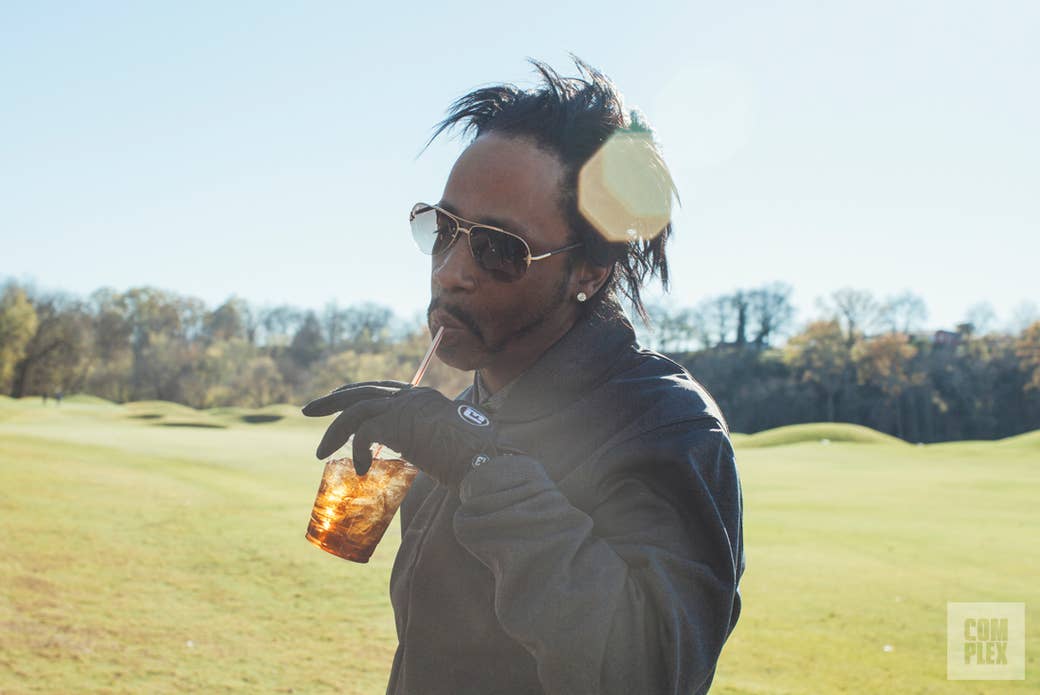 The score has not always been kind.
Katt Williams' debut stand-up comedy special, Live, released in 2006, opens with black, silent acknowledgement of a young man's death. "On April, 7, 2001," the white text reads, "a Cincinnati police officer shot and killed an unarmed 19 year old African American in the Over-the Rhine District. Cincinnati's history created a volatile atmosphere, and Timothy Thomas' death set off three days of civil unrest."
Following Thomas' death, the local Black United Front declared an indefinite boycott of the city's live entertainment venues. Three years later, with the boycott still on, Williams had scheduled a September 2004 performance in Cincinnati, his hometown. In a radio interview that he later incorporated as footage in Live, Williams defended his tour date, and his profession, as civic obligation. "I go where people are hurting," Williams said. "I stand on the stage, and I make people laugh for an hour and a half."
Such empathy resounds in one of Williams' more famous bits—from his 2009 stand-up comedy special, It's Pimpin' Pimpin'—about a famous, fatal tiger rampage at the San Francisco zoo. In his bit about the attack, Williams adopts the tiger Tatiana's perspective, getting down on his belly, and crawling through the motions of assertion, self-doubt, and then rebellion. "Some of us know how the fuck that feels," Williams shouts. "That's how the goddamn tiger feels!"
On stage, Katt Williams thrashes rather dangerously himself. He sprints and sprains. He strangles his stools. He throws himself at the ground and then pops right back up, again and again. He stomps his microphones to pulp. He is, in the blackest, Baptist sense, a pastor: sweaty, hoarse, and exhaustively metaphorical in delivering his prosperity gospel. In his stand-up, Williams rants against "bitch niggas" and implores you to "fix your motherfucking life!"
The comedian Luenell, born in rural Arkansas, met Williams in 2000 when the two young comics were working black comedy venues and shopping at swap meets in Oakland. Luenell describes Williams as "a news genius" and credits him with a unique, confrontational mix of political insight and streetwise candor. "He was always laying people out," Luenell recalls. "He was always the funniest little fool in the world."
"if i had ever even tried
cocaine, i wouldn't have made it. it's already difficult enough for me sober."
—katt williams
In his breakout year, 2006, Williams released two stand-up comedy specials within a month of each other. There was Live, filmed in Cincinnati, and then The Pimp Chronicles Pt. 1, filmed at a tour date in Atlanta. HBO produced the latter special, in which Williams, wearing the greenest suit you ever saw, debuts as the vulgar deacon of Dipset; a loudmouth, Macho Man Randy Savage-ass leprechaun in a pimp's gleaming regalia. "Before he made Friday After Next" in 2002, Luenell recalls, "Katt didn't even have any front teeth. He got them after making that movie. After that Money Mike persona took off."
For a while, about ten years ago—following Dave Chappelle's great escape from his own fame—America's three biggest, black comedians were Katt Williams, Jamie Foxx, and Monique, who all parlayed their stand-up comedy success into ubiquitous Hollywood casting. In a single year, Williams appeared in Norbit, Epic Movie, The Perfect Holiday, and Larry the Cable Guy's Christmas Spectacular, all while co-starring in the first (and only) season of MTV's sketch comedy series, Short Circuitz, hosted by Nick Cannon. That's the blackest possible filmography. That was 2007.
In short, unfortunate order, Williams succumbed to what many spectators assumed was some volatile mix of narcotics and hubris. In 2009, Williams sparked a bizarre, prolonged feud with Steve Harvey, thus embroiling several other comedians, most notably Jamie Foxx, who, in a radio interview, said, "Katt Williams hasn't written a new joke in two years."
At this point in his career, Williams had launched himself into an unfortunate trend of disappointing his live audiences. He'd go on long, indecipherable rants. Unprovoked, he'd challenge front-row ticketholders to fights. One time, in Oakland, Suge Knight had to drag Williams away from the mic, dispatching the rapper Too $hort to apologize on the comedian's behalf for having disparaged the city to its face. "This is what happens when a nigga purchases his dope from Oakland," Too $hort announced, attributing Williams' loud malfunction to "the potency of this Bay Area cocaine."
Shit gets worse, and the headlines get weirder. "Katt Williams led police on a crazy chase through the streets of Sacramento on Sunday -- even driving on the wrong side of the road -- all while riding on a bizarre 3-wheeled motorcycle," TMZ reported in November 2012. That sensational news copy aside, what's really incredible is that Williams did successfully evade police capture until 14 days later, when a patrol officer flagged Williams for speeding—through Yolo County, California.
In reviewing the spectacular deterioration of a comedian's good standing and apparent success, the easy conjecture is that Katt Williams was high out of his goddamn mind. Williams hints at these rumors, only to shrug them off. "If I had ever even tried cocaine," he says, "I wouldn't have made it to this level. I'm not built that way. I can't take those types of sidetracks in life. It's already difficult enough for me sober."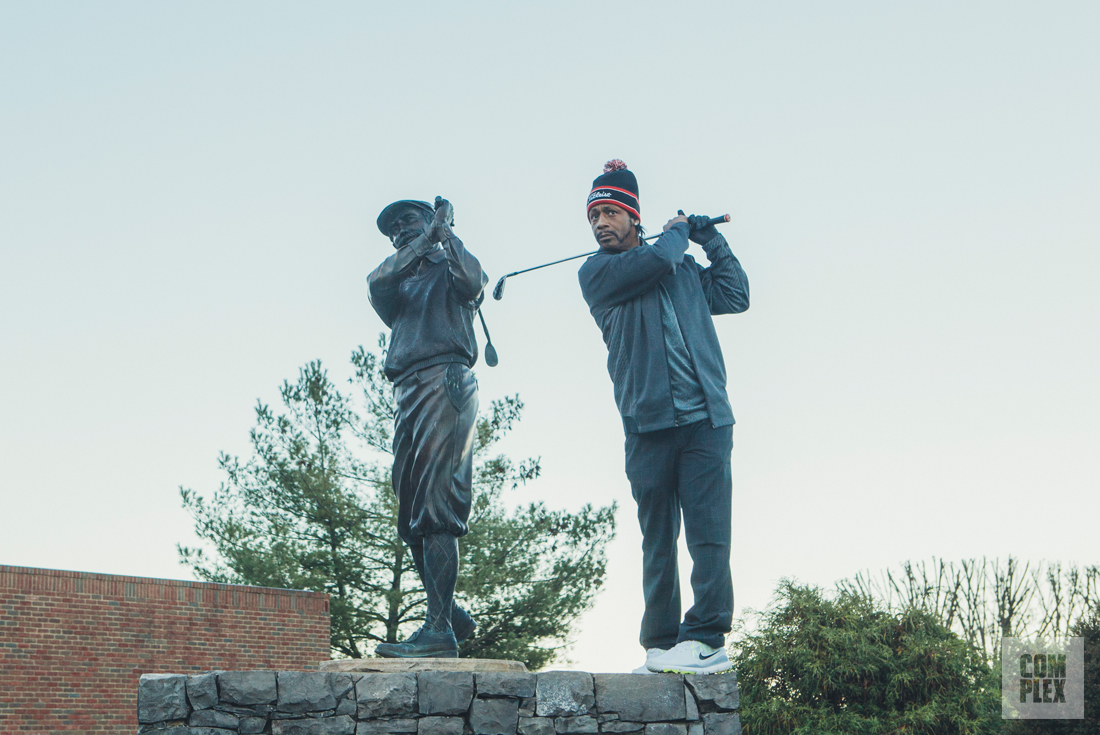 In The Pimp Chronicles Part 1, there's a bit where Williams chronicles his shock at the early stages of fame. He recoiled upon meeting DMX. He jokes that L.A. studio executives would sniff coke in business meetings. Williams was naive. "I was doing meetings with BET, I was doing negotiations with MTV, but I was so green in the business that he didn't realize both of those places are owned by Viacom," he smirks. "I know that you can make all of those powerful moves and still end up powerless."
With vengeance thick in his voice, Williams talks at some redundant length about originality. "I finally crafted a set nobody would steal," he smirks. "I am talking about terrible, awful things for an hour, and we do nothing but laugh. It's hilarious."
At hole six, Williams announces a $500 bet on the 535-yard par five. The wager invigorates our flagging crew, including Curry, who is too comically tall for the rather standard length clubs that he's rented. At one point, Curry throws his club and falls to his knees. Williams meanwhile lights a Newport, lays down on the grass, spreads himself into angelic form on his back, and exhales. As Williams recharges unto himself, the four other golfers trade quips and happy insults.
Troy hit that like he needs five-hundred dollars right now!
Most people need a whole spinal cord to hit like that!
I don't worry about other people's balls.
Williams stands and surveys the green. "Wherever they think you're likely to hit it, that's where they put the trap," he tells me. "If we could've seen all this from back where we started, we'd have played it differently."
It's getting chilly and dark. "I'm going to take this next hole pretty darn seriously," Williams says.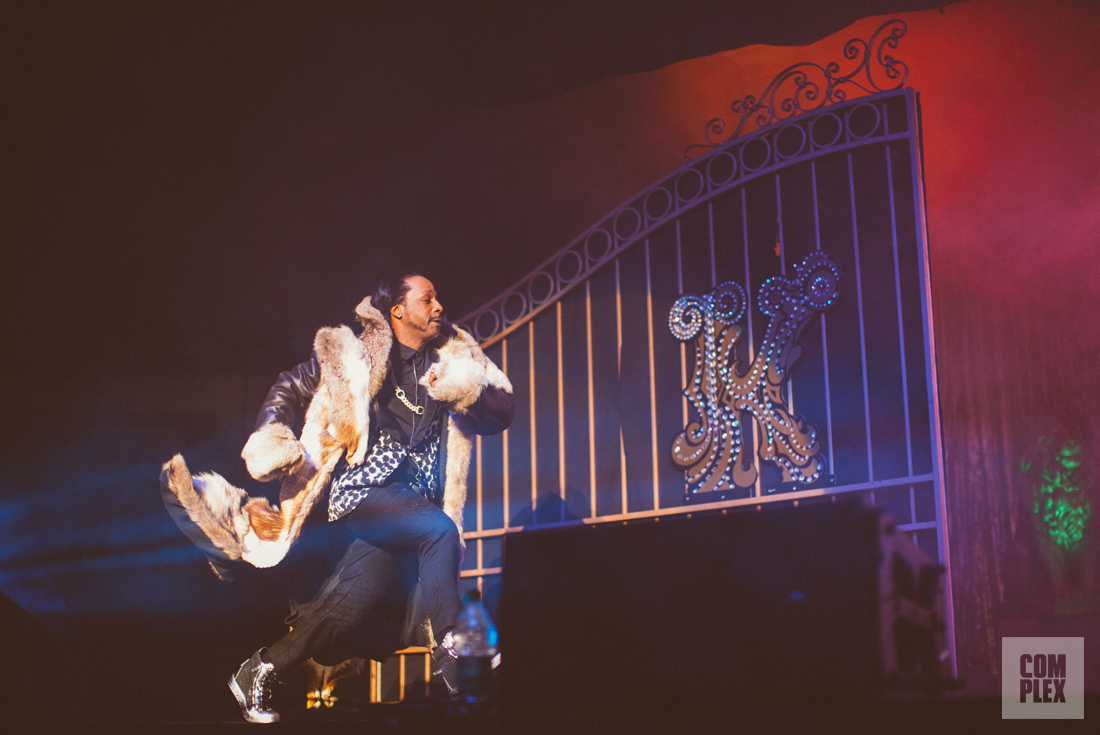 While we were goofing off at Gaylord Springs, terrorists took hostages, set off bombs, and killed more than a hundred civilians in Paris. It's all over the news. It's on all of our minds. 
It's showtime. At the Nashville Municipal Auditorium, Katt Williams rushes the stage. "Ladies," he announces, "if you like my perm, it'll be leaving in nine minutes!"
His one-hour set is a murder board, in which the chairman Katt Williams eviscerates a docket of "little dick motherfuckers." This docket includes Dylann Roof, the NYPD, Bill Cosby, Jared Fogle, and, most disagreeably, "Bruce Jenner." As the mass-casualty siege unfolds in France, Williams amends his docket to include the yet-unspecified terrorists who've executed these attacks. "Same little dick motherfuckers fucking up Paris, [are] fucking up the world!"
At their peak, some black comedians—Steve Harvey and Kevin Hart, for instance—belong to black culture while simultaneously belonging to Hollywood, which repackages these comedians for shipment to a general audience via, say, Family Feud. Whereas Katt Williams belongs to black people exclusively. We might bristle at his politics or object to any number of his jokes, but American blacks can generally appreciate what, and whom, Katt Williams represents among us. The reactionary pastor. The brash uncle who, at Thanksgiving, offers a thrilling mix of astute and obscene analysis of world events.
If Williams indeed belonged to a broader, mainstream audience, many of the jokes that he's told here tonight would inspire some alarming headlines. He'd be hounded with the following questions:
Why make light of Caitlyn Jenner's transition?
"I can discuss Bruce Jenner and Caitlyn Jenner without being offensive to someone who might have made a difficult decision in their life," Williams tells me. "That's not what I'm discussing."
Why mention Paris at all?
"That is the job of a comedian," he answers. "To take unpleasant subject matter and forcibly, with his hands, wring the funny out of it."
"If you didn't laugh at Jared Fogle, then you would cry."
When a comedian volleys hard enough, we laugh and cry simultaneously. Tonight, Williams is relentless and invulnerable, kicking and dragging his stool, stomping laps around the stage. Twenty minutes into his set, as promised, Williams' perm has melted into slick, black sickles that appear to be glued across his forehead. He's lost so much sweat that he's, effectively, walking on water.
"if you didn't laugh at jared fogle, then you would cry."
—katt williams
Backstage, Mark Curry is sipping on something as he and the entourage are glued to breaking news coverage of the Paris attacks. The flat screen TV that we're all watching is mounted over a tray of black eyed peas, just a handful, soaking in gray water. A few, unfamiliar guests are speculating the makes and caliber of guns that these terrorists might've used to exact such violence. We shudder. It's nearly midnight when Curry, Smith, and the rest of the crew—everyone except for Williams—peel their eyes from the backstage TV and retire to the tour bus. Curry manhandles a liter of Belvedere vodka and then slips to the back cabin, calling it a night.
When Williams does finally board the bus, he's electrified and visibly anxious, with eyes blown wider than moons. Something's gone wrong, and he's massively irritated due to his team's miscommunication with a local radio station that invited 70 fans to a post-show meet-and-greet with Katt Williams to which Katt Williams didn't agree. As Smith emerges from the back cabin and talks her client down to a calmer volume, I recall Williams' vow of sobriety back at the golf course. "Drugs may get you as high and hyper as you think I am, but don't worry—you won't be able to keep that up," he insisted. "You're going to have to go back and recharge. And I don't. So it's going to be rough for you, keeping up with this energy, because it's not manufactured. It's just a dude going on stage and giving an audience everything he has."
And here we have Katt Williams, spent, his crowd reluctantly dispersing. It's midnight, so we best be heading out as well. For the benefit of our last few photographs, Lena Smith tugs a monstrous fur from the closet and throws it to Williams, who sits on the bench, against the shuttered bus windows. The photographer asks Williams to pull the hood over his brow, which is decorated with sweat. Williams slouches—deflates, rather—collapsing into his own circumference, perm obscured, mouth at rest.