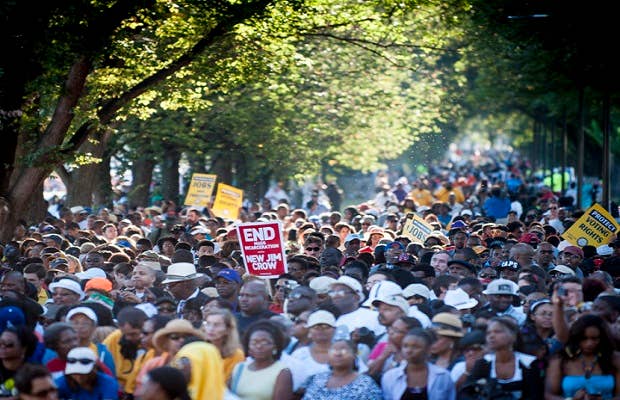 Yesterday, tens of thousands congregated on the National Mall in D.C. in honor of the 50th anniversary of the March on Washington. Martin Luther King lll spoke, but Attorney General Eric Holder spoke first, thanking civil rights leaders for opening doors for himself, President Barack Obama and others. "But for them, I would not be Attorney General of the United States and Barack Obama would not President of the United States of America," he said.
Sen. John Lewis of Georiga also spoke. Lewis was chairman of the Student Nonviolent Coordinating Committee (SNCC), which played a key role in the march. The youngest speaker that historic day in 1963, Lewis challenged the Kennedy Administration to take a greater interest in civil rights. The march, as well as Dr. Martin Luther King, Jr.'s "I Have a Dream" speech, forced President Kennedy to address civil rights legistlation.
On Wednesday—the 50th anniversary of Dr. King's speech—President Obama will speak at the Lincoln Memorial as a tribute to the defining speech of the Civil Rights Movement.
[via MSNBC]
RELATED: Then & Now: 50 Key Sites in the American Civil Rights Movement