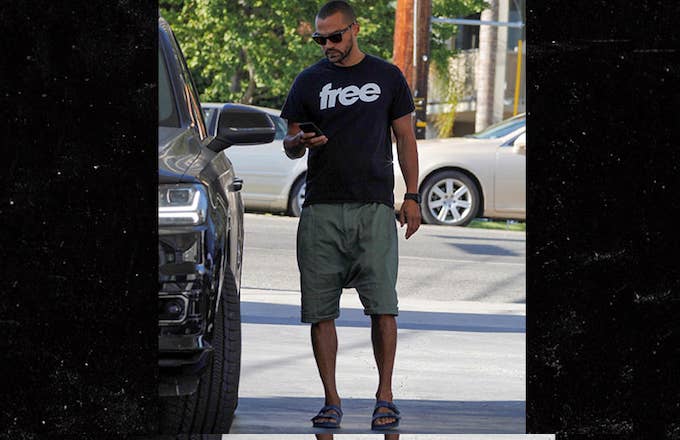 Jesse Williams is fresh off a long custody battle with his estranged wife, and if his fashion choices are any indication, it looks like he's feeling pretty relieved. He was recently spotted out in Los Angeles by a TMZ paparazzo wearing a black t-shirt with the word "free" written on the front of it in huge white letters. The rest of his outfit also seems fittingly relaxed and, well, free.
According to documents obtained by TMZ, Williams and his estranged wife Aryn Drake-Lee will share joint legal custody of their two children, daughter Sadie, 3, and son Maceo, 2. The agreement supposedly prohibits both Williams and Drake-Lee from making "derogatory remarks about the other in front on the children" and from using the children as "messengers."
Additionally, the custody agreement states that neither party "shall introduce a person with whom he or she has a romantic relationship to the children until the relationship has endured at least 6 months."
Williams participated in Jay-Z's short filmFootnotes for 4:44, where he seemingly discussed his relationship with Drake-Lee and how the media has portrayed his new relationship with Minka Kelly.
"I was in a relationship 13 years, 13 real years, not 5 years, not 7 years. 13 years," he said. "All of a sudden motherfuckers are writing thinkpieces that I somehow threw a 13-year relationship—like, the most painful experience I've had in my life with a person I've loved with all of my heart—that I threw a person and my family in the trash because a girl I worked with is cute."
Williams also appeared in the footnote video for "MaNyfaCedGod." In this video, he spoke about masculinity and the expectations men face in a relationship.
Williams has been linked romantically to Kelly for months now, and it has been a big source of contention for his estranged wife, who has allegedly tried to request sole custody after seeing the new couple step out this August.
Back in June, Williams filed for joint legal and physical custody of the two young children. "I have repeatedly asked for more time with the children but Aryn, who insists that all of our communications be strictly through counsel which results in unnecessary delay and costs, has either ignored my requests or flatly refused without explanation," Williams's filing stated. "I am therefore requesting a Court order for a joint physical custody parenting plan…so that Aryn will no longer be the sole, unregulated gatekeeper of my custodial time with our children."