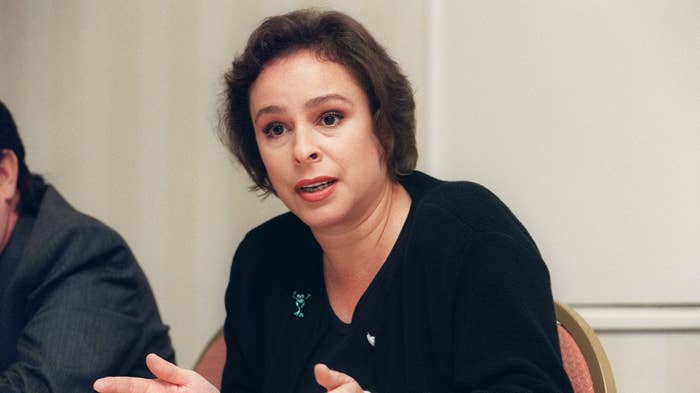 Fidel Castro's daughter Alina Fernández came out in support of James Franco being tapped to portray the Cuban revolutionary in the upcoming film Alina of Cuba. 
"I find the selection of the cast amazing," Fernandez told Deadline, adding that she's proud "the project is almost entirely Latino, both in front and behind the camera." The casting of Franco, who is of Portuguese descent, has been subjected to whitewashing criticism, most notably by John Leguizamo, who claimed the biopic is another example of cultural appropriation. 
"How is this still going on? How is Hollywood excluding us but stealing our narratives as well?" he wrote. "No more appropriation Hollywood and streamers! Boycott! This F'd up! Plus seriously difficult story to tell without aggrandizement which would b wrong! I don't got a prob with Franco but he ain't Latino!"
Meanwhile, Fernández praised Franco's "skills and charisma" and maintained the actor shares an "obvious physical resemblance" with Castro.
One of the more recent examples of Hollywood whitewashing without taking into account the nuances of being Latino and Hispanic came in the 2020 film The New Mutants. Henrique Zaga was cast to play Roberto Da Costa a.k.a. Sunspot, who is described in the comics as an Afro-Brazilian mutant that has encountered instances of racism in his home country. While Zaga is Brazilian, he's also white-passing. 
"Mainly I was very disappointed that Roberto isn't short and dark-skinned," Bob McLeod, co-creator of the New Mutants comics, said in a Facebook post. "Yet another example of Hollywood white-washing. There's just no excuse."
Lin-Manuel Miranda issued an apology last year after In the Heights, the big screen adaptation of the Broadway musical, in response to the backlash over the lack of Afro-Latino representation. Leslie Grace was the only Afro-Latino member of the cast with a significant speaking role in the movie.
Franco's casting comes just over a year after he reached a $2.2 million settlement with two former female acting students who accused him of coercing them into performing gratuitous sexual acts on camera. 
Prior to the financial settlements, Seth Rogen, who had worked with Franco on several projects spanning two decades, admitted he doesn't envision working with the 44-year-old actor in the near future in light of the allegations made against him. "I don't know if I can define [our personal relationship] right now during this interview," Rogen told The Sunday Times last year. "I can say it, um, you know, it has changed many things in our relationship and our dynamic."