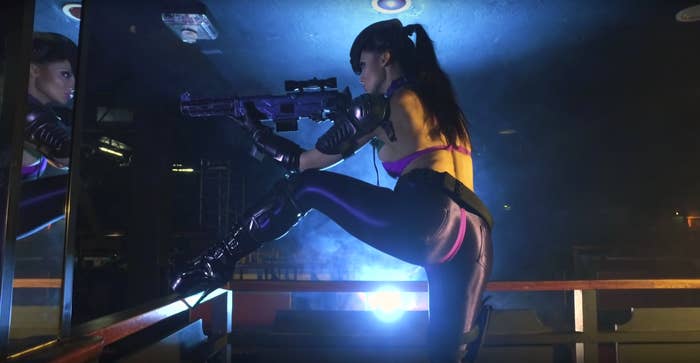 In the world of pornography nothing is sacred, they'll take the things you love such as superhero films, cooking shows and sport events and 'pornify' it at any given opportunity. So it comes as no surprise that video games are not immune to its creative smut, we've already seen a porn parody of Pokémon and now the latest popular video game to get the treatment is Overwatch.
Produced by well known porn production company Brazzers (don't act like you don't know who they are) the film is brilliantly titled Oversnatch XXX Parody— you know, because porn. The film features a 'grudge match' between male porn star Danny D and Aleta Ocean (how do they come with these names?!?) cosplaying as Reaper and Widowmaker. There's even a backstory to it (that's how sophisticated the adult entertainment industry is now!), the official Brazzers story line is as follows:
"A grudge match is waged between players Danny (Danny D) and Aletta (Aletta Ocean) in an abandoned strip club as a sniper class femme fatale is pitted against an assault class grim reaper to prove once and for all whether it requires more skill to quickscope an enemy, or take out a sniper from far with short range weapons. It's a battle of speed, accuracy, and endurance as the femme fatale, without a team to back her up, must deliver the payload solo. She's got to go hardcore to get out of this deathmatch unscathed."
If you've ever played 'Overwatch' then it should come as no surprise that a porn parody has been made, in fact it wasn't a matter of 'if', but more 'when'. The video game has been subject to many horny, sex-starved fanboys fantasies since the game was first revealed. As well as the numerous cosplay girls dressing as their favourite characters there have been many fan-made Overwatch porn tributes, thanks in no small part to the creative liberties taken with Valve's Source Film Maker and Blizzard's character models. One can't help but think the developers planned this all along.
If you're curious, or if you have no shame whatsoever, click here to check out the 'safe for work trailer'.