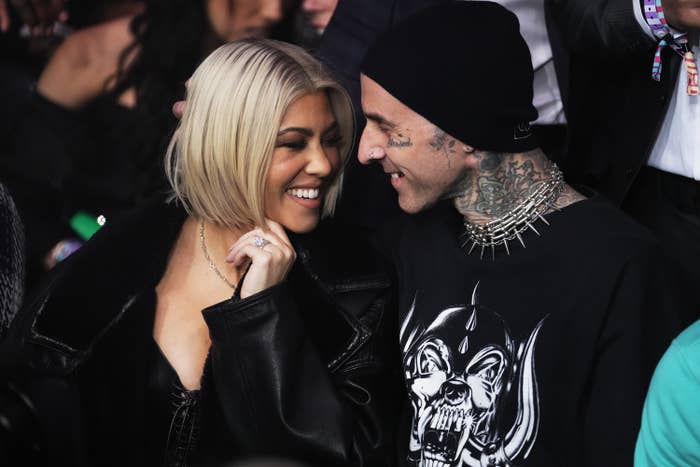 At 44, Kourtney Kardashian is expecting her first child with Blink-182 drummer Travis Barker, 47.
She announced the news while holding a poster at the band's concert on Friday night that read, "Travis I'm Pregnant."
The inspiration for Kardashian's sign came from Blink-182's 1999 hit "All The Small Things."
The two were married in 2022 in a viral ceremony in Italy—featuring major fashion moments from Dolce and Gabbana.
Just a month after the two tied the knot, Barker began experiencing health issues and was hospitalized. Later, it had been revealed that the drummer had pancreatitis due to complications from a colonoscopy.
On the road to recovery, with his new wife by his side, the two—and their blended family by their sides, began to build a life together.
Kourtney, her sisters, and mother left E! and their hit show Keeping Up with the Kardashians came to an end. Travis and his band, Blink-182 continued to tour.
Though this will be their first child together, the two have six children between them-- Kourtney's sons Mason and Reign and daughter Penelope and Travis' son Landon, daughter Alabama, and stepdaughter Atiana.
Shortly after Keeping Up with the Kardashians ended, it was announced that the influencer clan had inked a new deal with Hulu to bring their family, fashion, and fanfare to the streaming service. The Kardashians was born and has become one of their highest-rated series.
On an episode in May, Kourtney, who'd been trying to get pregnant via in vitro fertilization (IFV), said, "We would love a baby more than anything, but I really believe in what God has in store for us. If that's a baby, I believe it will happen."