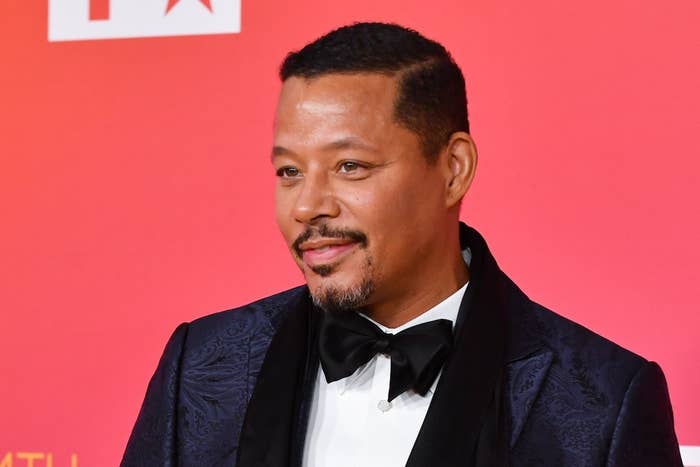 2005 musical drama Hustle & Flow grossed $23.5 million worldwide, but lead actor Terrence Howard only earned $12,000.
On Tuesday, Howard, 54, revealed his Hustle & Flow take-home amount during a chat with WREG's Alex Coleman on Live at 9. On the show, Howard was set to discuss his new action comedy Showdown at the Grand, but taking a pay cut nearly 20 years ago was still on his mind.
"I made $12,000 for doing Hustle & Flow," Howard told the Memphis news station. "What Paramount did, instead of putting my name as 'Terrence Howard' performing the songs, they put 'performed by Djay.' Well, they owned Djay."
Howard also detailed that the film production company exploited him out of receiving his due, as music from the Djay character was rapped by him. "So now, I've got to send them a letter to say, 'Hey, you guys owe me about 20 years worth of residuals and performance royalties,'" he continued.
Howard went on to share that his $12,000 Hustle & Flow payday came before he received $6,000 from Crash, which was released in the same year. "The business don't pay the actors anything that's why the strike is going on; the actors are struggling," Howard expressed, relating his financial cut to the SAG-AFTRA strike, which ended on Nov. 9.
Howard has discussed his Hustle & Flow ordeal before, telling the Orange County Register in 2007 that he not only sacrificed his financial security but time with his family to take on the role.
"But with the loss of anonymity comes a gain in audience," he told the publication. "You suddenly make a lot more money so you can take care of your family. At the same time, you're working so much, you don't have enough time to spend with your family."
Hustle & Flow earned Howard an Oscar nomination for Best Actor in 2006, while costars Three 6 Mafia won Best Original Song for their Taraji P. Henson-assisted film and soundtrack contribution "Hard Out Here for a Pimp."