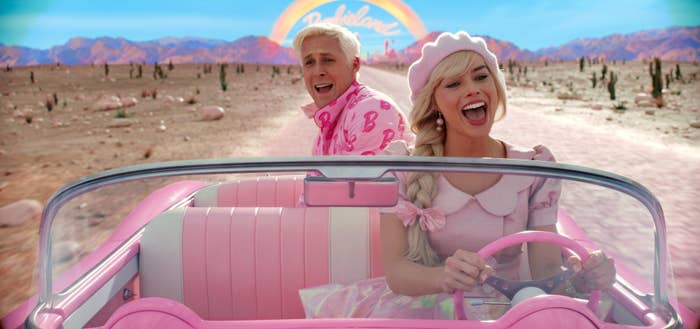 It's Barbie's world—we're just living in it. At least, that's how it's felt over the past several months since Greta Gerwig's Barbie hit the global press stage. It's become a sort of pop culture phenomenon, even before fans ever got an actual look at the film itself. No matter where you go, messages of Barbie are somewhere close by.
From a Barbie Land dreamhouse IRL, to special-edition Xbox consoles, pink Burger King meals, and an unlimited supply of memes (shouts out internet), the amount of marketing the movie amassed would make it seem like it was destined for greatness—and it absolutely was. Even box office projections have Barbie crossing the $100 million mark in the North American box office during its premiere this weekend. Armed with an incredibly stacked cast, a talented director at the helm of her third solo film, and arguably one of the most recognizable children's toys ever, Barbie is every bit as exciting and playful as you would expect.
The movie opens with a brief overview of the iconic doll's history to help audiences get familiar with her story. From there, director Gerwig, alongside her partner Noah Baumbach, create a compelling story of navigating the real—and plastic—world to find yourself amid an existential crisis. Together, the two masterfully mix musical numbers with a light and thoughtful script that plays into many of the themes that Barbie has come to represent throughout the course of her existence.
The movie never shies away from the toy's long and complicated history. It's honest, self-aware, and fully embraces many of the valid criticisms toy company Mattel (which created Barbie in 1959) has faced over the years regarding the iconic doll. It isn't always sunny skies and neon pink parties; as one teen tells Barbie, "You've been making women feel bad about themselves since you were invented."
These harsh realities are some of the problems that Barbie, played by the perfectly casted Margot Robbie, has to tackle head on. And she does so in a very introspective way that only the most complex of toys—and actresses—can. Over the course of the film, Barbie's wide range of emotions, from the highs of greeting her Barbie Land neighbors to the lows of realizing the world isn't exactly how she had imagined it, are on full display. Underneath Barbie's perfectly manufactured skin lies deep, genuine, and evocative emotions that show just how difficult it is to be both the picture-perfect icon doll and completely flawed at the same time.
And it would be impossible to talk about Barbie without mentioning her biggest fan, her right-hand man: Ken. Ryan Gosling, who was, quite literally, born to play this role, delivers one of the most convincing and hilarious performances in a while. His enthusiasm for Barbie is radiant, his passion for "patriarchy" is palpable, and his solo musical number is honestly fun to watch. His ken-ergy steals the show every time he comes onscreen. If any performance is going to receive an Oscar nomination, I would put my money on Mr. Gosling himself.
The supporting characters around Barbie and Ken, an ensemble cast of some of the most talented figures in Hollywood, also help make this movie feel even more special than it already is. There's no shortage of superstar acts; from Issa Rae's role as President Barbie, to Michael Cera's hilarious rendition of Allan, there is just a nonstop flow of incredible acts to admire. My only complaint is that some of these stars don't get the screentime they deserve. But alas, maybe, for a future sequel.
The world of Barbie Land is also an incredible accomplishment in its own right. It's fully immersive, in every way imaginable. It isn't just the fully constructed cul-de-sac of Barbie Land mansions, the overwhelming presence of pink paint (that actually caused an international shortage of the product), or the 40 different outfit changes that Robbie's Barbie character goes through. It was the way in which the entire set is utilized to feel as if it were purchased straight from the racks of a toy store and dropped into a magical space that is Barbie Land. It truly is a technical masterpiece of the 21st century that showcases just how important it is to get every detail right.
It would be a disservice to the film to talk about it without mentioning the soundtrack, which is just as equally as stacked as the cast. To do a proper Barbie movie, it's got to be done big—and nothing has been held back on the tunes. Nicki Minaj and Ice Spice, Dua Lipa, Lizzo, Billie Eilish, Dominic Fike, these are just a few of the names that grace the film's official Barbie: The Album soundtrack. Aside from just pure entertainment, the songs are neatly placed into the movie to help keep the pace and energy alive.
All in all, Gerwig's Barbie is a must-see blockbuster film, arriving right on time for summer. It's rife with A-list talent, hilarious and witty jokes, and powerful messages of female empowerment that Barbie has championed for years, which are critical in today's discourse. As Rhea Perlman's Ruth Handler character says: "Humans only have one ending. Ideas live forever."