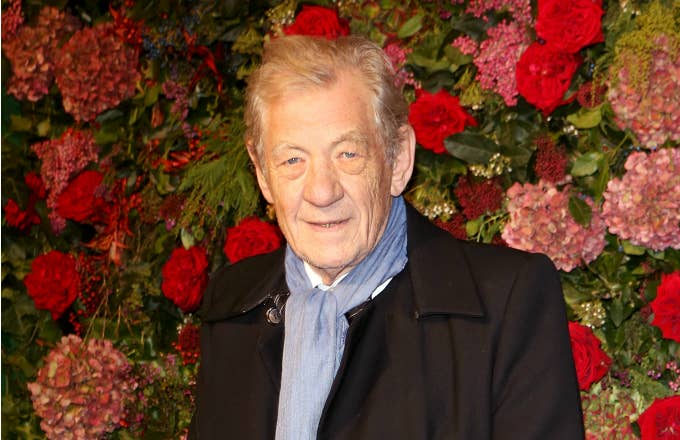 As an openly gay actor, Ian McKellen has used his platform to speak on multiple social issues throughout his career. However, the former X-Men star came under fire after making comments that appeared to excuse the actions of problematic public figures Kevin Spacey and Brian Singer. This led McKellen to take to Twitter on Saturday to clarify his remarks and state his true intentions.
"As part of an extended podcast recently, I suggested that if closeted people were instead open about their sexuality they wouldn't abuse others. That, of course, is wrong," McKellen said in the first tweet of his four-part apology thread. 
He then went on to explain his motives. 
"My intention was to encourage the LGBT audience I was addressing, to be proud and open about their sexuality. In doing so, my point was clumsily expressed. I would never, ever trivialise or condone abuse of any kind," he continued before addressing the uproar caused by his carelessness.
This comes in response to comments McKellen made during a National Student Pride event in his native country of England. While answering a question about the sexual abuse allegations against actor Kevin Spacey and director Bryan Singer, McKellen made comments that appeared to draw a connection between deviancy and closeted sexual orientation. Because the actor's reply did not immediately condemn Spacey and Singer, it seemed as though he was condoning their actions.
"I rather think that's up to the public. Do you want to see someone that's been accused of something that you don't approve of? Do you ever want to see them again," McKellen said to the audience on Feb. 27. "If the answer is no, you won't buy a ticket, you won't turn on the television. But there may be others for whom that's not a consideration, and it's difficult to be exactly black and white."
But now, McKellen took a firm stance on the situation by apologizing and sharing his true feelings.
"I deeply regret my careless remarks and apologise unreservedly for any distress I caused," the actor stated. "When it comes to abuse by people in positions of power, the correct response is clear. The accusers must be heard and the accused given the opportunity to clear their names. If the accusations prove credible, the abuser's access to power should be removed."