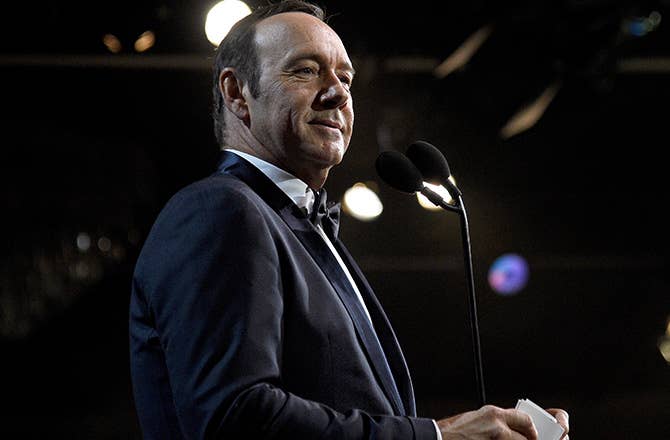 Anthony Rapp has come forward with new accusations against Kevin Spacey, claiming he made a sexual advance at him 31 years ago when he was 14. Spacey was 26 at the time.
The Star Trek: Discovery actor tells in detail in an interview with BuzzFeed News, stating that he attended Spacey's party at his New York apartment in 1986 after he befriended him. Rapp realized he was the only non-adult in the room and didn't know anybody, so he got bored. He ended up wandering to a bedroom, sitting at the edge of the bed and watching TV until well past midnight.
At some point, Rapp claims Spacey entered the room after everyone had left the apartment. That's when he claims Spacey was trying to get with him sexually.
Rapp says that he can't remember how long he was on top of him, but he was able to "squirm" away after a short period.
He confirmed the report to The New York Times, emailing a statement, writing, "I came forward with my story, standing on the shoulders of the many courageous women and men who have been speaking out, to shine a light and hopefully make a difference, as they have done for me. Everything I wanted to say about my experience is in that article, and I have no further comment about it at this time."
Spacey responded to Rapp's allegations on Twitter, apologizing to him and is "beyond horrified." Although he doesn't remember Rapp's story as it happened over 30 years ago, he blames "what would have been deeply inappropriate drunken behavior."
Spacey's statement and his decision to also come-out as a gay man has caused an uproar by observers who were shocked by his gesture.
Nope to Kevin Spacey's statement. Nope. There's no amount of drunk or closeted that excuses or explains away assaulting a 14-year-old child.
That Kevin Spacey statement. Nope. Absolutely not. Nope.
Dear fellow media:

Keep focus on

#AnthonyRapp

BE THE VICTIM'S VOICE. Help us level the playing field.
Just wanna be really fucking clear that being gay has nothing to do w/ going after underage folks
The classiest way to come out of the closet is as a PR smokescreen to distract people from the fact that you tried to molest a child.
Kevin Spacey didn't come out today. He tried to deflect the fact that he's a predator.
Anthony Rapp: "Kevin Spacey tried to rape me."

Media: "Kevin how do you respond?"

Spacey: "uuh...uuhh... Hey everyone I'm gay!"

pic.twitter.com/6LAEfsyRtF
In the interview with BuzzFeed News, Rapp says he met Spacey in 1986 when they were both in Broadway shows. For Rapp, he was a child actor in a new play called Precious Sons, starring Ed Harris and Judith Ivey, while Spacey was in a supporting role with Jack Lemmon in a play called Long Day's Journey Into Night. He would later meet Spacey that year at a Broadway party and soon after invited to the party where the sexual misconduct happened.