During a time when the hot-button news item of the week can range from billionaires going into space or critical race theory, The Amber Ruffin Show is the spoonful of sugar that helps the medicine go down. Airing on Peacock, it's identifiable as a late-night show, by nature of a host seated behind a desk in a jacket and tie delivering jokes and a monologue. But it is a wild, wacky entry into the canon; a variety show dressed in late-night clothing. Education, but make it fun!
At the helm is the effervescent and incisive Amber Ruffin. Audiences first fell in love with her as a breakout writer and performer on Late Night With Seth Meyers, a job she still holds. Now as host, writer, and executive producer of her own show, Ruffin has a platform to expand.
It's admirable the way she takes up space. Ruffin gleefully extracts as much humor from politics as pop culture. She's sharp and silly, juggling nonsense and substance. It's a balancing act that Ruffin herself can't believe she's pulling off.
"I really lucked out because Peacock really just lets me do whatever I want," Ruffin says. "I have received—and I am not kidding—zero pushback, and I say some wild shit!"
After divisive news cycles followed by an unprecedented global pandemic, audiences were looking for relief in 2020. They found their respite that fall with The Amber Ruffin Show, a whimsical place where social commentary is couched in pure shenanigans. Each episode crackles with possibility, as viewers never know what will happen next. Will Ruffin sing a soft-rock ballad celebrating the end of Britney Spears' conservatorship? Or will she do a deep dive on the concept of "copaganda?"
"At first, we thought, 'Well, let's just make the only rule to say exactly what we feel like saying and try to de-gaslight America, and maybe provide some comfort,'" Ruffin explains. "And then that worked out. I thought for sure, 'Well, we can't get this mushy.' And we do, and no one cares. I think people just want you to be honest about what's happening."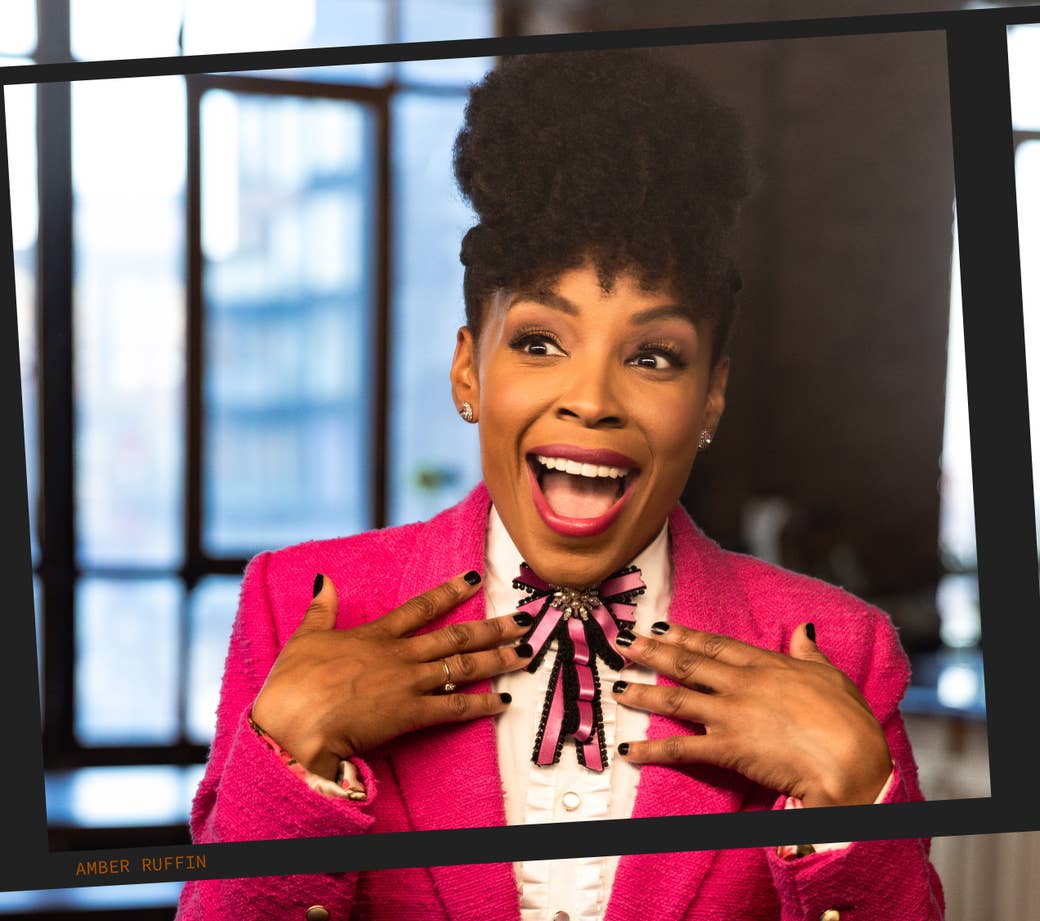 The genealogy of The Amber Ruffin Show owes as much to its predecessors in late-night—Johnny Carson, Jay Leno and David Letterman—as it does to Hazel Scott and Barbrara McNair, two of the first Black women to host their own musical variety shows. Amber Ruffin's comedy ancestry also includes Black female comediennes such as Whoopi Goldberg, Wanda Sykes, and Mo'Nique.
But it was Arsenio Hall who first helped Ruffin envision a place for herself in an industry where white men held most of the seats. When his show launched in 1989, it was irreverent and energetic. "I remember watching late night shows and feeling like, 'Oh, this is by old white people for old white people,'" Ruffin recalls. "And then Arsenio Hall came on the scene and it was like instead of peeking in a room and overhearing a show, I was in the front row and he was talking to me. It was the coolest feeling."
While unafraid to be charmingly goofy in her persona, Ruffin is serious about paying homage to the genre. Even her signature bow ties and blazers are signifiers that she's as worthy as any host who's come before.
"When I got this job they were like, 'How do you want to dress? Do you want to just wear your regular clothes?' And I said, 'Absolutely not, because I'm a Black woman doing this, so I'm not going to slack on any of this.' I want to have it be as comparable to other late-night shows as possible, because the reality is I am comparable to them," Ruffin says.
Ruffin's wardrobe is one traditional late-night element that she took care to incorporate, then subvert. The monologue is another.
"I definitely wanted to have a monologue because it's just a fast, fun way to get a lot of jokes. It also sets the tone, because if you do a monologue then people's expectations are set, and then we continue the show to do whatever the rip we want," she says. "So because we've set those expectations, we do something different and then people are surprised, and I like to think they enjoy it more because they didn't see a puppet or a song coming, or even a deep dive, really.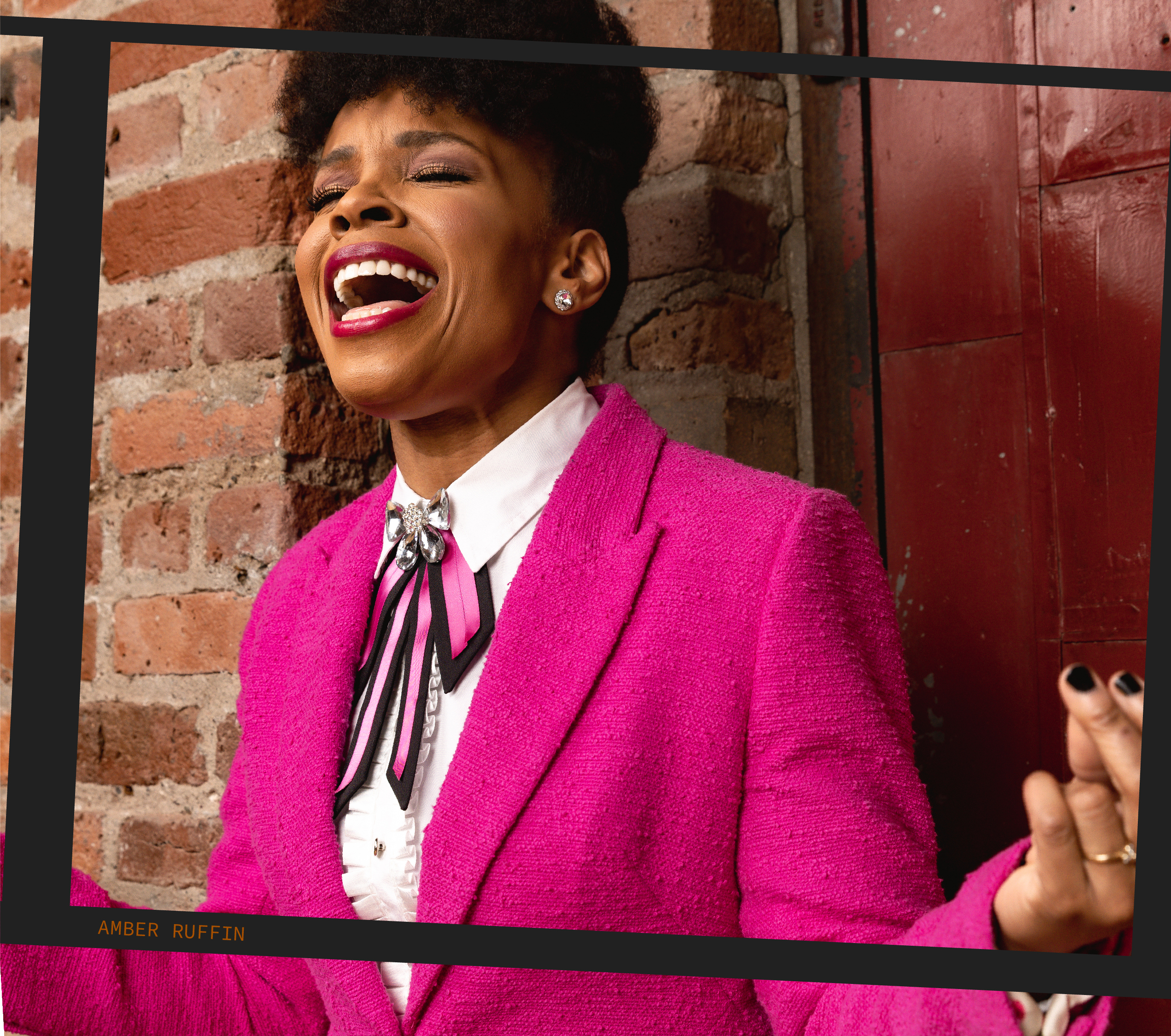 The Amber Ruffin Show utilizes the versatility of its namesake's unique path. Born in Omaha, Nebraska, Ruffin got her start performing in local theater productions and pursued comedy for years as she rose through the improv ranks. She moved to Amsterdam to perform with Boom Chicago, an improv troupe that boasts alumni including Jordan Peele and Jason Sudeikis. She also earned a spot in the mainstage show at The Second City in Chicago. Eventually, Ruffin would move to LA, taking on work as a nanny alongside opportunities such as a guest spot on Key & Peele and a writing credit on the Emmys.
Back in 2014 when SNL was put on blast for its lack of diversity, Ruffin was among several dozen Black female comedic performers invited to test for the show [SNL.] Though Sasheer Zamata would be hired as a performer and LaKendra Tookes and Leslie Jones would become writers, the lore is that former SNL head writer Seth Meyers saw Ruffin's audition and immediately invited her to join his soon-to-be-launched show Late Night With Seth Meyers. It seems this phone call catapulted Ruffin to become the first Black woman writer in late night. The truer context is Ruffin's grind and consistency earned her an opportunity, not a lucky shot. Meyers, who's an alum of Boom Chicago, is also part of the same Amsterdam-based improv troupe Ruffin honed her skills.
"He used to come back every year," Ruffin explains. "And so he had seen me perform five times at that point, at minimum. So he knew that I could perform." As it goes for people of color, an overnight success is often a foot in the door that takes years of training and hard work to earn.
Ruffin's (over)preparation helped her shine. She started to appear on screen in segments that would regularly go viral, including "Amber Says What?" and "Amber's Minute of Fury." In the uber-popular bit "Jokes Seth Can't Tell," Ruffin and co-writer Jenny Hagel, who is now the EP/head writer for The Amber Ruffin Show would join Meyers to deliver the punchlines to jokes that would be sus for a straight white man to deliver. The Trojan Horse allowed the show to cleverly cover matters of race, sexuality, and gender in a way that flirted with boundaries in a socially charged climate. The warm reception by viewers was encouraging, yet Ruffin still saw an opening for the conversation to be led by the people who were most affected.
 "When Trump got elected, remember how everyone was so sad that day?," she says. "I went on the show and I was like, (mocking tone) 'Aww, you white people sad? Join the fun! What, you sad everybody's racist? Well, we been knew. Join the fun, join us. We've lived like this since time began.' I hadn't really said anything like that. It went so well."
Ruffin proved she could disarm political landmines with humor. Then in June 2020, Late Night gave her a platform to address them with vulnerability. As the nation erupted in protests after the murder of George Floyd by Minneapolis police officer Derek Chauvin, Ruffin opened the show for an entire week sharing her own stories of traumatic encounters with police. The eye-opening anecdotes centered her lived experiences without jokes to dull the cold truths.
"It felt good doing those bits because no one was saying it. No one was saying, 'Oh, I break out into a cold sweat when I get pulled over by a cop.' They're certainly not saying it on late-night shows. And then the way the news swung, I just realized there's a lot of white people talking about Black shit."
The positive response served as proof of concept. A year prior, Ruffin's idea for a show didn't feel as urgent, but now executives at NBC were chomping at the bit. "They were like, 'There's a thing called Peacock that is going to exist. Do you want to do your show on Peacock?' And I was like, 'Of course! I don't know what that means, but I'm all the way in.'"
This, too, might sum up the mindset of viewers who joined the September, 25, 2020 launch of The Amber Ruffin Show on NBC's nascent paid-streaming service Peacock. Broadcasting from Rockefeller Center in Studio 8G, the familiar setting where Late Night is taped, Ruffin spoke straight to camera and delivered a show that was remarkably different from what viewers had ever seen. There was no audience, no in-house band, and no celebrity interviews. Shockingly, it worked. Analysis played next to musical theater, along with a dash of kids' show campiness and the unpredictability of improv.
"We'll try to pretend like we're doing a late-night show, but it'll really just be a topical sketch show basically. And that's what it is. And no one cares," Ruffin says. "We're fine. They're letting us do it."
As she gears up for the second half of Season 2, streaming Fridays on Peacock TV, Ruffin still crosses her fingers, hoping that viewers will continue to watch her engage in antics like singing a lullaby about the infrastructure bill, or performing a duet with her satin bonnet. In fact, it blows her mind that everyone seems to be down for a good time.
"We're all nerds, I think," Ruffin says. "It's always like you're singing to children on our show, and I cannot believe that vibe flies! That may be the biggest shock of the show, except for how serious I can get, is that these songs are so doofus, and so uber-presentational, but everyone's onboard. I'm like, 'All right. Great!'"
Catch new episodes of The Amber Ruffin Show streaming Fridays on Peacock.
Sign up for Peacock
to stream NBCU shows