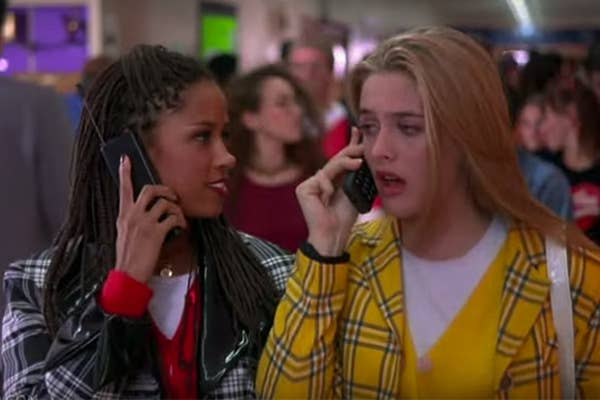 In 1995, I was a 9-year-old black girl in the suburbs. I was not thirsty for #representation, at least not consciously. But I was instantly obsessed with Dionne Davenport when I saw the movie Clueless.
Played by Stacey Dash, Dionne was rich and beautiful, she wore box braids (like I did), had a nose ring (like I do now), had a never-ending supply of matching outfits (which I did not, but wanted badly)—and she kept her boyfriend in check! What was not to like? To my complete delight, Stacey Dash even returned to play Dionne when the film got turned into a TV show on ABC, then on UPN. (People hated on that joint, but it did not last long enough, IMO.)
"Dee," as she was called, was among the original Bad & Boujee™. The first class of Unfriendly Black Hotties. As a kid, I'd hit the mall with Dee in mind, buying hats to match my outfits like her,  looking for plaid mini skirts, wearing knee socks and putting white collared shirts under my dresses. She came along at an especially impressionable time; my peer group was leaving elementary school and entering puberty, figuring out who they liked or wanted to be like. Dash was an avatar for a generation of '80s babies, capable of meaning many things to many people at once.
We all thought she was dope in real life, too. We learned that she was 28 playing a high school student, that she was cousins with Roc-A-Fella Records co-founder Dame Dash, and that she grew up in the Bronx. She got low when Clueless went off the air in '99, but when she appeared in Kanye West's 2004 video "All Falls Down," our collective crush was reignited. Stacey was back! But damn if that single didn't foreshadow a left turn straight to The Sunken Place for both of them.
Last month, Stacey Dash filed paperwork to run for Congress. If she were to win, she would represent the 44th district of California, which includes the cities of Compton and Watts. This should concern you, and here's one reason why: On Thursday, in her first interview since launching her candidacy, she used her time to back up President Donald Trump and express sympathy for neo-Nazis.
"I'm not here to judge," Dash said on MSNBC. "The only one who can judge is god. Do I know every person in the neo-Nazi party, if they have a good heart or not? No, I don't."
Is that a fair statement? It's true in that she literally does not know every member of the neo-Nazi party. But you can't take it out of context. One glance at the gaps on her IMDB page will tell you Stacey was in desperate need of a break. At the end of Barack Obama's first term, our girl reinvented herself. She switched political parties from Democrat to Republican, but she couldn't do it in silence like most red-blooded Americans. Nope. She chose to jump on Twitter and throw her public support behind Mitt Romney and Paul Ryan in the 2012 election. As the tweet made headlines, Dash was suddenly popular again. She had caught the attention of Conservatives, and she pounced.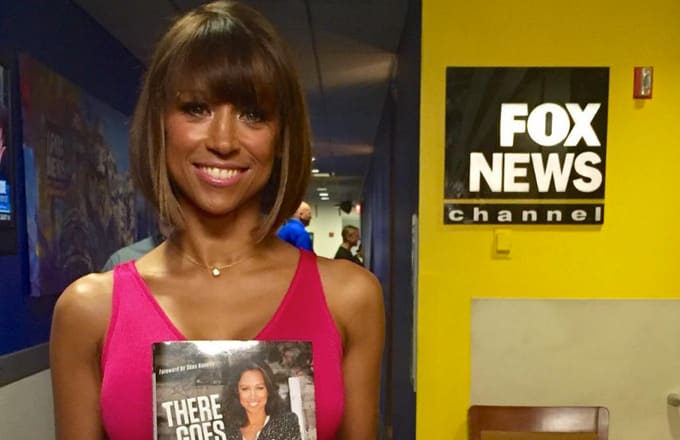 Fox News hired her in 2014 as a contributor for "cultural analysis and commentary," and she worked hard to earn her keep. She opened her mouth and made statements like, "There shouldn't be a Black History Month. We're Americans. Period."
And nevermind that she appeared in music videos by black male artists that were aired on BET. She railed against the network as well saying, "Either we want to have segregation or integration. And if we don't want segregation, then we need to get rid of channels like BET and the BET Awards and the [NAACP] Image Awards, where you're only awarded if you're black. If it were the other way around, we would be up in arms. It's a double standard."
you can't have your cakes out on black men's magazines one day, then turn around and shit on the relics designed to empower black
There's a wide-ranging 2016 Broadly profile that shed light into some of the messiness in Stacey's early life that potentially impacted her thought process and actions later on. One interesting tidbit is that Dash wants to own a plantation one day, which makes sense 'cause homegirl will sell herself to the highest bidder. You can't have your cakes out on the cover of black men's magazines one day, then turn around and shit on the relics designed to celebrate and empower black people the next.
Didn't Stacey "All Lives Matter" Dash see how tokenism worked out for Omarosa?
Stacey Dash can have an opinion, no matter how ass-backward I think it is. But I can't tell whether she actually stands for something or just opposes everything that made her who she is. Separatism, shock and awe—this is her brand now. But my disgust is not so black and white. Stacey has a number of hits! Remember how she argued with Meredith Viera, calling the gender wage gap (like race) an excuse? Do you recall how she said on Entertainment Tonight that feminism is ruining men, and that transgender women should pee in the bushes so they don't endanger her children by using the women's bathroom? What about when she called rape victims bad girls who like to be naughty?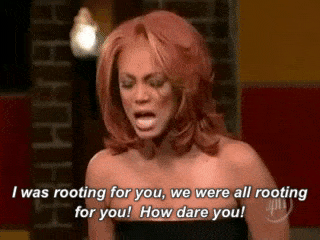 Today, Dash is the epitome of that GIF where Tyra Banks yells at an ornery contestant on her show, America's Next Top Model: "I was rooting for you! We were all rooting for you!" I cringe at the thought that Young Me ever rooted for her. Adult Me had to stop a long time ago.