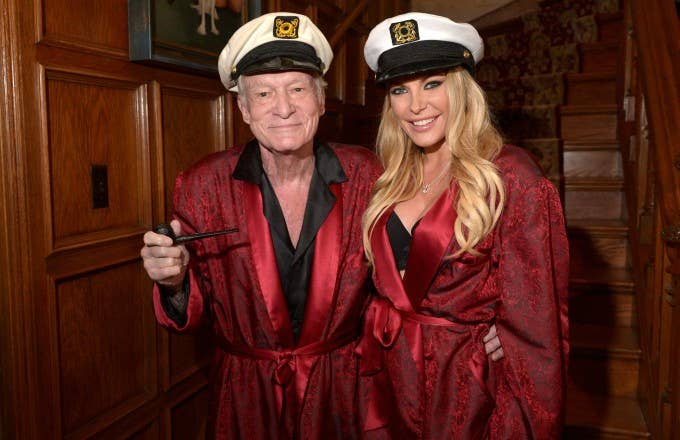 You know that Hugh Hefner founded Playboy way back in the 1950s and that he eventually turned it into a global brand. You also know that Hefner was notorious for dating multiple women at one time throughout the course of his life, even though he was married three times. And of course, you know that Hefner knew how to throw one hell of a party at his Playboy Mansion, which he bought back in the 1970s for just $1.1 million before transforming it into the ultimate party pad. But there are also plenty of things that you probably don't know about the iconic Hefner.
Hefner died of natural causes at the age of 91 on Wednesday night, and to mark the occasion, Playboy Enterprises put out this video that sheds some light on all that he accomplished during his illustrious career as the editor-in-chief and publisher of Playboy.
But there are so many other things that you should know about Hefner, too. So in honor of his passing, we decided to put together a list of some of them. Here are 10 things you didn't know about Hugh Hefner.
1. He started Playboy after quitting a job at Esquire when he was denied a $5 raise.
After serving in the U.S. Army in the 1940s, Hefner attended the University of Illinois at Urbana Champaign and earned degrees in psychology and creative writing and art. That eventually helped him landed a gig at Esquire where he worked as a cartoonist. But in 1952, he decided to quit that job after he asked for and was denied a $5 raise. A short time later, he convinced 50 investors, including his mom, to help him raise $8,000, which he subsequently used to jumpstart Playboy in 1953.
2. He used a 5-year-old photo of a then-unknown Marilyn Monroe for the first Playboy cover.
After raising enough money to put the first issue of Playboy together, Hefner looked through the files of a Chicago calendar company and found a photo of Monroe in it that was about five years old. He bought it for $500 and used it on the cover of Playboy. It helped the magazine push more than 50,000 copies of the first issue.
3. He almost used a dramatically different name for his magazine.
When Hefner first came up with the idea to start a magazine, he didn't envision calling it Playboy. Instead, he had a much different name in mind. He planned on calling it Stag Party. But there was already a magazine called Stag, so Hefner was forced to come up with a new name. He landed on Playboy, and the rest is history. "Can you imagine a chain of clubs staffed by girls wearing antlers?" he would ask later.
4. He wasn't always a playboy.
Hefner obviously gained a reputation for living up to his magazine's name over the years. But when he first launched Playboy, he wasn't actually much of a playboy at all. He married his first wife Mildred "Millie" Williams in 1949, and the couple had two children together. But later in life, Hefner revealed that, at the beginning of their marriage, Williams admitted that she had an affair prior to them getting hitched. They remained married until 1959, but during the decade they were together, she allowed Hefner to carry on affairs out of guilt, which eventually wrecked their marriage and sent Hefner down a different path.
5. He helped launch Dick Gregory's career.
Gregory, who died in August, was an iconic activist and comedian. But there's a chance his career wouldn't have gotten off the ground without a little help from Hefner. Gregory was performing at the Herman Roberts Show Bar in Chicago back in 1961 when he caught the attention of Hefner. Hefner invited him to work at his Chicago Playboy Club, and it helped propel Gregory to the next level. Hefner also hired Bill Cosby to perform at his club at a time when many other comedy clubs were still segregated.
6. He is the reason the Hollywood Sign is still standing.
In the 1970s, the iconic Hollywood Sign was in a state of disrepair. It was in such bad shape that local officials almost decided to do away with it. But Hefner stepped up and launched a public campaign that helped raise about $250,000 to save the sign. He was personally responsible for donating about $28,000 to put up a new "Y." He would also donate $1 million in 2010 to help preserve the land surrounding the sign.
7. He once purchased two franchised Playboy Clubs that discouraged African-American membership.
In the 1960s, Playboy Club franchises were popping up all over the place, which should have been good for business for Hefner and Playboy. But Hefner was disheartened when he heard that two in particular, in New Orleans and Miami, were refusing to hire black women as Playboy Bunnies and discouraging African-Americans from becoming members. So he bought the franchises—at a significant financial loss—and said that he wouldn't stand for Playboy Clubs taking this approach.
"We believe in the acceptance of all persons in all aspects of life on the basis of individual merit and without any regard to race, color, or religion," he wrote in a memo after making the purchases.
8. He has a rabbit named after him.
The Playboy Bunny logo played a very important role in the success of Hefner and Playboy. In fact, the logo likely brought in more money for Playboy than anything else ever did, as it was used to start clubs, casinos, and more all over the world. So it shouldn't come as a huge surprise to learn that the U.S. Fish and Wildlife Service named a type of rabbit called the Sylvilagus palustris hefneri after Hefner in the 1980s.
9. He set a Guinness World Record for something you might not expect.
When you think about Hefner hanging out in the Playboy Mansion, you probably don't picture him spending much time scrapbooking. But Hefner actually earned a Guinness World Record in 2011 for putting together the largest personal scrapbook collection in the world. His nearly 3,000 scrapbooks contain photos from his time at Playboy as well as photos detailing visitors at the Mansion.
"It was probably just a way of creating a world of my own to share with my friends," he said in 2011. "And in retrospect, in thinking about it, it's not a whole lot different than creating the magazine."
10. He wanted to be buried next to Marilyn Monroe when he died.
About 40 years after Hefner first featured Monroe on the cover of Playboy, he bought the crypt located directly next to Monroe's crypt at the Westwood Village Memorial Park in Los Angeles, California, even though the two never actually met. He paid $75,000 for it in 1992 and wanted to be buried there at the time of his death.
"Jay Leno suggested that if I was going to spend that kind of money, I should actually be on top of her," Hefner said in a 2000 Playboy interview. "But to me, there's something rather poetic in the fact that we'll be buried in the same place."