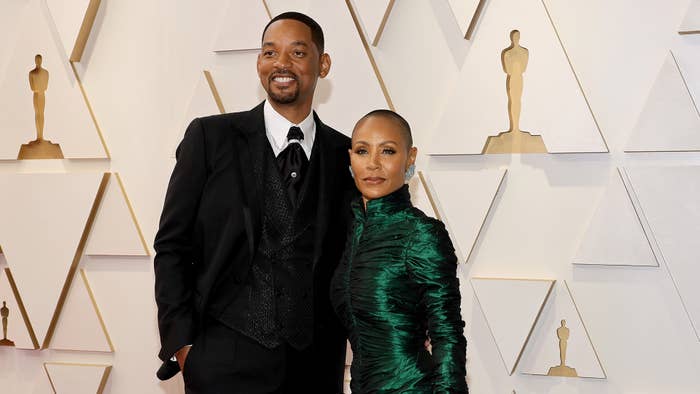 In an appearance on Shannon Sharpe's podcast, actor and comedian Tommy Davidson revealed that Will Smith once confronted him over a kiss he shared with Jada Pinkett Smith in a movie.
Davidson said that he had a "run-in" with the actor during the production of the 1998 rom-com Woo, in which he co-starred with Pinkett Smith. "He came into the trailer, and I was sitting down," Davidson shared, as seen in the Club Shay Shay clip below. "He's standing over me, and he's like, 'I don't appreciate that, man. I don't appreciate that.' And I'm like, 'What you talking about?' I always know to play it off. ... I'm like, 'What's going on man? Tell me what's happening.' And since he was standing and I was sitting, I was a real nice fella. That's about physics."
He recalled that it wasn't until "15 years later" that he understood what Smith was upset about. "He's like, 'You tell me what's happening. Hmm? Hmm?'" he said while imitating the way Smith was biting his lip, as if he might be ready to get physical. He said that Pinkett Smith attempted to calm her husband down, but Davidson—known for his roles in Booty Call, Bamboozled, and Black Dynamite—was still none the wiser to whatever was going on.
"I did the snake and got up, and then I was like, 'So what are you talking about, man?'" he continued, to which Smith told him that he should know "what's up" between them. "So finally I just said, 'This is a small place and people are here, we should talk about it ... You look like you need to get something off your chest.'"
Davidson suggested they take the conversation elsewhere, but Pinkett Smith immediately chimed in to stop the situation from going south. "Jada was like, 'Oh, nah, nah, y'all.' I was like, 'What you mean "nah, y'all"? Tell him!'" he added. "And that was the end of that."
Davidson said the interaction "bothered" and "hurt" him, especially because he looked up to Smith and "love[s] him to death." It was only when he got around to writing his book that he figured out what was going on. "This how I found out. I put it in the book... You can't put something in a book about somebody, right, unless they sign off on it," he shared. "So I went to his best friend Charlie Mack... I said, 'Charlie, what you think about this?' He said, 'Yeah, you know, Will cool. Jada cool too.'"
The couple signed off on the bit after he sent the portion of the book to them, so he put it in the book and wrote that he "thought" the only reason there might've been an issue is because he said that he hadn't a chance to "rehearse" the kissing scene in Woo with Jada Pinkett Smith. "They called me and said, 'Hey, that is what happened.' I didn't find out for that long."
Davidson recalling his tense interaction with Will Smith comes not long after his wife revealed they've been separated since 2016. She said that divorce isn't on the cards, though. "I think by the time we got to 2016 we were just exhausted with trying. I think we were both kind of still stuck in our fantasy of what we thought the other person should be," she told Hoda Kotba.