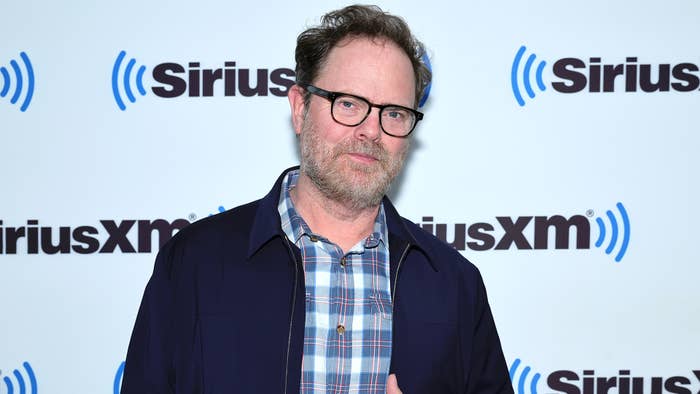 During an appearance on Bill Maher's Club Random podcast, Rainn Wilson opened up about his struggles with his mental health, and revealed he was "mostly unhappy" during his time on The Office.
"I've had a lot of struggles and I've had a lot of really dark times," Wilson shared around the 35:30 mar of the podcast, as seen below. "I had many sleepless nights, you know, with addiction issues and suicidal ideation and anxiety attacks that would render me shaking on the floor. ... This was all before The Office. I had some bad times during The Office too."
Wilsom explained that the darkest times came when he was a struggling actor working in theater in New York. Wilson considered himself an "artist" at the time, making plays "about the human condition," to which Maher suggested what he really wanted was to be "on a hit show."
"I didn't! I swear, I didn't," Wilson, who played Dwight Schrute on The Office, said. "Eventually, I was like, 'Fuck, I'd love to pay off these student loans. I better get some TV gigs, of course. I didn't have aspirations for stardom at all. ... When I was in The Office, I spent several years really mostly unhappy because it wasn't enough. And this is what I'm looking at now and I'm realizing now, like, 'I'm on a hit show, Emmy-nominated every year, making lots of money working with Steve Carrell and Jenna Fischer and John Krasinski and these amazing writers and incredible directors like Paul Feig. I'm on one of the great TV shows, people love it, and I wasn't enjoying it."
At the time, Wilson questioned why he wasn't getting roles in movies instead. "I was thinking about, 'Why am I not a movie star?'" he said. "'Why am I not the next Jack Black, or the next Will Ferrell, and how come I can't have a movie a career and why don't I have this development deal.'" While he was making "hundreds of thousands" on The Office, he wanted "millions." He saw himself as a "TV star," but wanted to be a "movie star."
Before getting cast as Dwight in The Office, Wilson had steadily appeared in several movies and TV shows, including Six Feet Under. Following The Office, he's gone on to have a consistent career across both, but for the most part, he's remembered by audiences as Dwight.
In an interview with Collider last year, Wilson said that wants to be remembered for a far different role, however. "Listen, obviously most people know me from The Office, and they always will, and that'll be on my tombstone. My epitaph will be, 'The guy who played Dwight,'" he shared. "I did dozens and dozens of roles before I played Dwight. I've played dozens of roles after Dwight. I would say my favorite role, or one I would love to be remembered for, is the movie Super by James Gunn. It was, again, super low budget. We shot that super quick in Shreveport, scenic Shreveport, Louisiana. But I think the combination of humor, darkness, tragedy, insane imagination, my brain gets touched by the finger of God. I think it's an extraordinary work, and I'm really proud to have been a part of it."