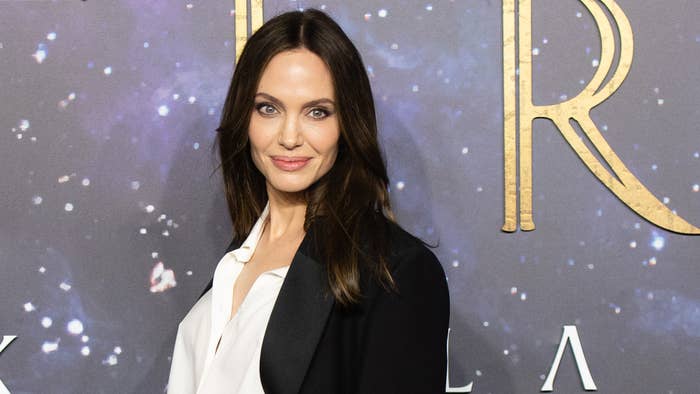 In an interview with Vogue, Angelina Jolie admitted that she and her kids "had a lot of healing to do" following her split from Brad Pitt in 2016.
In the profile, which comes ahead of the launch of her fashion label Atelier Jolie in November, Jolie said that she started doing less work in film around "seven years ago," which is around the time she separated from Pitt. "I feel a bit down these days. I don't feel like I've been myself for a decade, in a way, which I don't want to get into," she shared. "We had a lot of healing to do. We're still finding our footing."
Jolie and Pitt split in 2016 after 12 years together and finalized their divorce in 2019. They share six children, 22-year-old Maddox, 19-year-old Pax, 18-year-old Zahara, 17-year-old Shiloh, and 15-year-old twins Vivienne and Knox. Their three oldest children were adopted internationally.
"I was 26 when I became a mother," said Jolie. "My entire life changed. Having children saved me—and taught me to be in this world differently. I think, recently, I would've gone under in a much darker way had I not wanted to live for them. They're better than me, because you want your children to be. Of course I'm the mother, and hopefully that safe place for them and that stability. But I'm also the one that they laugh at—and I see them taking over so many different aspects of our family."
Last year, Jolie filed a countersuit against Pitt related to a winery they formerly owned together and accused him of physically and verbally abusing her and their children on a plane in 2016.
"Pitt choked one of the children and struck another in the face" and "grabbed Jolie by the head and shook her," the filing alleged of the September 2016 incident, in which they got into an argument on a private jet. During the incident, he reportedly "poured beer" on her and "poured beer and red wine on the children." Federal authorities investigated the incident, but no criminal charges were filed.
A representative for Pitt called the allegations "completely untrue."