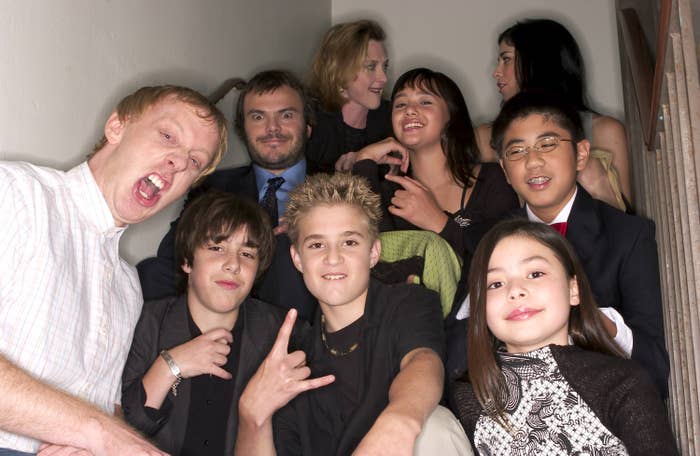 The phrase "child star" is loaded to say the least—conjuring up images of caffeinated stage parents and potentially drug addled futures as much as it implies fame and success. But the child stars of School of Rock, many of whom list the rock pseudo-musical as their first and only movie credit, were more than just child stars—they were, however briefly, rock icons. "I've been a musician my whole life. I became an actor because of School of Rock," Becca Brown—who you best know as "Posh Spice," School of Rock's bassist—tells me over the phone. Kevin Clark, the smart-mouthed spiky-haired drummer, recalls hitting up a blind audition where he met his co-star Joey Gaydos Jr., who would play the band's soft-spoken lead guitarist, nabbing the role after the casting director watched the pair effortlessly jam together. In each of the recollections of the movie's now grown-up cast, conspicuously missing are the stories of desperately reading sides, and turning up to stressful, high stakes auditions. School of Rock was always about the music. 

During the casting process, Linklater and writer Mike White would modify parts based on his cast's strength; so when Brian Falduto showed up to the audition to sing a soprano rendition of "Send in the Clowns," modify they did: into the instantly iconic Billy who would make "You're tacky and I hate you" a catchy rallying cry of the aughts. And when Aleisha Allen, aka "Brace Face," heard her character's name was scripted as "Sharon," she took matters into her own hands: "I took it upon myself, I was like, 'I don't really think I look like a Sharon,' Just casually to Rick… So I suggested Alicia." It stuck.

It's unconventional, to say the least, that a seasoned filmmaker like Richard Linklater would take pointers from tweens, but there's little about School of Rock that you could call typical. One of Linklater's few studio movies, School of Rock easily could have gone the way of schmaltz and  mainstream mechanics, but instead became a crucial music classic that ever so slightly defies expectations at every turn. It's a family movie, technically speaking, with a central lesson that cheerily asks young viewers to follow their hearts and be kind, Disney Channel style. But it's also a movie for jaded adults who've forgotten what it's like to believe accomplishing your dreams is possible—the script's could-be cutesy message sanding down the edges of its riskier jokes and central, sad-sack protagonist.

The script is specific and unrelentingly funny, and Jack Black has yet to be quite as composed, even when he's whirling like a Tasmanian devil with his Fender in hand, thanks to his remarkable, grounded chemistry with the cast. "Jack was so cool with us," Brown gushed. "He was just so down to hang. He would always say that we were better musicians than he was." To hear School of Rock alums talk about their adult co-star is to hear a new note of warmth enter their voice: "The tone on set was so light, it was such a safe space for us to be creative, especially being so young. Especially with someone like Jack leading us," Allen said. And it wasn't just during filming that Black made a point to make the young cast feel comfortable—Fadulto recalled Black sitting down with him and his mom during breakfast before shooting: "He could have sat with anyone else on the team, and he just got to know me and my mom, which was pretty awesome."

An improviser down to his DNA, Black was constantly unpredictable, kicking over desks and flying around the room like a dervish. But that made for an even more rebellious mood on set. "All of the laughter that you see coming from us in the scenes was genuine, he's just the funniest motherfucker," Brown told me. Even Sarah Silverman, who played the shrewish girlfriend of Mike White's diminutive Ned, would also hang around—even if she didn't have many scenes with the kids. "She would mess with us and say shit… like 'Okay, I'm the cutest one though, by the way, I'm still the cute one!'"

Working with a clan of preternaturally talented actor/musicians all well under the age of 18 made for a set nearly constantly on a sugar high; but when it came to recording the movie's music, the entire cast was beyond diligent. "We would practice all the time," Brown said. "We would go from set every day to the studio to rehearse… at the Sonic Youth studios." Sometimes, accompanied by Black, who would jam with the kids. "It was like being a real band," Allen chirped. "We learned each other's voices, we learned choreography, all that in addition to the filming."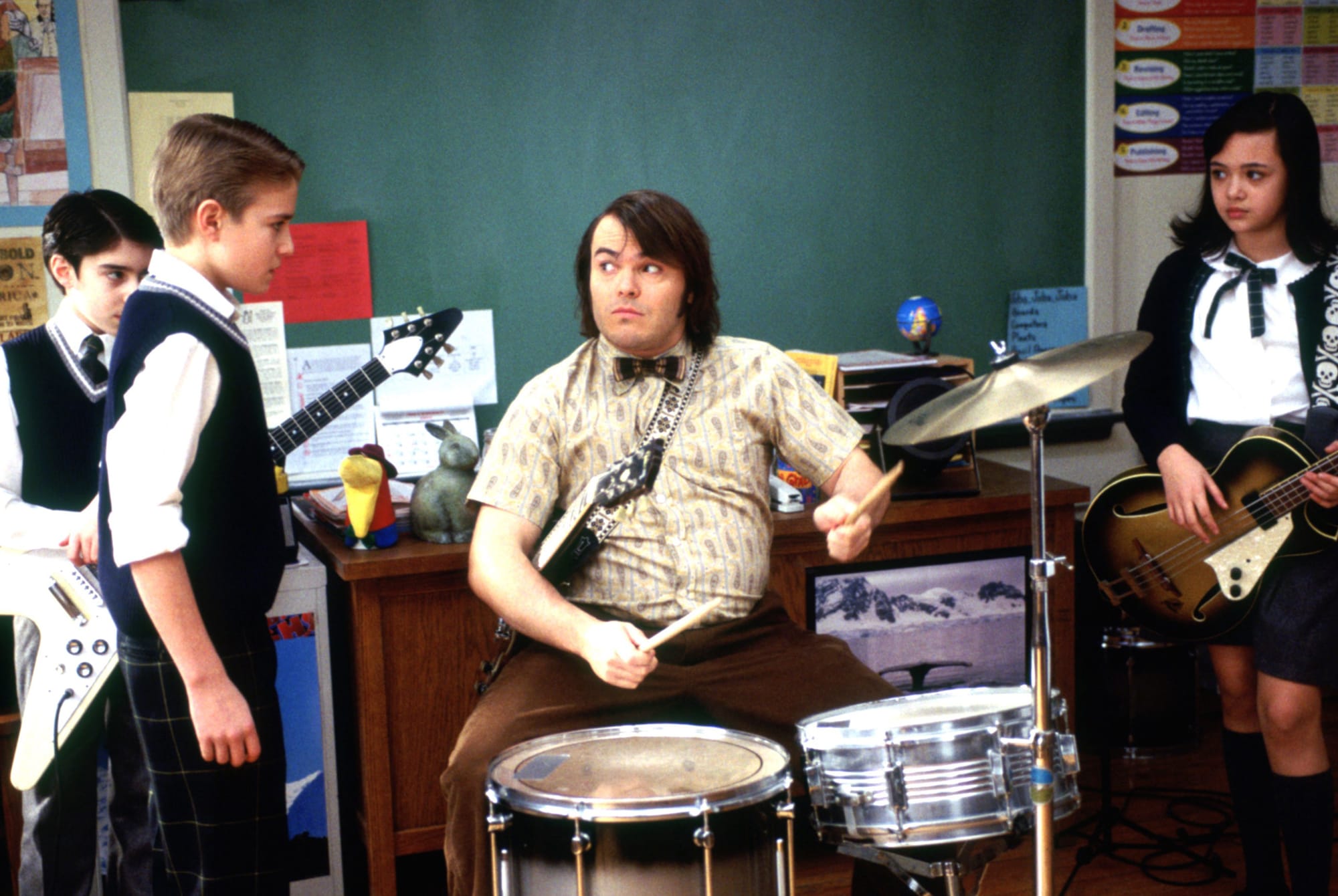 That choreography, of course, was for the movie's epic Battle of the Bands sequence. An ambitious, Gimme Shelter-esque live show that brought the small band together to play for what Clark described as "600 to 1,000 extras" in a sizeable concert hall. And while they'd been playing rock n' roll all along, you get the sense that shooting that concert scene was when the entire musical project started to feel like more than just a movie. "It was unreal," Clark told me. "The support was unbelievable; the extras were all on our side. We did really feel like rock stars."
Not all of the cast had a chance to hit up the stage before the movie's final encore, though. Falduto's "Fancy Pants", who didn't actually have a chance to perform any music in the movie was tasked with finding a different way to express himself. Cast for his mannerisms and written a part that was heavily coded as gay, it was a rare role for a preteen child, in which Falduto found himself playing a glaringly gay kid before he even had time to process his own sexuality. "I was in fifth grade at the time and I didn't know what being gay really meant," Falduto explained. "It didn't feel cool to be called gay by fellow fifth grade boys. [But] I'm happy with my journey because it makes me value my role in the LGBTQ community more. As a full circle moment, it all was totally worth it. "

There's an inescapable magic to School of Rock, the same kind that made us all lose our minds over the similarly kid-heavy Stranger Things last year. For all its scripted hijinks, it's the unmistakable authenticity in every scene that lends it an extra layer of charming familiarity. Yes, it's a scripted, studio film about "getting the band back together," but strip away the more practical layers, and School of Rock really is a movie about a group of kids learning to make music together—and to hear Brown tell it, making "lifelong friends" in the process.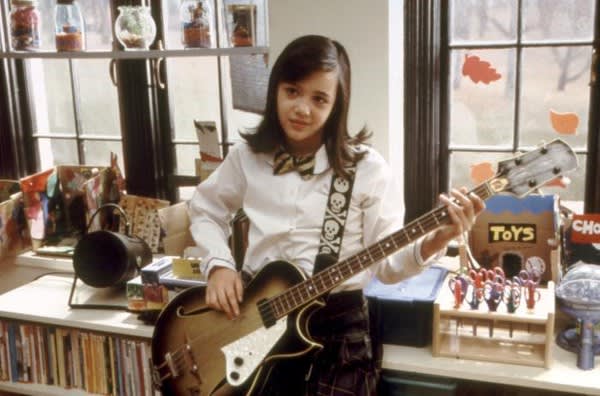 Nearly 15 years on, it's clear School of Rock is a classic of its niche genre, one that's permanently changed the lives of the actors who starred in it. "It opened my eyes to a bunch of different kinds of music," Brown beamed. "I didn't know about punk, I didn't know about metal. I didn't know who Stevie Nicks was, and then after this process she became my hero." Near the end of our chat, Allen teased: "You should see how diverse my iPod is now, and that's all because of School of Rock." 

It's impossible not to see the fingerprints of the movie on the cast's lives now: Kevin Clark is still drumming, teaching lessons at a very real School of Rock location in Chicago; Joey Gaydos Jr. is still clocking time in the studio; Becca Brown is in near constant rotation in the Chicago theater scene (she's currently starring in the Hamilton spoof Spamilton); and even Brian Falduto, who didn't pursue music onscreen, has found his way back within the last few years, releasing his first EP ("Love One Another") just this summer.
Since its release, School of Rock has spawned a Nickelodeon series and a Tony-nominated Broadway show, a theater-going experience that each of the cast members I spoke to described as somewhat surreal. ("Friggin' Sting was in the audience!") And with Richard Linklater still refusing to rule out a sequel, it's hard not to think about the movie's enduring legacy. "The best part about it for me was how it inspired kids to pick up instruments and follow that passion," Clark told me (to this day the cast has lines quoted to them out in public). "I just got a message on my Instagram a few weeks ago from this kid telling me how much my role in this movie touched him, and that's 13 years later," Falduto marveled. For all School of Rock's jokes about its pint-sized cast, that kind of impact is anything but kids' stuff.