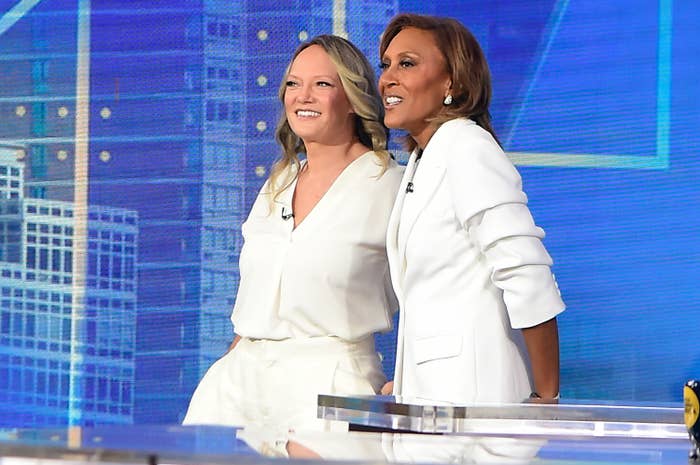 Good Morning America co-host Robin Roberts and her longtime partner Amber Laign have tied the knot.
The couple, who've been together since 2005, were officially wed on Friday (Sept. 8) in the backyard of their home with family and close friends in attendance. Robert's childhood pastor officiated the ceremony, according to GMA.
In a photo slide uploaded to Instagram on Sunday (Sept. 10), the newlywed couple are seen hand-in-hand wearing custom Badgley Mischka sleeveless dresses and holding bouquets. "An intimate, magical wedding ceremony in our backyard followed by a joyous reception...ohhhh the dancing!! We are immensely grateful to all for making it a day and a night to remember," wrote Roberts in her caption. "Honeymoon here we come!"
After the wedding, guests were treated to an enchanted garden-themed reception where Roberts' siblings prepared a toast for the newlyweds with "This is How We Do It" by Montell Jordan as their entrance song. "One of many highlights, my siblings surprising us with their song choice before their toast!" wrote Roberts on IG. "Thought for sure they'd go with a gospel tune, nope!"
The wedding was a culmination of the couple's 18-year romance that started as a blind date arranged by mutual friends. "I remember just walking up and she's just beautiful, and she took my breath away, and she still does," Laign told GMA last month.
Their love story endured through several challenges, including grieiving the losses of parents to both women battling breast cancer. The COVID-19 pandemic brought the pair closer and prompted them to talk about taking the next big step in their relationship.
Their unique proposal happened last year at one of the couple's favorite restaurants as Roberts recalled, "Now looking back, it was pretty fitting for us to not have a down on one knee [proposal] and one person doing it ... it was just us hanging out in our little hole-in-the-wall Mexican spot and putting calamari rings on each other saying, 'Let's go. Let's do it."