There was only one menu item available for order at The Usual restaurant in downtown Manhattan on Monday night: a cheeseburger, which couldn't be more appropriate given the occasion. SIMPLE Mobile and First We Feast came together to celebrate the premiere of the latest season of The Burger Show with a one-of-a-kind soirée.
Host (and chef) Alvin Cailan welcomed over 100 guests into his quaint, Nolitan Hotel eatery to commemorate the third season of the First We Feast original series with SIMPLE Mobile serving as the show's official 2019 sponsor.

ICYMI, The Burger Show follows Alvin as he embarks on a journey to learn more about burger culture in the U.S., tapping a bunch of celebrity friends and tastemakers along the way. From DIY-style recreations of the iconic Shake Shack burger and In-N-Out's massive Double-Double, to studying the history and science behind what makes burgers so irresistible, the L.A. native assumes the role of both teacher and student.
"Who would have thought that a lifetime of eating cheeseburgers could turn into an actual YouTube show?" Alvin reflects.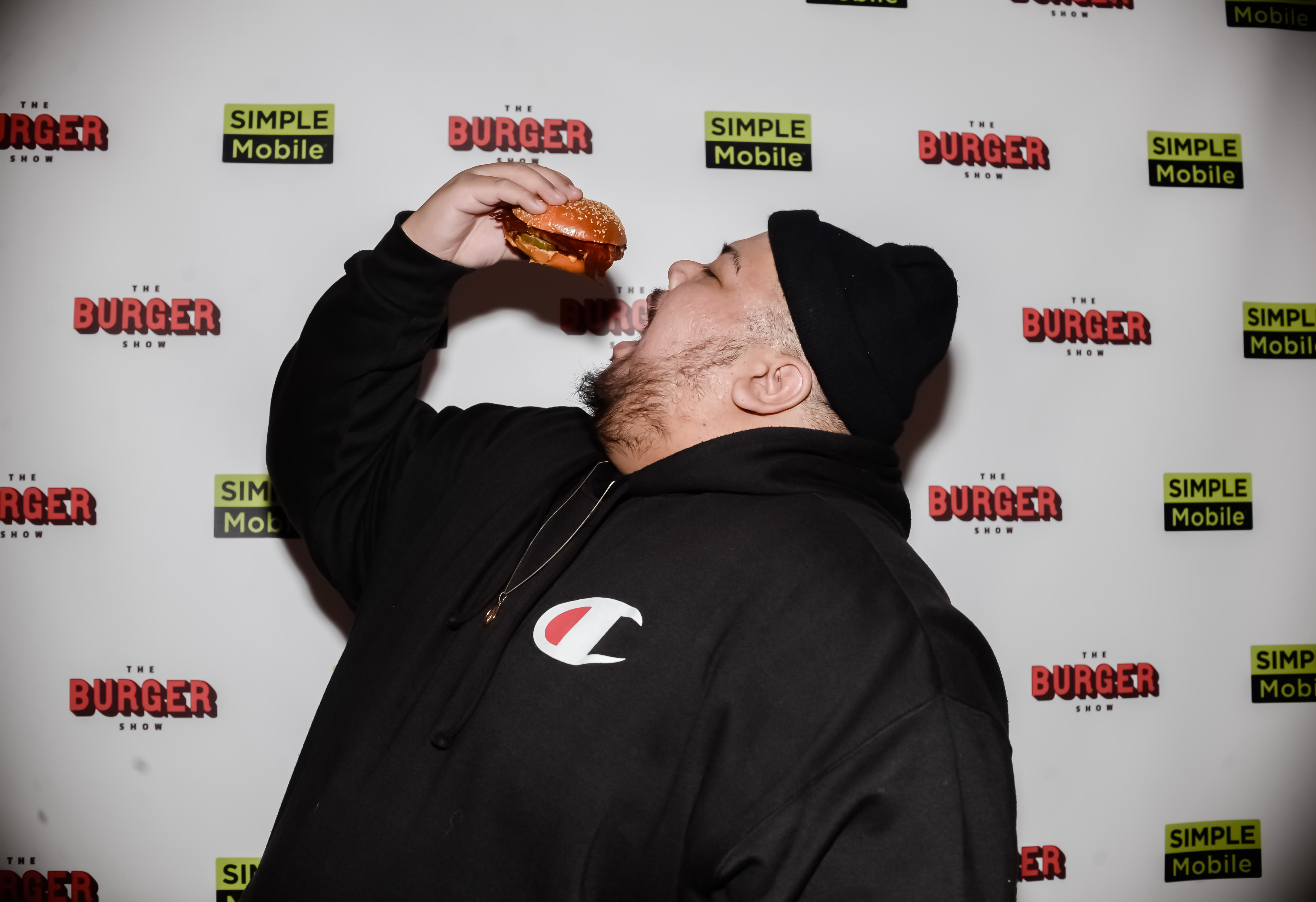 The restaurateur put his education to good use at the SIMPLE Mobile-powered event, concocting an insane new burger, inspired by the "diverse regionality" of his favorite food. "The Transformer" was, for all intents and purposes, the marriage of an Oklahoma fried onion burger and a Tennessee deep-fried patty, blanketed by Connecticut-style crispy cheese.

As attendees stuffed their faces with this decadent holy grail of a cheeseburger, The Burger Show creator Justin Bolois mused on the evening's festivities.

"This idea of bringing people together around something as accessible and simple and democratic as burgers, it's amazing," says Bolois, before turning and looking out of The Usual's front window; marveling at The Burger Show episode being projected on a building facade across the street. "It's all about connecting people through food."
Connection is at the center of SIMPLE Mobile's business model, so it makes perfect sense for the wireless carrier to sponsor The Burger Show. While season three features friends from the past—like Binging with Babish and George Motz—it diverges from the first two in that it's not based in one location. Alvin traverses the country, tracking the hamburger's infancy at Louis' Lunch in New Haven, CT, to its future in San Francisco with burger making robots.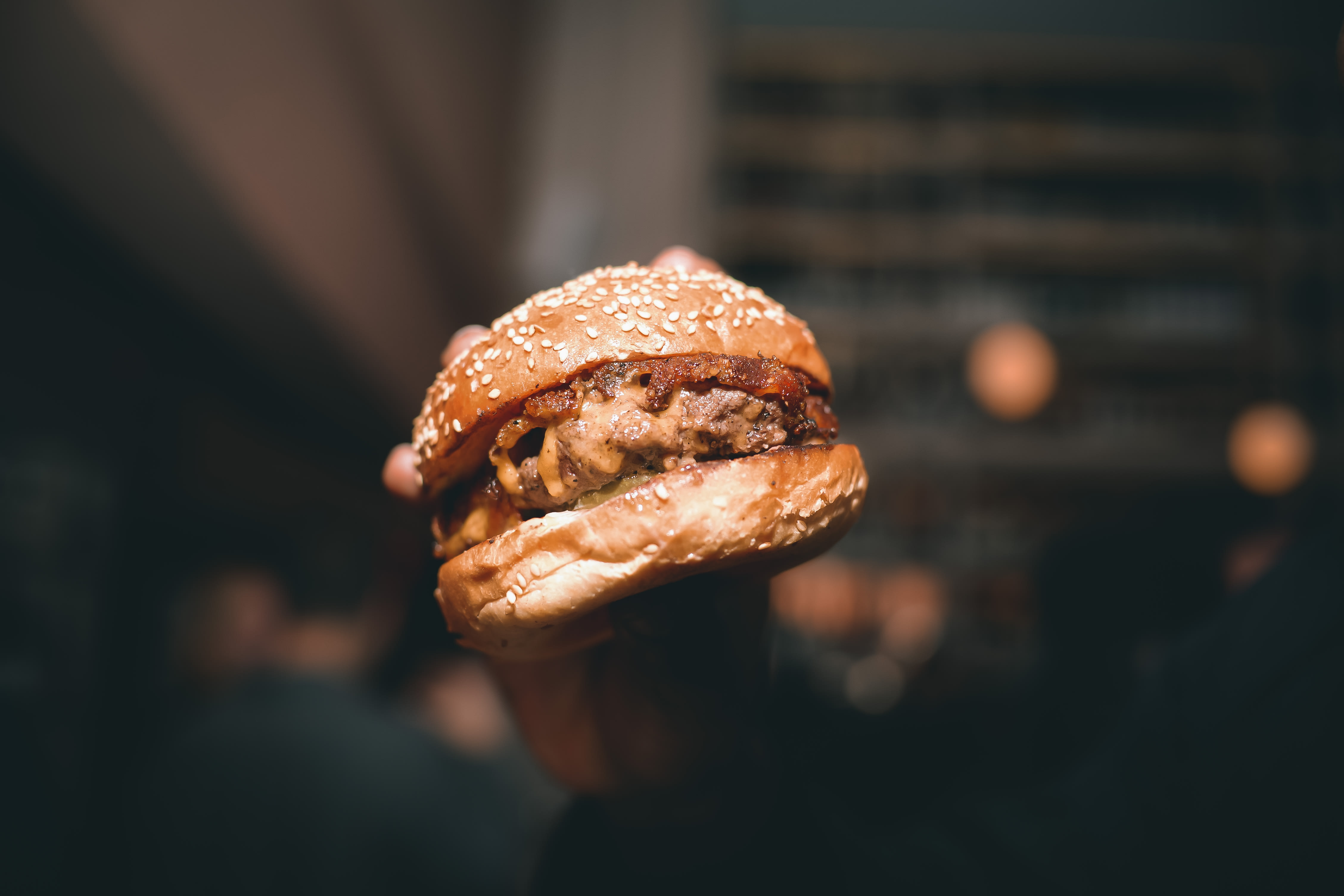 "Burgers are a basic food. But the thing is, when you label something as basic, there's a whole other level that you forget about or overlook," Alvin says. "There's a deeper meaning behind burgers. Burgers are the backbone of this country."
Aside from inhaling the glorious grub, attendees caught a glimpse of the first episode of season three—starring Tony Hawk—and left the restaurant with some exclusive Burger Show-themed merch, including (appropriately) a co-branded SIMPLE Mobile apron.
Be sure to catch season three of The Burger Show on First We Feast's YouTube channel, with new episodes dropping every Tuesday from now until April 9 before the return of season four (later this year)!