Kat Graham is fired up. You probably know the 27-year-old actress best as Bonnie Bennett, the all-powerful strong-willed witch and loyal BFF on The CW's Vampire Diaries (a critically underrated gem during its first three seasons). You might also know that she makes music, and released an album last year. But to write her off as a YA actress cum pop music product, all gorgeous features and no depth, is to have her fucked up. In fact, she's so invested in changing what she believes to be the perceptions surrounding her that when we sat down to talk she responded to my first question with a breathless, impassioned ten-minute response. 
Even before TVD announced this would be its last season, Graham was planning her exit. She's got too much on her itinerary to continue carving out time for a supporting role on a network show. She's Jada Pinkett Smith in the upcoming 2Pac biopic All Eyez On Me, plans to produce TV and films that further along the wave of shows like Insecure, Atlanta and Queen Sugar have started. Oh, and a new album that she worked on with Prince before he passed, the first single from which, "All Your Love," drops tomorrow. Are you ready to take Kat Graham seriously, Hollywood?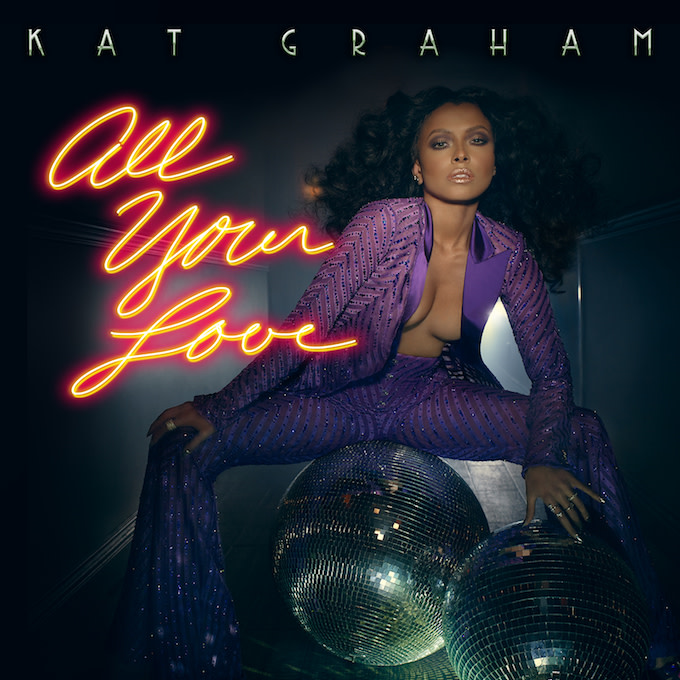 I have to admit, I got a huge late pass to your album Roxbury Drive, I listened to it in the last week, it's pretty good. I can't believe you produced it yourself!
Thank you! Yeah, I started off as a recording engineer and a beatmaker. I was this skater kid that would skateboard to auditions and then I would use the money I'd make and buy a bunch of equipment and make a bunch of beats. I still am that kid, just with a little more money.  ​
Did you end up leaving Interscope because they wouldn't let you do your own thing?
I just wasn't feeling this kind of direction that a lot of labels will put on girls that look like me. Like, "Oh she's cute, she's CW, she can dance, we know exactly what do with you." I'm not the girl that you should really just hand over tracks to. I can make my own stuff. 
I had gotten a call from Prince, who was aware of what I was doing. I had started to work with him, and kind of got the idea of what the next album was going to be and the direction I needed to go. I was going back and forth to Paisley [Park], and then talking with Kenny [Babyface Edmonds]. Prince asked,"Why aren't you dancing more? Why aren't you doing more of this kind of funk, this kind of Donna Summers, Giorgio Moroder, like really cool funk records?" And I was like alright, let me get on it. I only got about three songs done before he passed and I spent the rest of the summer honing in on exactly what he meant. So that's the album that I just finished last month. You have to be careful when you are an actor because people are so quick to make you not legit. I just wanna be a good artist.
What about your decision to leave The Vampire Diaries?
It wasn't a decision. My contract was up. It was a great journey, and I would never leave a show in which the character's story wasn't complete or coming to completion. 
It's been like, seven or eight years. Does leaving feel a little bittersweet?
When you work with people for eight years, you definitely are going to miss them. I learned a lot on what to do and not to do and I made great friends. Also, I grew to find that being an African-American in the industry, or on the kind of show I am, really does have a lot of weight, it just depends on how much responsibility you decide to educate the public with. I've definitely become more active in that way.
In what ways?
I just want to make sure that I'm taking roles that are positive, real, honest reflections of African-Americans because I do think the media can put African-American women in the background. Then unfortunately, what happens is subconsciously our culture begins to assess that as reality. You have to be very careful with the art you create and you put out. I didn't realize that until more recently.
Well, you're in the upcoming 2Pac biopic All Eyez On Me playing Jada Pinkett-Smith—how did that come about?
I originally went and had a meeting with Carl Franklin, who was the director attached at the time, and didn't really hear anything. Then Benny Boom jumped on as director. I had worked with Benny on a couple of music videos, so he knows the kind of energy I have. I just thought it was a meeting and he took me around, and was like, "This is Jada." He took me to meet Demetrius [Shipp, the actor playing 2Pac], and we hit it off immediately. I'm really proud of the movie. I think Pac would've loved it; Demetrius did a phenomenal job, just gave me chills.
Have you talked to Jada at all?
I talked to her after. She was really supportive. I told her what scenes I shot, what they were focusing on, and you know I was like "I hope you like it." From where I'm sitting, there aren't a lot of black female producers who are also music artists and also actors who are also very socially conscious, so she is extremely influential to me. But it also was comforting because I didn't feel like energetically we were that far apart, in terms of what we consider important in the world today. I think she is going to dig it, the family is going to dig it.
What does the movie illuminate between the Jada-Pac friendship?
One of the most incredible things that Jada told me was—no one's ever going to know the depth of their relationship. Only Pac can really explain it, but what I tried to portray was the essence of their friendship, and how supportive and connected they were. When you're doing a biopic, a lot of [actors] worry about talking, moving like a person. Capturing the essence of their friendship was probably the most important thing for me, and Demetrius' and I's friendship, because we are very close. You just get a really intimate look at Pac, and a lot of people feel like they know him through his music, his poetry, his life, and his brushes with the law. Everyone feels like they have a good idea but this really immerses you in his world.
Do you feel like it's going to resonate, especially with everything going on in the country recently?
Yeah, because ain't shit changed. It's starting to get worse. Right now more than ever, we need to feel empowered, we need to get loud, we need to be heard. I feel a lot of moments no one was louder and bigger than Pac, so I think that not just African-Americans, but anyone who was a fan of his, are going to love this movie.
So what's 2017 look like for you?
We got the album coming. And a couple of movies. This one I did with Terry Crews and King Bach is so stupid funny. It's called Where's the Money? and I believe it's coming out next year. I did an animated movie called Speed and then I have a couple of other projects that I will start filming when I figure out my touring.
What can we look forward to in this final season of Vampire Diaries?
It's such a packed season. We got a couple cool villains coming up, there is a lot of action. This definitely feels like the final season of the show, no bars held. It's a big season for everyone. There are a couple of new characters that come, a lot of characters kind of turning against each other, so it's cool. 
Do you ever see yourself doing another TV show?
Yeah, but hopefully not one that I'm not producing. I want to be able to have a bit more control, especially when we are talking about diversity. I want to make sure that nothing gets pushed under the radar, that people that are a little different are protected and represented well.