Imagine getting your breakout role in a Star Wars movie. You're basically rocket-launched into fame from that point on. It's only been less than year since we saw Daisy Ridley as the ass-kicking Rey in Star Wars: The Force Awakens, but since then she's garnered a huge following: 2.3 million on Instagram, if we're counting. But the sudden spotlight may have been too much for the newcomer whose social media following saw an insane growth spurt within just a year. The 24-year-old actress recently quit Instagram. Her short-lived profile contained not only goofy selfies, but also inspirational messages about self-esteem. She used the platform to fire back at body-shamers as well.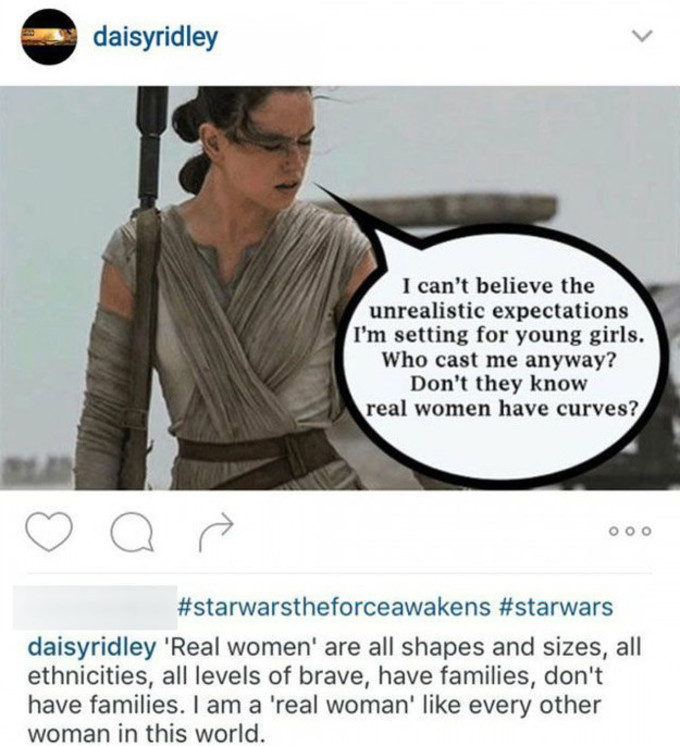 Instagram lost a role model when Ridley deleted her account last month, and many speculated it was because she was cyberbullied after posting an anti-gun violence Instagram following the Teen Choice Awards, during which the victims of Orlando, Newtown, and San Bernandino were honored. Before deleting it, she had written, "Thinking about how lucky I am like……… Serious bit: as I sat in the audience yesterday tears were streaming down my face at the tribute to those that have been lost to gun violence. I didn't get a great picture of the incredible group that came on stage but they were so brave. It was a true moment of togetherness. We must #stoptheviolence."
But the actress, speaking to the Student Academy Awards, said it was because of "pressure." 
"I was like 'I need to post. Oh my God, it's been this many days'. It's actually been kind of nice not to be on it," she said. "I'm 24. I have a lot of growing up to do. I have to deal with loads of stuff myself personally. For that to be projected with millions of people watching, that is like a bit of an extra pressure. I think some people handle it well. Just right now it's not for me, but who knows." Do what you gotta do, Daisy. We'll see you in the movies.