UPDATE: Disney have now pulled the Maui costume from their online store
As well as taking the costume off from their online store Disney have released a statement saying:
"The team behind Moana has taken great care to respect the cultures of the Pacific Islands that inspired the film, and we regret that the Maui costume has offended some... We sincerely apologise and are pulling the costume from our website and stores."
[September 21]
Disney have been caught up in a racism row after the children's costume for their upcoming film Moana was put on sale on their webstore.
The full-body costume, designed to look like Maui, a Polynesian demigod, who is voiced by Dwayne 'The Rock' Johnson, features traditional Polynesian tattoos, a grass skirt, a bone necklace and brown skin. The design has provoked criticism from  people who are claiming that Disney's costume is evidence of cultural appropriation and promoting 'full-body brownface'.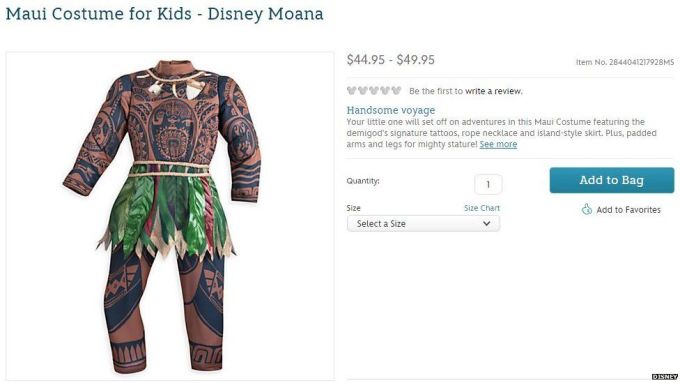 The costume hasn't appeared on the Disney UK webstore but it is available to customers in the US, which is described as an "all over Maui body tattoo screen art".
Disney's Maui kids costume has received fierce criticism on Twitter
New Zealand's Human Rights Commission issued a statement calling on Disney to: "listen to the views of the communities and people whose cultures their movie is based upon".
Disney have not commented on the criticism, however the costume has been defended by those in the Polynesian community.
'Moana' will be out in theaters next month