Rapper Charles Hamilton was only three or four years old, growing up in Cleveland, when Sonic the Hedgehog took hold of him. He was parked in front of the family TV, but a video game controller wasn't even in his hands. Hamilton didn't need to experience Sonic's gameplay to fall in love. All it took was the demo reel the iconic 1991 video game would run through when its main menu sat idle for long enough.
"I was amazed," Hamilton says. "Watching Sonic take over the world was all I needed to see to believe I could do anything."
Almost two decades after staring entranced at that demo reel, Hamilton landed major-label deals and magazine covers by fully incorporating Sonic the Hedgehog into his identity. In 2008, Hamilton released Sonic the Hamilton, a mixtape of tracks entirely inspired by Sega's speedy mascot character. He sampled everything Sonic—from the music that played over levels in 1991's Sonic the Hedgehog and its 1992 sequel, to sound effects of Sonic grabbing bubbles of oxygen underwater or racing to finish a level before the game's timer expired, to bits of the character's self-titled 1993 Saturday morning cartoon show.
"The mixtape was basically me believing I'm Sonic," Hamilton, who signed a deal with Republic and appeared in an episode of Empire last year, explains. "I never believed in myself, so when I created the opportunity to believe I was my hero, my self-esteem jumped through the roof."
Heroism is what Hamilton says draws him, like millions of other fans, to the character of Sonic. "He never gives up," the rapper says. "He believes in himself and is a team leader. He also has a great heart. He risks his life for the entrapped wildlife [in the Sonic games and cartoons], and instead of sticking around to receive glory, he's off to save another life. That's what I love about him."
Sonic was fast; he had attitude, rising to video game icon status by tearing through levels like a pinball, at a speed that was unseen in the early '90s. In 2016, Sega will mark the 25th anniversary of the first appearance of Sonic the Hedgehog. In that time, video game mascot characters—Bubsy, Spyro the Dragon, Toejam & Earl, Crash Bandicoot, Zero the Kamikaze Squirrel, Conker the Squirrel—have risen alongside him, but very few have had the endurance that Sonic has. Many have disappeared from the scene altogether, the victims of corporate upheaval, changing tastes, or maybe just too many poorly selling games in a row. 
Conversely, Sega has sold more than 140 million copies of Sonic games across the franchise's 25-year run—and he's still going. The mascot currently stars in a Cartoon Network animated show that's heading into its second season this fall, his fifth show since 1992. He also continues to persevere in the video game world, with a new title, Sonic Boom: Fire & Ice, hitting the Nintendo 3DS this year.
Forever an underdog with a fierce bite, Sega's flagship mascot still survives through the nostalgia of gamers, the excitement of die-hard fans, the uniqueness of his character, and his history at the front lines of a war between video game consoles. But on the other hand, his story will always be somewhat shadowed, tied to the fact that the console that created him lost that war.
Sonic the Hedgehog first came into being in the late 1980s, when Sega, a Japanese company that had made its name in the arcade industry, looked to cut into the market share of home gaming giant Nintendo.
Nintendo, of course, had Mario, the jumping Italian plumber mascot of Super Mario Bros., an incredibly well-made and well-received title that helped propel the company to domination in the console gaming market. Sega's hope was to compete with Nintendo with its new console, Sega Genesis. To do so, the company felt it needed a mascot that could rival Mario. They did away with their old mascot, an unassuming, unintimidating teenager named Alex Kidd, and started over.
Artist Naoto Oshima was tasked with a project called "Codename: Defeat Mario," as authors Marc Pétronille and William Audureau tell it in their 2013 book, The History of Sonic the Hedgehog. Oshima teamed with programmer Yuji Naka to create a new mascot, and a game to go with him. Naka disliked the slow pace of Mario and wanted to create a character, and a game, that was built on speed, and could be played with just one button. Over time, Naka, Oshima, and a third man, Hirokazu Yasuhara, who would serve as the leader of their team and the game's level designer, settled on an anthropomorphic hedgehog, originally called Mr. Needlemouse. He could roll into a ball to fight enemies with his spiny body, and he was fast, because the team liked the irony of a speedy hedgehog. They made him blue to represent Sega's colors. They gave him an attitude, so as to significantly differentiate him from Mario, who was forever smiling and amiable. 
"You talk to any former Sega of America people and they'll tell you that, 'Well, you know, in marketing, Mario was short and plump and slow, and Sonic had an attitude and he was fast, and that's what people tend to know the best,'" explained Ken Horowitz, founder/editor in chief of the retro gaming website Sega-16.com, and author of the forthcoming book, Playing at the Next Level: A History of American Sega Games. "But I think one of the things that Sonic had over Mario was that Sonic is a character who's a teenager. He has a rebellious attitude, and he helps because he feels it's the right thing to do, not because he feels that he's obligated. He has this sense of independence that other characters don't."
Sonic the Hedgehog was a smash hit when it came out in 1991: to date, the game has reportedly sold over 15 million copies. It was well-made and technically stunning, and thanks to Naka's programming, Sonic moved faster than any other game on the market, which also showed off the power of the Sega Genesis.
But Sonic transcended the games he starred in almost immediately. Sega wasn't content making a game that could stand beside Super Mario Bros. It wanted a mascot that could go toe-to-toe with him anywhere. Nintendo's Mario received a widespread media, marketing and licensing push, and Sega provided the same for its mascot, pumping out toys, comics, and cartoons. Within two to three years of the first Sonic game hitting shelves, he was starring in not just one, but two TV cartoons in the US: The Adventures of Sonic the Hedgehog, which ran for 65 episodes, and Sonic the Hedgehog, which had two seasons. Both featured Jaleel White, of Steve Urkel and Family Matters fame, providing the voice and attitude of the Blue Blur, as Sonic was nicknamed. Two other Sonic cartoons, Sonic Underground in 1999 and Sonic X in 2003, aired 40 and 78 episodes respectively. Parents could buy their kids Sonic shoes and Sonic-themed Spaghetti-O's. In 1993, Sonic was the first video game character to appear as a float in the Macy's Thanksgiving Day Parade.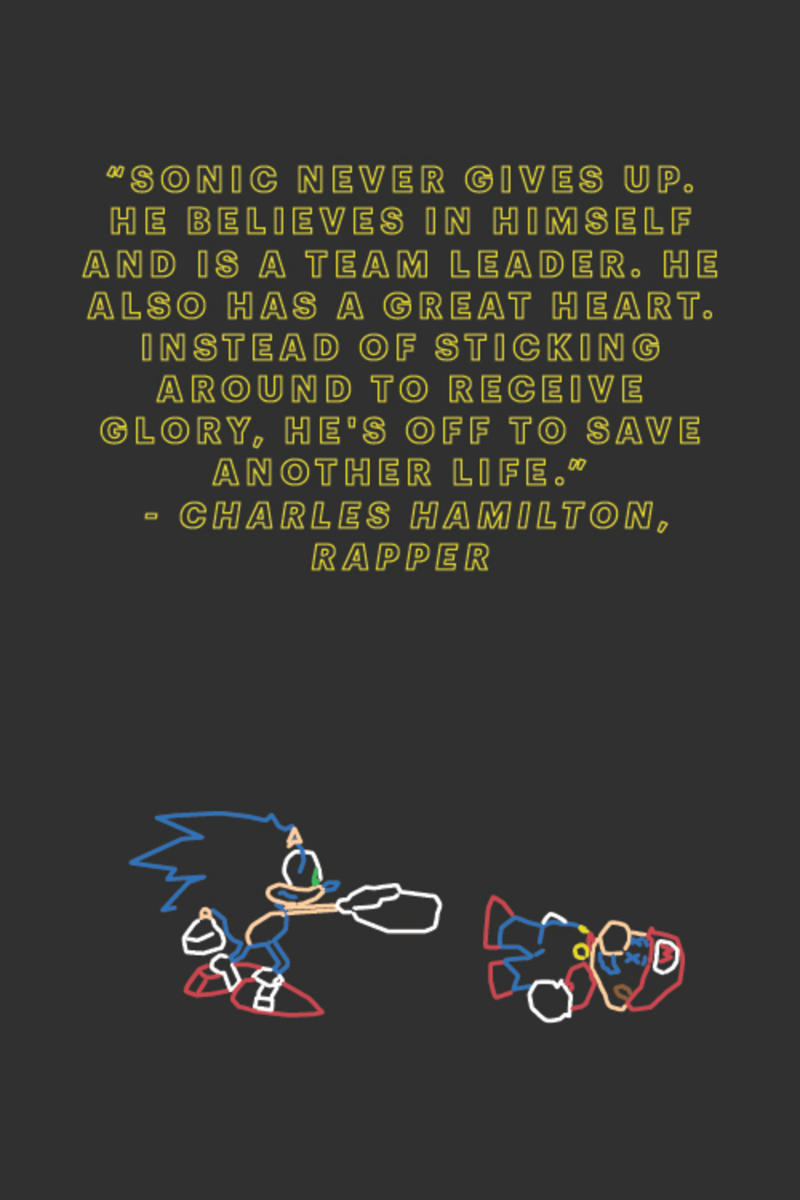 While other characters were only defined by what appeared in their actual games, Sega immediately gave Sonic the Hedgehog something more: multiple, diverse platforms that let fans dig deeper into the franchise. As much as the games succeeded and the character of Sonic resonated with players, it was Sega's massive marketing push that helped make him a force to rival Mario.
"The fact that [Sonic] was the mascot of a company that made video game hardware gave him a lot more exposure than other companies had," Horowitz explained. "That led to a lot of licensing deals. Contrary to characters like Spyro the Dragon and Crash Bandicoot and Zero the Kamikaze Squirrel and all those others, you saw Sonic on bedspreads and pajamas and lunch boxes, just like Mario. And I think that that level of exposure put him on the same level as Mario."
The rivalry between Sonic and Mario pushed developers working on Sonic games to constantly create better and better games, Takashi Iizuka, the current head of Sega's Sonic Team, tells Complex. With each new iteration of Sonic games, the team looked to find new ways to expand not just the game play, but the character. "They're always trying to look for ways of improving on Sonic so we don't just have the same character kind of doing the same thing in different games, we're really adding more to the character, fixing any problems that we have, taking what people like and stretching that out to be even better than it was before," said Iizuka through a translator.
Unfortunately, Sonic was only as powerful as its maker. In the new millennium, Sonic's continued relevance was restricted by Sega's inability to expand and progress. 
After a series of struggles on the home-gaming hardware side, Sega stopped making consoles in 2001, unable to build the popularity of its Dreamcast console. It was a major blow for a company that had once been on top of the US video games market. In response, Sega shifted its focus to making and publishing games for its former competitors' many platforms. The move has produced lackluster financial results so far. In the early 2000s, a big chunk of the company's shares were purchased by Japanese pachinko game manufacturer Sammy; in a July 2015 investor call, Sega announced it was projecting 42 percent fewer net sales for the year than it had expected. It made cuts to the company, and on another call in December, Sega slashed its profit expectations by 90 percent for the fiscal year. In 2016, the company managed to become profitable again thanks to even more cuts and restructuring, but it was still struggling to increase sales of its games. Revenue for Sega's Entertainment Contents business, which includes arcade machines and toys as well as games, was stagnant between March 2015 and and 2016, while revenue from games continued to drop slightly.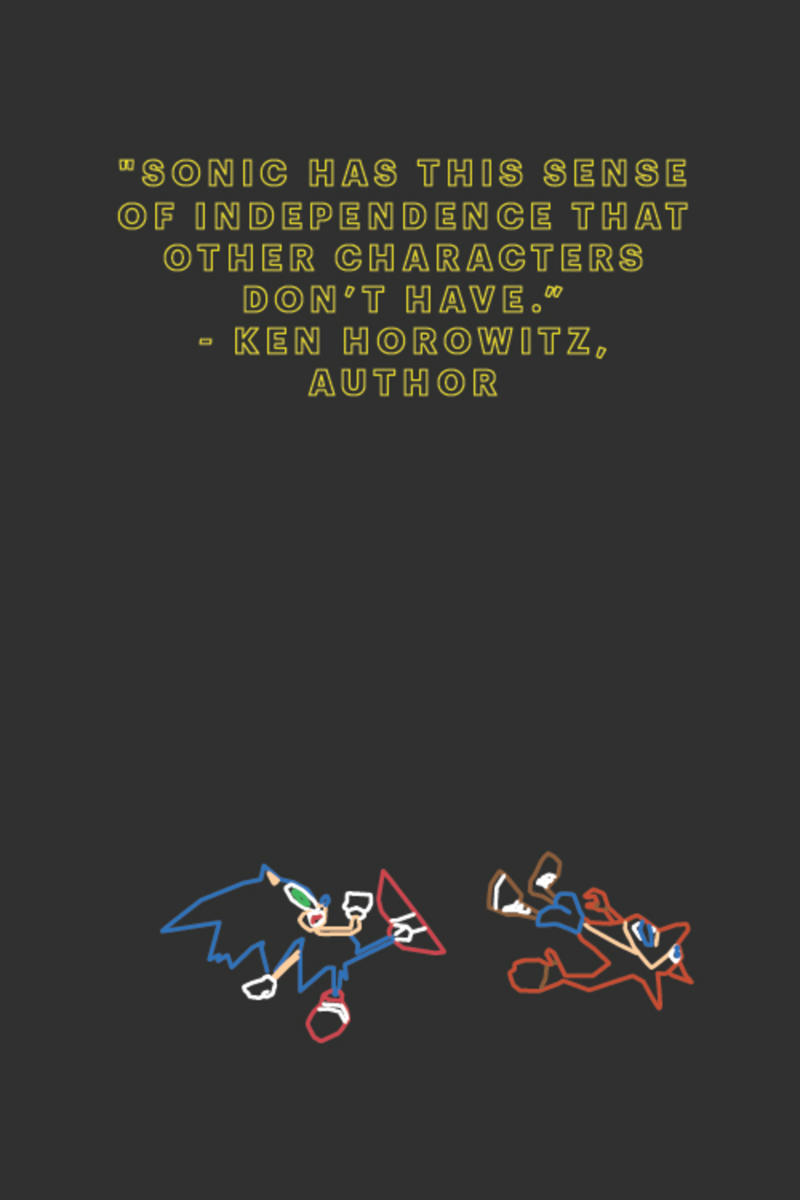 The problems at Sega affected Sonic greatly. The character seemingly lost some of his unique verve as Sega was forced to expand their properties to competing platforms. He began appearing on Nintendo platforms and in games alongside his one-time nemesis, Mario. He showed up in Nintendo's mascot fighting game Super Smash Bros. Wii-U, and shared the spotlight with Mario in the Mario & Sonic at the Olympic Games series. "Nintendo and Sega were once opponents in the video game world, as were Mario and Sonic, but once Sega got out of the hardware business, that enabled a strong and lasting partnership to occur," Charlie Scibetta, senior director for corporate communications at Nintendo of America, says. "Nintendo jumped at the chance to bring their characters on board."
Still, Sonic games over the last decade or so haven't fared well among fans or critics. The most recent titles, 2015's Sonic Boom: Rise of Lyric on Nintendo's WiiU console and Sonic Boom: Shattered Crystal on its 3DS handheld (both of which Sega outsourced to separate developers), combined to be the worst-selling entries in the character's 25-year history, moving less than half a million titles together in their first month. Rise of Lyric also carries the franchise's worst Metacritic score at 33/100.
And yet, there's still an appetite for more Sonic. According to Ivo Gerscovich, chief brand manager for Sonic the Hedgehog and senior vice president at Sega of America, the 2013 free mobile game Sonic Dash has been downloaded 188 milllion times. And Sonic Boom, the cartoon show to go with Rise of Lyric and Shattered Crystal, is faring even better than its video game counterparts. The show started off strong on Cartoon Network when it premiered in 2015, grabbing top ratings among boys in the 7 a.m. slot and dominating that demographic throughout its first season. There's another season of Sonic Boom coming to Cartoon Network this fall, and the network signed an exclusive deal with Hulu to stream all 52 episodes of the first season.
The days of huge market share and mind-blowing sales are long gone, but Sonic the Hedgehog is forging ahead with a generation of kids who weren't even born when the original Sonic dropped. Part of the reason why is that Sega is figuring out how to engage with that changing audience.
Aaron Webber, a self-described "Sega kid" from Missouri who landed a job with the company as a game community manager in 2008 when he was 19, is today the Sonic brand's public relations and social media manager. Last year, he took over the public relations and social media for Sonic the Hedgehog, most notably its Twitter feed. Determined to take a new approach, he became embroiled in the expansive meme and fan culture surrounding the brand, turning an official, corporate Twitter account into something that seems to have almost gone rogue, in keeping with Sonic's rebellious character.
"When I came back on [at Sega], I realized after looking at a lot of the [social media] posts that, just to be perfectly honest, it was really boring," Webber explained. "It was 'buy this game, look at this trailer, blah blah blah.' And it was the same thing that every gaming company was doing. This isn't entertaining, this isn't fun. And Sonic is a very fun brand. He's got an attitude. So I said what if we take Sonic's attitude and try to apply that to social media?"
The change in approach has been wildly successful with fans. "Engagement is through the roof," Webber said. The Sonic Twitter account more than doubled its followers since Webber took over, with more than 343,000 at present. A year ago, it had only 150,000 followers, according to Sega. "We wanted to change that discussion away from the negativity that was kind of existing back around the late 2014, early 2015 era—there was a fair bit of it."
Thanks to Sonic's history and the nostalgia surrounding him, a few bad games aren't enough to stop Sega's powerhouse mascot. And the company has more big plans for him in the future. A new Sonic Boom game, subtitled Fire & Ice, is on its way for the Nintendo 3DS later this year, and Sega is working on a Sonic feature film with Sony Pictures, set to release in 2018. In the future, Iizuka says, Sonic Team is looking to take the character back to his "edgy" roots even more, while also expanding beyond the sort of games he's starred in before.
"We're all really working hard to build Sonic to become the entertainment icon—not just a game icon, but an entertainment icon, where he belongs," said Gerscovich. "Sonic can live everywhere."
In 1991, Sonic had Charles Hamilton believing he could do anything he put his mind to. Twenty-five years later, he still has the company that birthed him, Sega, believing the same thing.