Although, maybe you should start learning her name. It's Kelly Rohrbach. 
The big event in tonight's episode of Broad City was Abbi and Ilana actually leaving the city for the first time in the series, as they ventured to Abbi's hometown in the suburbs of Philadelphia. (In a season one episode, they tried to get to a wedding in Connecticut, but never made it.) So "Philadelphia" was an interesting look into how Broad City plans to, well, broaden its world as time goes on, and it was a treat to see Abbi and Ilana not surrounded by the chaos of New York City, but still overcome by the chaos of themselves. Also, Tony Danza played Abbi's dad, which was awesome.
But let's specifically talk about Rohrbach's great cameo at the close of this momentous episode as Alice Ackerman, a high school friend of Abbi's who Abbi hosted a charity dance-a-thon for after she was hit by a school bus. The episode centers on getting Alice the proceeds of the dance-a-thon since, you know, Abbi never gave them to her.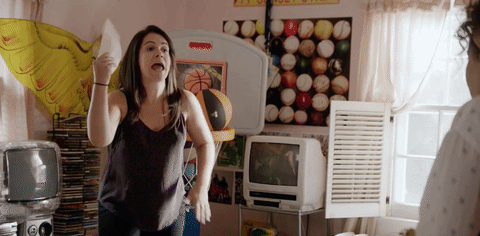 Finally, after making out with a guy who was nicknamed Schifflus at a bowling alley, getting caught buying $200 worth of liquor for a group of teens, and chasing down a feisty dog, Abbi and Ilana make it to Alice's dope-ass mansion. Upon which my two main interests—Leonardo DiCaprio's dating life and Broad City—collided.
"That's Leo's ex," I said to myself, before Rohrbach was fully on screen.
The model-turned-actress (who is also starring alongside The Rock in the Baywatch remake) did a great job as a girl who got hotter after being hit by a bus, because, you know, doctors had to put pins in her thighs.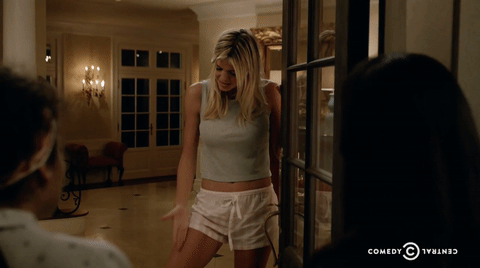 And when the kicker came—when it turned out that Alice was dating Schifflus—Rohrbach shined in telling the guy to get his ass upstairs. "That's the second strike today," she whispered into his ear with a power that could strike fear into any man. (Watch the GIF below and tell yourself Schifflus is actually Leo after the story about him taking home 20 models came out. It's really fun.)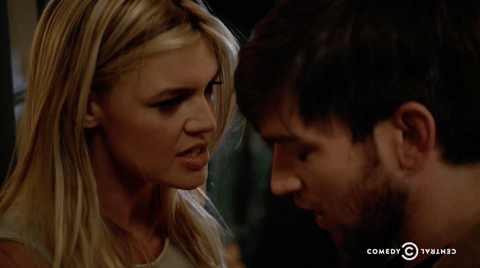 Good for Kelly Rohrbach. Her career is truly beginning to pop, and while her ex did just take home an Oscar last month, Leo can't say he stole scenes on an episode of Broad City. And considering how much he vapes, that's probably a very heartbreaking thing for him.