Do you have any regrettable tattoos? Some tribal thing you thought was meaningful at the time, but doesn't actually mean anything? Or some old bae's name? Or a crude stick and poke job you're now totally ashamed of? At least you didn't get inked before you were even a teenage.
An undercover investigation by BBC London's Inside Out found ten tattoo artists willing to work on kids. Obviously, these weren't actual licenced tattoo parlours or anything; they were sketchy people found on online forums, who the BBC caught on video saying they'd ink children as young as eleven. The law forbids the tattooing of anyone under the age of 18, but that hasn't stopped some parents actively trying to get their kids tattooed.  Gail Cooper, from the Steel Point parlour in Croydon, south London, told the BBC that she gets about 10 parents a week coming in with their children. "It's probably about 10 a week now, which is double what it was three years ago," she said "The youngest I've dealt with was 12. Her dad wanted her tattooed and he got really angry when we wouldn't tattoo her. But he said he would go somewhere else, and I'm sure he did as well."
Anyway, if you let kids get tattoos, they'd probably jut end up with Pokémon or something, like a really badly drawn Charmander or....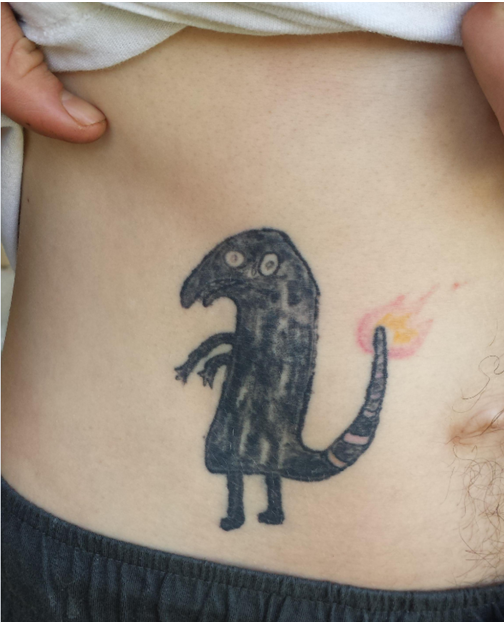 Oh wait…
[via BBC]