Benedict Wong, who plays the Mongolian Emperor Kublai Khan in the Netflix series Marco Polo, has been cast as the sidekick in the upcoming Marvel film Doctor Strange alongside another Benedict – Cumberbatch.
Also starring in this year's Oscar nominated The Martian, Wong will be playing the role of right-hand man to Benedict Cumberbatch's Doctor Stephen Strange, conveniently the character's name is Wong. So basically Wong plays the role of Wong…
Doctor Strange and Wong kicking ass in the Marvel Comics.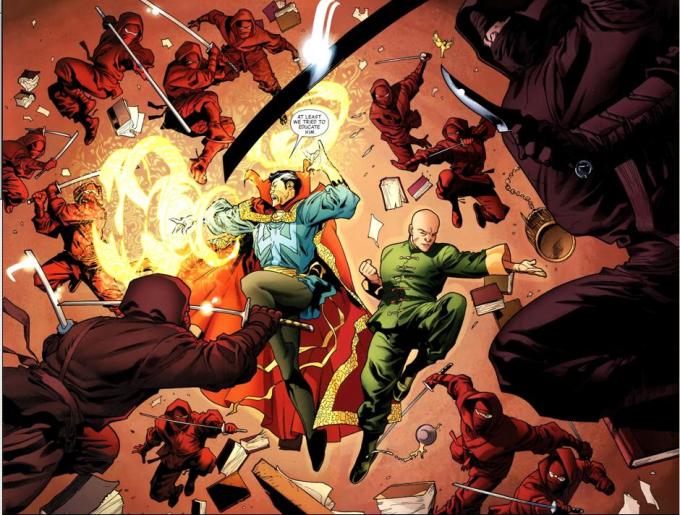 In the comic books Wong is an assistant to the Sorcerer Supreme and is a master of martial arts and the paranormal, which fits in nicely with the direction that film will be headed in. However his main task in the comics is as a man-servant to Doctor Strange, kind of like Jarvis – who is an actual person and not an A.I. turned into The Vision like the movies will have you believe (BAM! We just dropped some comic book knowledge on you guys) – is to Tony Stark and The Avengers. We honestly feel like this film should be renamed 'Marvel's The Benedict and Benedict Show', who's with us?
Doctor Strange, which is being directed by Scott Derrickson, has already begun filming. Alongside Wong and Cumberbatch will be; Tilda Swinton as The Ancient One, Chiwetel Ejiofor as the main protagonist Baron Mordo and Rachel McAdams whose character is yet to be revealed.
Marvel's Doctor Strange is due to hit cinemas in the UK this year on the 28th October.
[Via GamesRadar]