On Sept. 22nd, 1995, Showgirls, the first and only NC-17 film to procure a coveted nationwide release opened in theaters courtesy of United Artist. It was directed by Paul Verhoeven, the Dutch director who, emerging from the dugout three years after his walk-off home run Basic Instinct, had solidified his position as emperor of the erotic thriller genre. By re-teaming with Basic scribe Joe Eszterhas, the aim of Showgirls was to recapture that psychosexual lightning in a bottle, as well as land a few more satirical critiques of American culture, a trademark of Verhoeven's work. 
The plot of Showgirls was one we've seen a million times but never quite spun this way. On its slick yet slimy surface it's a cautionary tale about innocence perverted and exploited in the morally bankrupt Las Vegas dance (read: strip club) circuit, seen through the eyes of an ambitious, beautiful young woman named Nomi Malone. Sub-textually, buried beneath the sexual violence and awkward lapdances, is commentary on the exploitation of women, the inherent venality of capitalism, and how the system makes whores out of everyone in it. Its NC-17 rating meant it could go further in every sense of the word: more sex, more nudity, more violence, more general WTF-weirdness. The central protagonist in such a seedy milieu had to portray naïveté and commanding sexuality in equal measure, and Paul Verhoeven found his Nomi Malone in Saved By The Bell star Elizabeth Berkley. 
Elizabeth Berkley, a conservative Jew from Detroit, seemed miscast for Showgirls from the jump, having never carried a major motion picture in her career and being mainly known by American audiences as the neurotically liberal high school teenager Jessie Spano. However, there was method to Verhoeven's casting madness. Elizabeth Berkley, who was a classically trained dancer, brought serious gravity and empowering femininity to the role of Spano, who served as a foil to the mullet-ed machismo of her jock love interest AC Slater, played by Mario Lopez. She was fierce and very left-brain but had a palpable vulnerability to her. Rumor has it that Berkley auditioned for the role of Kelly Kapowski (which would eventually belong to Tiffani Amber-Theissen), but the Saved By The Bell producers saw something more dimensional, more raw in her, so they wrote the Jessie Spano character tailored specifically for Elizabeth. 
And if that hunger and instantly dialed-in gravitas didn't prepare her for her dark journey in Showgirls, this iconic scene from a family-friendly early morning television show edged her towards it. The desperation to be a star was there, the do-whatever-it-takes-to-be-great drive was there, and so was the compromising of integrity.
So the stage was set. Elizabeth Berkley, now in her 20s and ready to consume edgier material to help shed her high school sweetheart image, pairing with a filmmaking duo known for their very adult themes and imagery who were eager to double-up on the box office success of their last effort. The buzz surrounding the NC-17 rating had built to a crescendo. Showgirls gyrated its way into theaters... and shot a blank. 
Critically reviled for its theater camp acting and surreally awful screenplay, Showgirls opened up to an $8 million weekend and would only go on to gross half of its $45 million budget. Most of the movie's participants were veterans who had successes to equalize such a colossal failure; Verhoeven and Eszterhas, as well as character actors like Kyle MacLaclan (who was in his wheelhouse for the Lynchian weirdness of Showgirls) and Gina Gershon. They could ride out such a flop. But for someone as green as Berkley, it was a signed, sealed and delivered death warrant. Her career died on the vine.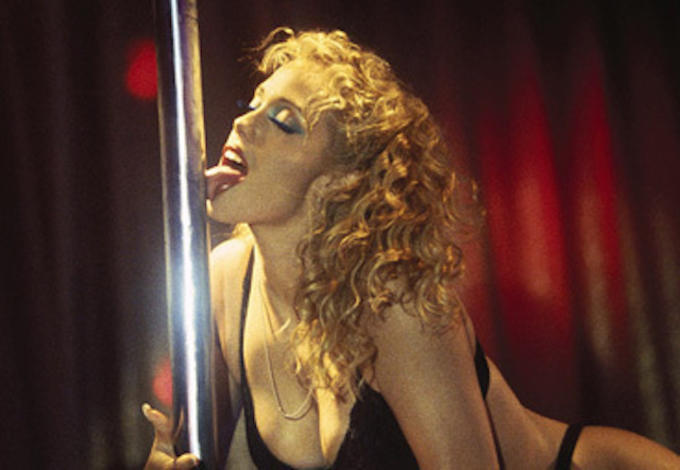 Aside from minor supporting roles in the 1996 Bette Midler comedy The First Wives Club and Oliver Stone's Any Given Sunday, Berkley saw her artistic output relegated to the straight-to-VHS ecosystem for the rest of the decade. The titles of the movies she found herself casted in have the distinct ring of Skinemax classics. All her scenes for 1997's A Time For Revenge—a film that if you described it as a "Lifetime movie" would be high praise —were left on the cutting room floor. At her nadir she found herself having top-billing (which isn't saying much) in 1999's Africa and Last Call, and, to compound her issues, she would be playing second fiddle to '90s B-budget cleanup hitter Denise Richards in the never-heard-of Tail Lights Fade. To put things into perspective: Berkley was acting in movies that could only afford to hire Gary Busey's son as the leading man. Things were grim. 
In an interview with Variety she admitted, "It was a bit of a difficult time for me personally, because a lot of doors were shut at that time. I had to find my strength and my confidence and go back out there again." However, she wouldn't allow the residue of the Showgirls stigma to break her. "Regret is not a word that I connect to in my life. I truly believe that everything we walk through and go through is a lesson. Was it difficult and did it hurt? Yes. I became more discerning about my choices and wanted to feel safe again. I had to open those doors back up myself."
Sadly, those doors still lead to movies with No Limit-era DVD cover graphics even well into the aughts. 2001 brought Berkley the closest she'd get to anything resembling a career high-water mark, with a minor arc in a Woody Allen movie. That movie was The Curse Of The Jade Scorpion, which ranks as one of his lowest grossing and most critically maligned pictures. Roles in movies (many of them produced strictly for TV) with bootleg-John Grisham titles like The Shipment, The Elevator, and The Detanator kept her bills paid, but alas she had become another barnacle on Hollywood's gone-and-forgotten piling. 
Fortunately, Elizabeth Berkley's journey experienced a miraculous upswing thanks to American culture's obsession with nostalgic pop culture. Showgirls would slowly evolve into cult status, and the movie's so-bad-it's-good currency paid in dividends for MGM, as it would become one of the highest-grossing films in history on the home video market. Even some critics did an about-face on the artistic merits of the film, recognizing that Showgirls' ferocious campiness and satirical bite might've went unnoticed during initial viewings. Verhoeven & Eszterhas were always in on the joke, but the actors played it unflinchingly serious without a trace of irony, making for an oddly manic, outré viewing experience. 
And Paul Verhoeven has a theory as to why audiences resisted the temptation to succumb to Showgirls' hedonism:
"I've always felt that we shouldn't be afraid of sex and we shouldn't be afraid of violence, because they are part of the world. Why can I not shoot what is the reality of every human couple—heterosexual, bisexual, or whatever? Why am I supposed to be cryptic when it's about sex? That you could argue, but I don't think that would fly at the moment, in any way. 

"There's a very puritan streak about this government, and it has to do with their being highly influenced by Christian thinking. Christians, of course, have never been happy with sex. If you read the apostle Paul, the letters of Paul, you see that he is on the side of the President [Bush]. 'Better not do it. If necessary, do it, but it's better if you don't.'"
Luckily, the posthumous cult status success of Showgirls also repositioned Elizabeth Berkley's standing in the industry. The film is now midnight movie phenomenon, regularly screening alongside B-movie masterworks such as Jim Sharman's Rocky Horror Picture Show and Tommy Wiseau's The Room. Critics came full circle on her once-pilloried performance. Anthony Lane of The New Yorker wrote in 2013 that "Berkley's acting debut is a joy, if you can call it acting."
And while the love/hate relationship veers towards ironic appreciation, Showgirls' cultural capital remains strong. Elizabeth Berkley's feature film career might have fallen on the sword, she has seen great success on alternative platforms. She landed multi-episode storylines on CSI: Miami and Showtime's hit series The L Word. In 2013 she returned to her dancing roots as a contestant on Dancing with the Stars and found her performances going viral each week. And she achieved New York Times best-selling author esteem with her self-help book, Ask Elizabeth. She found redemption in persistence and reinvention. 
In June of this year Showgirls screened at the Hollywood Forever Cemetery to a sold-out crowd. Berkley made an appearance much to the delight of the ticketholders. She was humbled by her reversal of fortune; her ignominy transformed from scarlet letter to badge of honor. "Tonight is like a magical full-circle moment," she told the audience. "Tonight I want to thank you guys for giving me this gift of truly getting a full-circle moment of experiencing the joy with you. Because you guys and the love you have for this movie have made this [a cult film]. Just know that I love you guys so much and thank you for giving strength and confidence to become the woman I am."
A different kind of pole position. 
Erik Abriss is a writer living in Los Angeles. He tweets here (@AbrissErik)