UPDATE 1:27 p.m.:
As nothing in this world is sacred and/or holy, the latest glob of revelation hurled forth in the wake of this feud is that Tinder's blizzard of tweets was most likely a planned publicity stunt: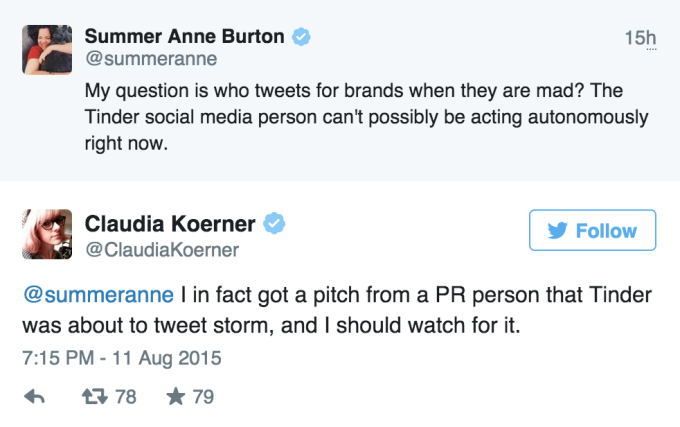 See original story below.
Tinder is currently neck-deep in the process of swiping left on every journalist in the world, as evidenced by its entertaining though ultimately ridiculous Twitter diatribe in the wake of this Vanity Fair article. Written by Nancy Jo Sales, the article posits that we are now entering a self-induced "dating apocalypse" full of f:)ckboys and all variations therein. Speaking candidly on the rise of "hookup culture" with a variety of common twentysomethings and sexual behavior researchers, Jo Sales' article presents not so much an indictment as a worthy and thorough observation of the continued evolution of the tedious task of, presumably, finding love or something near it.
Though Vanity Fair debuted the piece last week, Tinder didn't get around to blasting them on Twitter until Tuesday. Taking aim at both the magazine and the author individually, Tinder's lengthy screed seemed to oddly suggest that journalists should ask permission before writing a less-than-worshiping article on a subject of public interest. Awesomely, Tinder has not deleted Tuesday's tweets, though we grabbed screenshots in case a change of heart is suddenly thrust upon their convictions: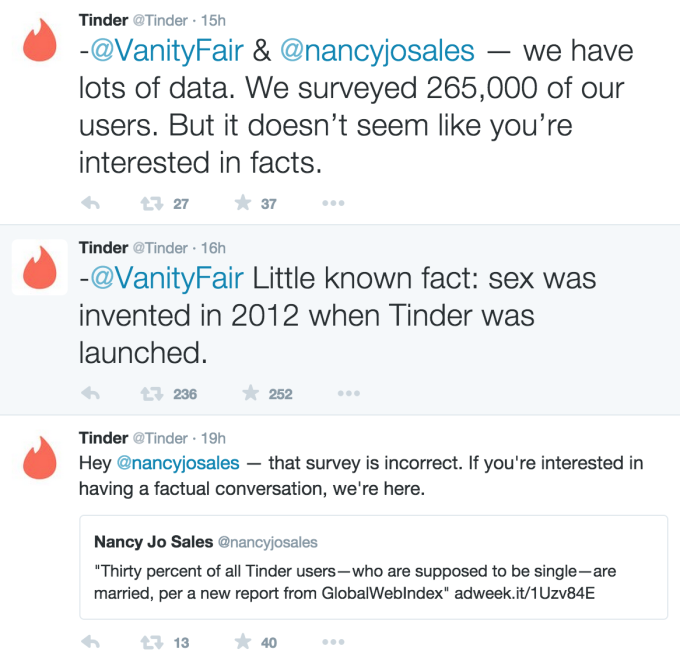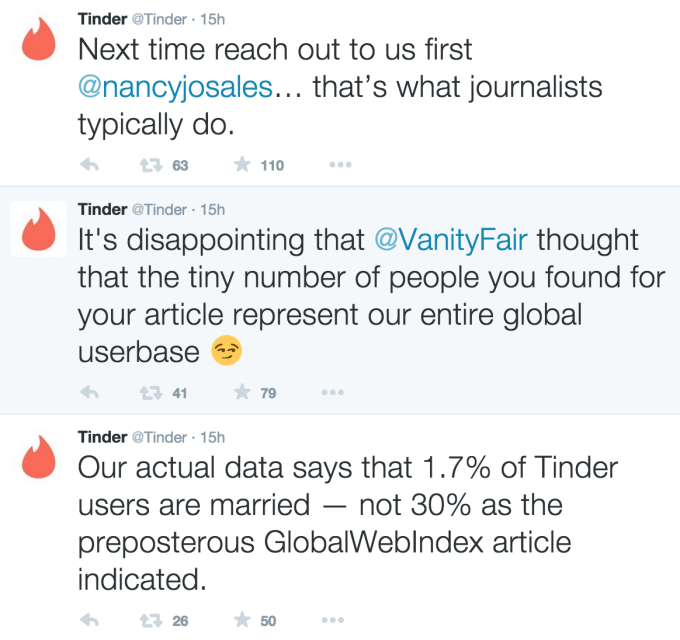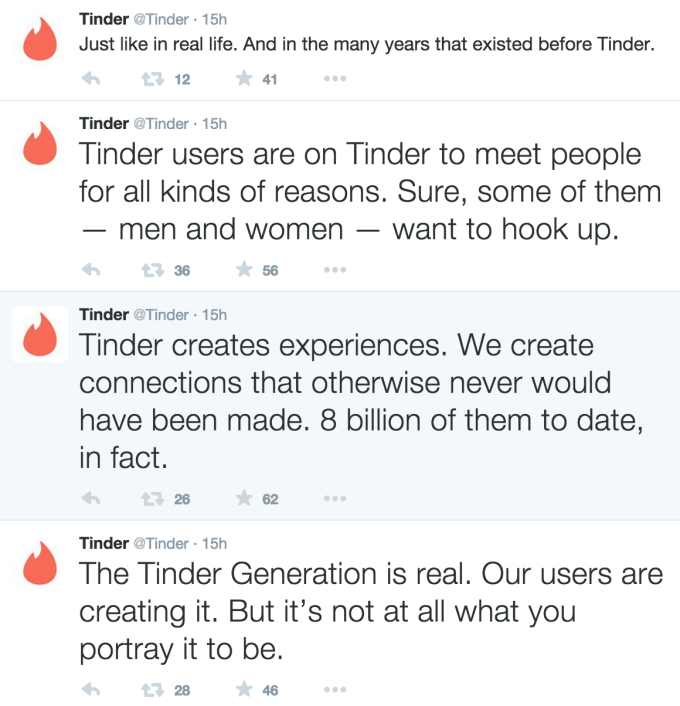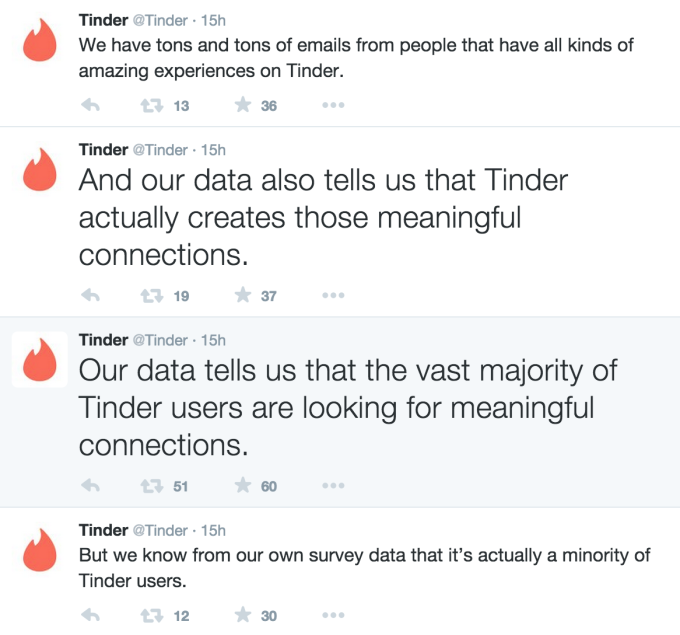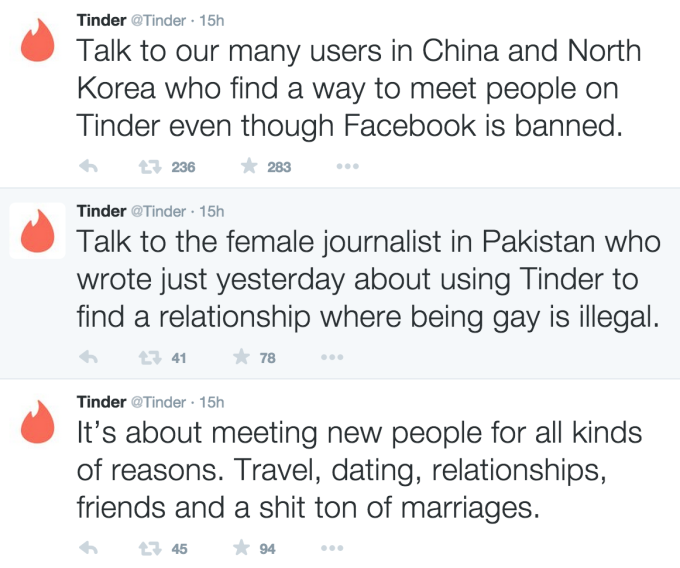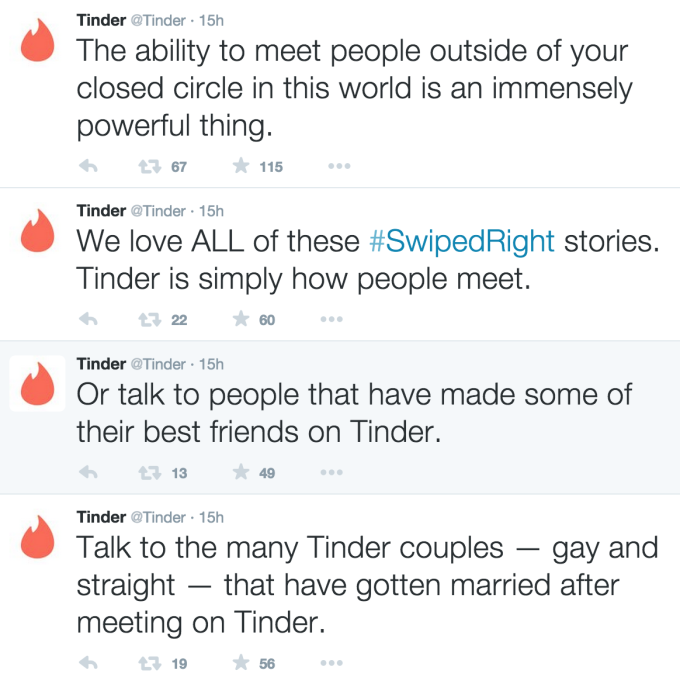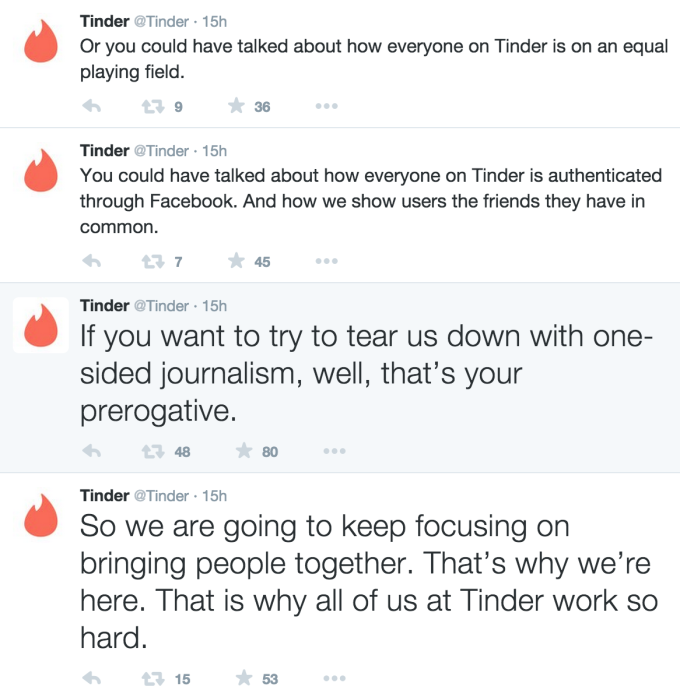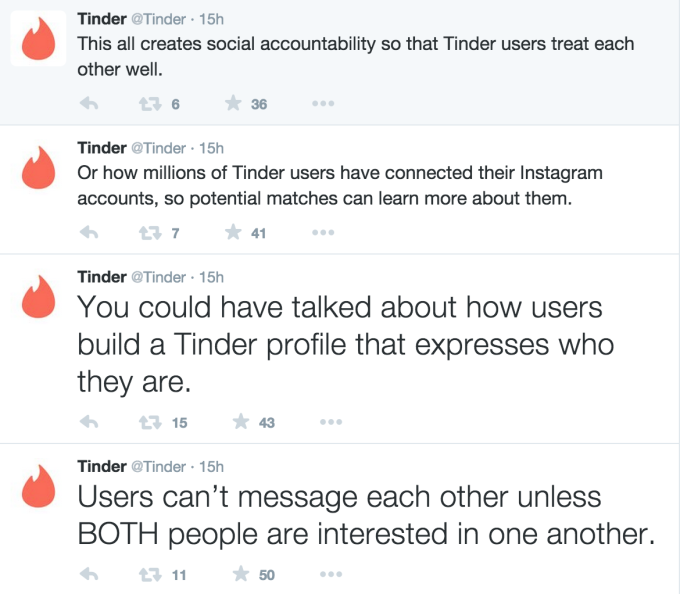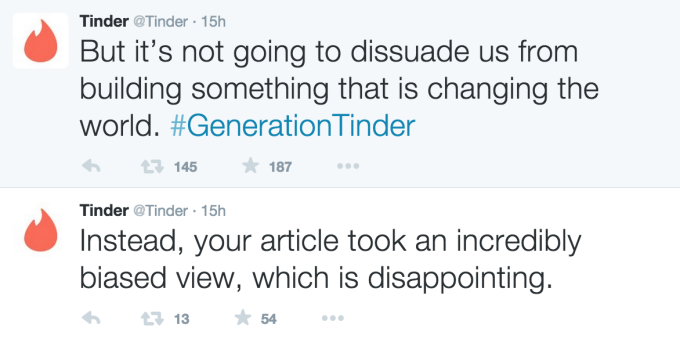 Sprinkled throughout Tinder's definitely-not-mad-at-all sentiments were a plethora of @ rebukes, including from Jo Sales herself, who thankfully stands by her article and takes great offense at the notion that she should have asked for Tinder's permission to proceed with the story because "that's what journalists do."


As usually happens shortly after any public figure (companies are people too!) tweets more than three things in a row, a representative from Tinder issued a statement to WIRED on Wednesday. Hopefully a sign of future entertainment to come, the company doesn't actually apologize or step away from their position that Jo Sales and Vanity Fair should have written an article about them that was more in line with their preapproved talking points:
We have a passionate team that truly believes in Tinder. While reading a recent Vanity Fair article about today's dating culture, we were saddened to see that the article didn't touch upon the positive experiences that the majority of our users encounter daily. Our intention was to highlight the many statistics and amazing stories that are sometimes left unpublished, and, in doing so, we overreacted.
Let's all agree to swipe left on this feud.