There's a moment in Jerrod Carmichael's 2014 HBO stand-up special, Love at the Store, where he suddenly says, "I wanna talk about rape." What follows is a microcosm of Carmichael's comedy, a subversive, semi-funny, fully awkward joke about what would happen if you saw a shooting star while being raped. "Would you," Carmichael asks, "use your one wish to stop that rape immediately or would you see the big picture and wish for the usual million dollars?" The devious, purposely shocking bit is met with mostly hesitant chuckles, and afterwards Carmichael admonishes himself: "Hey Jerrod, maybe you can get rape to work! Like maybe, like, maybe people are ready for that!"
Ready or not, here comes Jerrod Carmichael. The 27-year-old from Winston-Salem, N.C. has spent the last half-decade building a particularly famous fanbase with his stand-up act—Spike Lee directed his stand-up special and Bill Cosby (before he became BILL COSBY) invited him over to his house—and later this month, he'll officially cash in his co-signs and become the newest face of comedy on NBC with The Jerrod Carmichael Show. It's a big deal, not just because a relative unknown is bursting onto the primetime scene with his own self-titled show, but because Carmichael is being asked to pick up the NBC baton in a post-Tina Fey/Amy Poehler/Steve Carell world. But Carmichael's not scared—instead he happily puts his loosely autobiographical show up against classics like Cheers, Seinfeld and The Cosby Show. Apparently once you manage to make people simultaneously squirm and laugh on HBO, a sitcom feels like a total breeze.
A few weeks ago, we got Carmichael to sit down for a long breakfast with us and hit on everything from his show to Kendrick Lamar to whatever the fuck honeydew is.
"i'm not a great boyfriend...i'm still in the 'Can I get a...'
phase and i haven't gotten to 'on the run' yet."
Welcome to New York! What have you been up to?
Just shows man, and a lot of walking around. You'd think I'm writing a novel. I come to New York 'cause it's just a lot of, like, late-night walks for thinking. If I could grow the novel beard, I would. When are we gonna be able to do that?
I don't know. I've tried and it's been like, "You gotta shave."
Yeah, I can't get that, so I can't write a novel yet. You know, you gotta have the full beard. But it's really great to kind of just walk around and be here and experience.
So are you busy with the show?
That's another thing. I'm doing a lot of remote writers' room stuff where there are a lot of calls—a lot of, you know, reading out lines and trying out stuff. [For the writers room], for me it was just picking people that would argue. You know, I just want people to have an argument. That was important to me. So like we find these arguments and then we apply them to story.
How autobiographical is The Carmichael Show?
It is in a sense. Here's the thing: I say it's autobiographical in a sense but then the show says "Jerrod Carmichael" in the title and I'm using my parents' real names, you know?
Oh, so the parents are named after your parents?
Yep—Joe and Cynthia Carmichael. Which for some reason makes me nervous saying all the time. Like, how does identity theft work?
You just need the name. Then you can start cashing checks.
They just need the name, right!? But the show is a lot of my views, a lot of my perspective. It's very close in the sense that my perspective is very real—my views on girlfriends, family, and all these things.
So you're playing a version of yourself?
Yeah. There are some obvious differences. The job is different—I didn't want to be a comic in the show.
What do you do in the show?
The only reason I'm not saying is because it could still change. I purposely left it very vague.
Like Chandler in Friends.
Like Chandler in Friends! Like, "Where do you go all day?"—You know when I realize I'm not an adult? The first sip of coffee.
Are you like, "Nah, that still doesn't taste great."
Well, it's two things—it doesn't taste great, but I also don't know how long to wait before just—it's obviously still hot but I'm just like, [Makes chugging motion]. 
This morning I popped a few ice cubes in my coffee.
I'm sorry to hear that.
So the family on your show—David Alan Grier as the father, Loretta Devine as the mother, and Lil Rel Howery as the brother—is that pulled directly from your real-life family?
Yeah, it is. And then you just kind of exaggerate. You take out the funniest aspects of someone and then build their character. My dad in the show is very opinionated but very inquisitive. He feels strongly about things but can still change his mind. That's a very interesting, very truthful character. But my mom's very sweet, very religious, very traditional. And the girlfriend is based off of all my failed relationships.
Well now you gotta talk about that.
I'm not a great boyfriend but I never have a girlfriend. I'm still in the "Can I Get A…" phase and I haven't gotten to "On the Run" yet. It's just something I haven't prioritized. That's why having a girlfriend is great in the show because it gives me these consequences. Like imagine this guy whose focus isn't on a relationship actually being in a relationship—that's what I'm like in the show. It's a lot of like, "Oh yeah, you shouldn't say that to your girlfriend."  
Like, dude's still figuring it out?
Exactly. But that's such a fun and interesting dynamic.
How much did growing up in North Carolina build this character and show?
There are a lot of warm people in the south. A lot of interesting characters. The way my neighborhood was, you had all these characters: the guy that lives down the street that's always borrowing money, and the very nosey woman that lives across the street, and those types of things. And darker characters too, you know, I grew up around drug addicts. There's always kind of a show happening around you, sometimes not in a great way, but it made you think. You had to be aware of the characters in your world and that informs the show—it's something I'm excited to share.
[The waitress drops off breakfast—a basket of scones and croissants, a fruit bowl, toast, and a side of bacon, of course.]
You got bacon? I didn't even hear it. You like snuck it in there.
I slid a note under the table.
Now I'm just gonna have my fruit bowl. You're welcome to some fruit. Speaking of, it's a lot of like, filler fruit. Like, you can put some more blueberries in there? Do people buy honeydew? I've never heard of anyone saying, "I need to go to the grocery store—I'm really low on honeydew."
Nah, that never happens.
I don't think I've seen a honeydew not chopped up with other fruit. Do you know what honeydew looks like? Do you know the answer?
I think it looks like cantaloupe. 
Do you know that for a fact?
I guess I'm sort of assuming.
Maybe that's item number one for me today. I don't know when, but I gotta find some honeydew. 
There is a Whole Foods like two doors down from here.
Alright. But I'm gonna try not to read the signs. I'm gonna try to guess it. 
You talk about being picked on as a kid in your stand-up. What made you an outcast?
Kids are animals, man. They kind of look for weaknesses. My mom wasn't the one to go out and buy me new shoes, so I was an easy target. This uncool guy. I was awkward, my skin was weird—just like all these things and also not really having a thing to call my own. I didn't know my thing was humor until later on.
What's that like—to be like, "You know what? I'm literally going to go on stage and say funny shit to a bunch of people?"
For me it was really fun once I made the decision. I know this may sound like the "artist's answer," but it is the place where I feel the most comfortable. It is a place where I am my most honest and my most vulnerable. It's the place where I'm eager to share. I'm more comfortable there than I am right now.
Oh, I'm sorry. 
You're very nice but like, right now there's a moment of, "Alright, don't fuck up." But if you were sitting front row for some reason it'd be like, "We grew up together."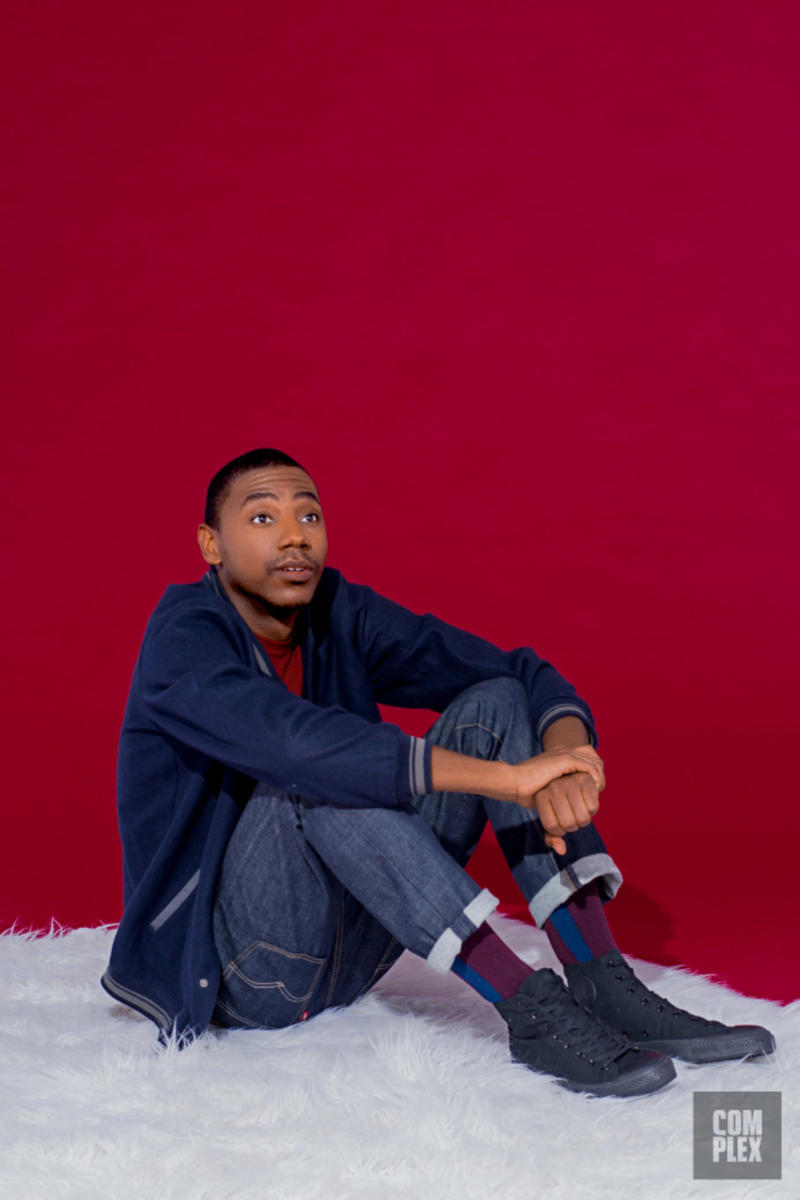 Your stand-up is especially fearless—like how you joke that in the long run slavery was a good thing because without it, you'd still be in Africa.
It's a very ironic feeling to have because it's this horrible thing, one of the most disgusting parts of history, right? But then you think, "Well, where's the silver lining?" Sometimes I'll find a silver lining in things you're not supposed to find a silver lining in. 
Do you ever get shit? Are people like, "Man, fuck you."
Of course. I'm not really into Twitter and those types of things. I'm not on there a lot, but that's where people talk a lot of shit. What I love is when there's an open dialogue and people come and say, "Hey, I disagree with that thing you said, and here's why." And I can be like, this was the thought going into it. That makes me
happy. 
Going back to the show, is it weird playing a version of yourself?
No, because it's kind of the same as stand-up. It's that same heightened, a bit more exaggerated version of yourself, and it's kind of fun to be honest. I look at Seinfeld—he looks like he's having fun. He's just enjoying being Jerry Seinfeld, you know, on Seinfeld. So we'll see with my show.
Does it take place solely in the living room we see in the trailer?
It's pretty contained. I'm excited to keep it pretty contained because it's so interesting. You know, Cheers, you didn't have to leave the bar because what they were saying in the bar was important. All In The Family is the same rule. On The Golden Girls they didn't have to leave the table. And Friends—the coffee shop. You can contain it, if it's interesting.
I guess you're right—that has been a model for a lot of the greats. But it doesn't seem like it happens much on TV anymore.
Listen, you hope that every creator is getting their vision seen—that's what I fight for and everything like that—but I think a lot of times, networks and people just operate out of fear. It's the fear of losing a viewer's attention. I don't have that fear so it's kinda like, if I know that what I'm saying is interesting enough, you'll listen.
Does that come from a place of self-confidence, or is it just that you've worked so hard...
—I think it's both. I'm not gonna lie to you, I feel very confident. And then you work hard, and you do it every night so you know what keeps people's attention. 
Well you do that thing in your stand-up where you go off the cuff and pull out your notebook.
I like to keep it as up to the minute as possible. Like a news ticker. It is like when you hear a song you like and you have to tell your friend about it, you know what I mean? Like you know, you're excited to share, you're excited to tell him about it. That's what stand-up is like for me—I gotta tell them about this, we gotta explore this together.
"the primetime sitcom has become this thing that's removed from reality."
You've said that you want the show to tackle issues like Ferguson—are you going to come at it the same way you do slavery in your act?
What's great about the show—and what you can't really get the complete version of in stand-up, is every side of the argument. You have the rebuttal. In the show, that other perspective can come from my girlfriend, or maybe my father or mother.
Are you nervous about bringing those kinds of conversations to NBC?
I don't really think, "Well, is this going to be an issue?" I try and go into it saying, first of all, "Is this a truthful conversation?" then very importantly, "Is it a funny conversation?" I'm excited because I feel like that may be missing. The primetime sitcom has become this thing that's removed from reality. 
And how's NBC been about you fixing that?
NBC's great. I mean, it's like any relationship. There are some really great people who believe in me and in the project, and creative differences happen, but you figure out how to make the best possible thing together. I think we've gotten to a really great place.
You guys moving in together?
We're moving in together. You know, NBC keeps a toothbrush at my place. NBC is wearing my shirts now—I'm not gonna front, she looks great.
What kind of music do you listen to and what specifically are you listening to before you go on stage?
That's a great question. Okay—Tyler, the Creator's album, the new one. I mean there's some songs in there that I think are amazing. Same thing about Kendrick Lamar's album. I really love My Morning Jacket. But before I go on stage I listen to a lot of jazz—a lot of times I got [Dave] Brubeck, Miles Davis. I have this theory that I hold on to, the theory that everything great in art and in life in general is jazz. It's just like all these things that just kind of seem to fall into place. You know, like mistakes that somehow turn into something beautiful.
What sort of music reminds you of growing up. 
I think it's just music that reminds me of my childhood—growing up, listening to Biggie, a lot of Jay Z. I remember my brother loving "Stay" by Lisa Loeb and it was just so great because first of all, the song would just like stick out like a sore thumb among the other music. It's just like, listening to hip-hop, hip-hop, hip-hop, then, "YOU SAY!" It's such a great song though—it's random songs that remind me of, not even necessarily home, but just growing up. Like "Sex and Candy," man. Also a great song. As is "Juicy" by Biggie. All these things remind me of childhood. 
You're a big Jay Z guy, right?
I love Jay Z. He's one of my favorite artists, absolutely.
You gotta tell me what you think about Tidal.
I think I really like it. I don't have Tidal yet, but I really love the concept, you know what I mean? I really like the artist empowerment—it's fantastic. It's just like, let's see how it plays out. But I have this habit of just buying all of my music. Do you remember the website imeem? I remember like 2008, just me and imeem, just having so many playlists and loving it. I would rush home and listen to imeem. One day I go on—imeem shut down. All my playlists were gone. imeem was just taken away. And for some reason I was like, never again. Hard copies only.
"i prefer new york...it's just the movement, the energy—it forces you to be with people."
So how long have you lived in L.A.?
Since 2008, so about seven years. L.A.'s pretty great, man. But I'll be very honest, I prefer New York. It's more my speed.
Why is that?
It's just the movement, the energy—it forces you to be with people. You have to interact. That need of other people, I love it.
Do you go out a lot?
Every now and then we go out to the clubs in L.A. There's a karaoke spot that's really hot right now that everyone loves going to. It's a nightclub but they got these karaoke rooms and you get drunk and you sing.
What's your go-to song?
Ooh. Depends. Probably something Stevie Wonder.
Wow—you really show off.
I mean, you know. Certain weeks I'm not bad. What about you? What's your song?
I like to do either some Hall and Oates...
—which Hall and Oates song?
Gotta be either "Maneater" or "You Make My Dreams Come True."
Oh really? I like that you don't go classic "Rich Girl." That'd be too easy.
Or it's gotta be "Flashing Lights."
By Kanye? That's a great song, man. I would never think about that for karaoke. 
It gets the people going. Break it out next time, Jerrod. You can have it. 
I'm going to.