"Bring 'em in!" shouts Jenny McCarthy, summoning a pair of male strippers into the studio where she's broadcasting her SiriusXM show, Dirty, Sexy, Funny. It's 11 a.m. on a Monday—a bit early for strippers—but this is satellite radio. Unlike her previous gig on The View, the series allows her to talk about her real interests, like exhibitionism and stimulating the prostate during oral sex. And, because Perez Hilton is co-hosting and it's his 37th birthday, to have a couple beefcakes come in to grind on him.
The first stripper, a stocky, Eastern European guy wearing aviators and dressed vaguely like G.I. Joe, enters slowly while Rihanna's "Cake" plays. He gyrates and tries to look sexy while ripping off his white beater, but it'd be generous to say he has any rhythm. The second guy comes in with a little more energy and no costume—all thong and dong. In no time, McCarthy's small studio, which she shares with a Catholic radio talk show, has turned into a private room at Chippendale's, and Hilton is getting a face full of bulge. For as flamboyant and extroverted as the celebrity blogger appears at almost all times—in person, on Twitter, during TV appearances, in his video blogs—the strippers render Hilton shy. "Oh my God, they're touching my nipples," he gasps as the two men crawl all over him and the swivel office chair he's sitting in.
This is what being—and staying—relevant looks like for Perez Hilton in 2015. Since 2004, when he launched his gossip site, perezhilton.com (originally named pagesixsixsix.com until the New York Post sued him), Hilton, whose real name is Mario Armando Lavandeira Jr., has turned the villainy of being America's most hated blogger into its own form of personal celebrity. He drew droplets of cum and dots of cocaine on paparazzi pictures of Kate Hudson, Lindsay Lohan, and many other celebs until he too was appearing in tabloids. Like for that time when, following the 2009 MuchMusic Video Awards, Hilton called will.i.am a "fucking faggot" and got punched out by will's manager ("I thought about calling him the 'N' word," Hilton told The Advocate shortly after the incident).
That was par for the course for the first half of perezhilton.com's existence. Hilton posted or drew something astonishingly mean or damaging, then the targeted celebrity responded with understandable vitriol or, on many occasions, a lawsuit. Samantha Ronson sued Hilton for defamation in 2007 for repeating a report that she planted cocaine in Lindsay Lohan's car. Lily Allen called him an "evil bastard" in 2009 when he posted an article saying she was unfit to be a mother. Kesha said Hilton "stands for everything I hate" in 2013 after he published leaked, intimate pictures of her and called her "such a trashy whore" (the post no longer exists on his site). And the more Hilton made headlines for dragging famous people through the mud, the more his celebrity grew. Every story needs a villain—even the one about the explosion of celebrity news blogging in the early 2000s—and no one played the part better than Hilton. You could argue that Hilton enjoyed being the bad guy, and considering the twinkle in his eye whenever he talks about any form of controversy, you'd probably be right.
"I'm not an evil person. Nobody's really evil. People are trying to do the best they can and sometimes they f*** up. Sometimes, they f*** up more often than not."
—Perez Hilton
And then, on Oct. 13, 2010, Hilton announced that he'd drawn his last cum stain and that he'd never type the words "Jennifer Maniston" again. "I need to be the change that I want to see," Hilton said in a manic video titled "I'm Going To Be Doing Things Differently." He recorded the video because he'd been trumpeting the anti-bullying cause "It Gets Better" when more than a few astute readers pointed out how hypocritical and ironic it was for the biggest bully on the Internet to urge others to speak out against bullying. "I'm actually a really nice guy with a really big heart," Hilton said with his eyes wide open. "Even if [my traffic] goes down, I don't care." On the same day, Hilton appeared on Ellen, and though he was met with more than a little skepticism—"Didn't you know that you were doing hurtful things?" Ellen DeGeneres asked—he managed to once again turn himself into a celebrity news headline. And with that, the second phase of Perez Hilton's career began.
"Oh, I don't wanna do that! That'll be douchey!" says Hilton. It's 8:45 in the morning, a little over an hour before he's set to co-host Jenny McCarthy's radio show, and Hilton is braving a late March freeze for a photo shoot. Ever aware of how he'll appear, he resists direction to pull a Gwyneth Paltrow and shield his face from the camera flash in mock celeb-paparazzi fashion. Instead, he holds his head up high and struts proudly along 48th Street in a mostly black getup—a Ralph Lauren polo under a vintage Janet Jackson Rhythm Nation 1990 World Tour jacket, a Quads Not Included No. 1 hat, and Henry Holland x Le Specs hooded sunglasses. Later in the day, an actual paparazzo gets in Hilton's face and he reacts the same exact way, so at least he's being genuine.
Interviewing in a café underneath Rockefeller Center, it becomes clear why Hilton has never been fully driven out of the industry, despite all of the personal and professional wrongs he's committed: He has a tremendous amount of charisma. Not capital-C charisma like Tom Cruise has, though. Hilton is extremely engaging, but he comes across as damaged, harmless, entirely emotionally available and fearless at the same time. His real-life personality automatically makes him appear to be a valiant underdog, so before he even starts to talk, he's got you on his side.
"I've been doing a lot of thinking about the next 37 years," Hilton says after taking a sip of tea. He thinks of 37 as the halfway point in his life, and after starting a website that helped change the way people digested celebrity news and helped make the Internet a cesspool of snark in the first half, the second half is going to be much more focused on Perez Hilton, the person. "What do the next 37 years look like? Happy. I've been seeing my therapist a lot lately and he's been trying to encourage me to be optimistic."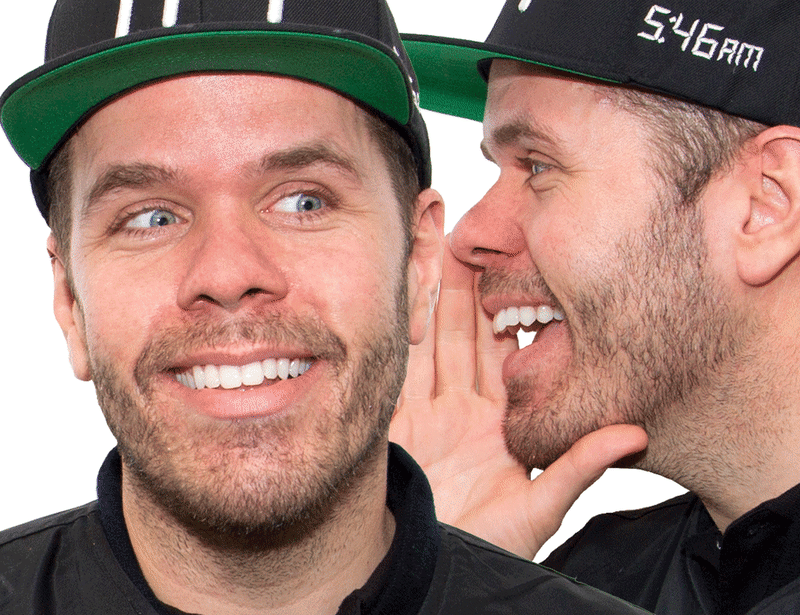 In the last two years, two huge, life-changing things happened for Hilton—things that he insists are the major contributing factors to his jarring, through-gritted-teeth sunny new outlook. First, on Feb. 17, 2013, a surrogate mother gave birth to his son, Mario Armando Lavandeira III, who was conceived with a donor egg. Hilton's priorities shifted immediately. "My son's my number-one priority," he says. "Then the website, then doing more television." Hilton adds that he's never felt more present in the moment or more invested in the future. He's started to recognize the way his actions leave a mark and become better at picking his battles. Now, instead of fighting with John Mayer on Twitter, he's railing against Domenico Dolce and Stefano Gabbana of Dolce & Gabbana for their controversial stance on the "unnaturalness" of same-sex families.
Then, about six months after having a child, Hilton decided it was finally time to leave Los Angeles, the place where all those bridges are still burning. He and Mario Jr. packed up and headed back to New York City, where Hilton lived for several years after graduating from NYU in 2000 with a degree in Drama. "He brought me back here," Hilton says of his son, "and I've been so much happier here." He shares a laundry list of practical reasons why New York is better for him than L.A.—more friends live there, it's easier to be spontaneous because nobody has to drive, traffic isn't a daily concern—but leaves out what may be the most obvious reason. Even when pushed, Hilton won't entertain the idea that his cross-country move has been so positive because he left an insular industry town where a cult of Perez Hilton hate had been brewing for a decade and relocated to a city that moves too fast to care about him. The closest he comes to admitting this is when he says, "I have so many more friends here than I do in Los Angeles."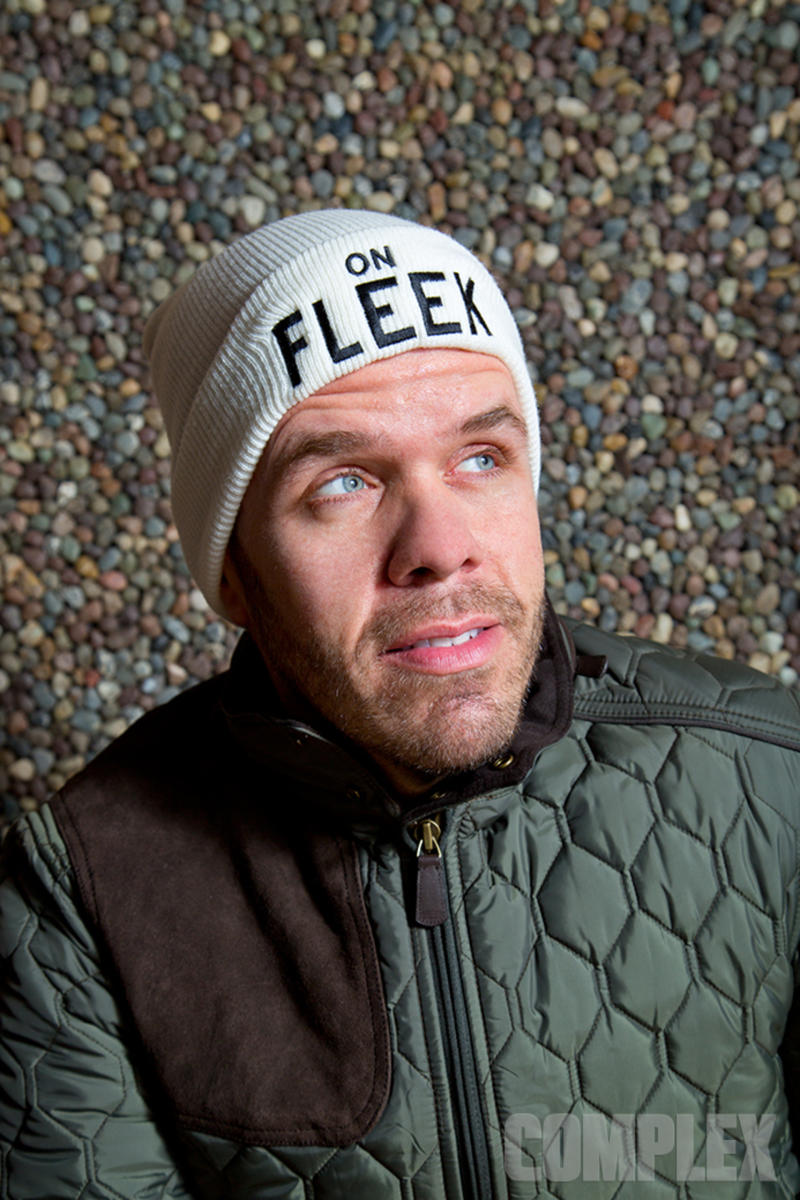 At this point in the conversation, Hilton drops an analogy that reveals the former Angeleno in him: "Life is a lot like surfing, right? Sometimes you have big waves, sometimes you have small waves. So, I'm always optimistic, but sometimes optimism's on low wave. I'm just optimistic about everything. Like, I'm back with fire in my feet, to just create and manifest as much as possible."
The LEGO Movie "Everything Is Awesome" attitude feels forced but it may just be Hilton's armor. From the outside, it appears that he's in the fifth year of a five-year plan to rehabilitate his image and thrust himself back into the forefront of the public consciousness. It involves a lot of work that isn't exactly confidence-boosting. "I don't [balance anything], I just sleep less," Hilton says. His sister, Barbara Lavandeira, who's been his personal assistant since July 2007, concurs: "My only worry for Perez is that he can find a good balance between work and his personal life. Perez is one of the most hardworking people I know."
For Hilton, the strategy is ubiquity—radio hits five days a week on Carson Daly's morning show, appearances on CNN or MSNBC whenever an issue needs a take, a voiceover role on a yet-to-be-announced animated series, and most recently, appearing on the British version of Celebrity Big Brother. Being everywhere may morph into greater relevancy, and the more people see Hilton talking snark-free about celebrity gossip or speaking out against Dolce & Gabbana, the less they'll think about the old Perez Hilton—and that's when more respectable work could roll in. It isn't easy, but it's at least a somewhat viable model.
Hilton's efforts at change have opened some doors but they haven't helped his website. Since peaking in 2009 with an estimated seven million visitors per day (according to The Guardian), perezhilton.com's numbers have been gradually falling. The site still purports to be drawing an average of 12 million unique visitors per month, but search interest is down and the site's Alexa ranking (a metric that ranks the global popularity of websites) has been on a downslide. The past year or so has been a particular struggle. Between January 2014 and March 2015, perezhilton.com's Alexa ranking fell from 1,037 to 1,668 and its number of unique visitors dipped from 11,155,000 to 7,587,000, according to ComScore. While competing websites like usmagazine.com and hollywoodlife.com (36.2 and 31 million unique vistors per month, respectively, according to Quantcast) have found success by being nice, nearly unconditional cheerleaders for celebrities, it's apparent that readers aren't as interested in getting that vibe from the once-evil Perez Hilton.
"I did worry that we would lose readership if the 'mean Perez' wasn't there," Hilton's sister says, adding that while the site has probably lost readers who preferred the bully, it has gained a new audience that enjoys the "nicer, yet snarky, opinionated, funny, and witty Perez."
"Perez knows how to create buzz for himself. He knows how to be seen."
—Jenny McCarthy
But in the last year, the site's only surge in its Alexa ranking came because of immense controversy—and questionable ethics. In September 2014, Hilton published the naked photos of celebrities that had hit the Internet during the now-infamous "Fappening" hacks. After a quick backlash, Hilton replaced the uncensored photos with censored photos, before removing the photos altogether. Hilton tweeted an apology: "At work we often have to make quick decisions. I made a really bad one today and then made it worse. I feel awful and am truly sorry." Jennifer Lawrence, who was hit the hardest by the hacks, didn't believe he was sincere. "He took it down because people got pissed, and that's the only reason why," she told Vanity Fair. "And then I had to watch his apology. And what he basically said was 'I just didn't think about it.' 'I just didn't think about it' is not an excuse."
It's almost ironic—even though Hilton is trying to be more respectful, he's still at his best (read: most successful) when he's pissing people off.
Hilton now talks about the future of his career in mostly abstract terms, so much so that at times it's unclear if he has any real goals outside of staying famous. It's not until a third interview in two weeks that he pulls the curtain back on what he envisions as the pinnacle of Perez Hilton: "My dream scenario would be for a big media corporation to partner with me, buy half of the website, and then help create and launch a TV entity, whether that be an entertainment news show or a talk show." Five years after appearing on Ellen, it sounds like Perez Hilton has plans to become Ellen.
It's unlikely that Hilton will ever be as beloved as DeGeneres, but on Dirty, Sexy, Funny, aside from the five minutes of American-flag-thong-covered dick-thrusting where he's rendered relatively speechless, he breezes through the appearance, his magnetism on full display. During the two-hour broadcast, Nicole "Snooki" Polizzi, Ron Jeremy, and Dennis Hof, owner of the infamous Moonlite BunnyRanch brothel, roll through to do interviews. It's a cavalcade of characters who could have—and did, in the case of Jeremy—starred on VH1's The Surreal Life if it hadn't ended in 2006. As they discuss topics ranging from Hilton's dating life, to Snooki's book, to Rob Kardashian calling his sister Kim "that bitch from Gone Girl," Hilton manages to be the cool one in the room and win everyone over. Whereas McCarthy is in your face, Jeremy is full of bad, tasteless jokes, and Snooki is Snooki, Hilton assumes an air of cool superiority, taking control of a conversation when he wants and hanging back on things that wouldn't be a great look for him, like that prostate tangent. It's not that he's acting like he's better than everyone else—a position he arguably takes every time he criticizes a celebrity on his website—it's just that in person, Hilton has that much gravity. For most of the show, it feels like everyone else is trying to impress Hilton, even Jenny McCarthy.
"Perez knows how to create buzz for himself," McCarthy says after the show. "He knows how to be seen." During the show, she smartly makes a parallel between herself and Hilton, noting their shared personal drive, refusal to stay down, and ability to forge ahead without shame. "We're open about being works in progress. We allow the public to see the good, bad, and the ugly," McCarthy says. "Neither of us pretend to be OK."
"I could have kept [the Ariana Grande tweets] to myself," Hilton says, though the smile on his face betrays any notion that he regrets how the whole thing went down.
Hilton doesn't pretend he's OK, but he surely tries to be—that's what the last five years have been all about. In terms of sticking to that "Doing Things Differently" mandate, it's a struggle for Hilton to make sure he doesn't revert to his old ways, and capitalizing on the Fappening isn't the only time he's lost that internal battle. In February 2014, Hilton made fun of singer Ariana Grande's hairstyle and dress at the Grammys on Twitter. Almost immediately, Grande's fan base started viciously attacking Hilton in response (A sample tweet: "I would say get fucked in the ass but youd like that to much :)"). Instead of taking the high road and brushing off comments that, albeit mean, were coming mostly from people 20 years younger than him, Hilton fought back, taking his anger out on Grande in a particularly petty way.
"Are you OK? I heard someone saw you doing cocaine at a party this weekend. Stay away from drugs, Ariana!!!" Hilton tweeted on Feb. 17. He sent a follow-up tweet: "I'm praying for you! You can overcome this! #JustSayNoToDrugs." He went on to tweet about the rumors to Grande's mother, brother, and Nickelodeon, the network on which Grande's show, Sam & Cat, was airing at the time. Considering Grande didn't do anything besides get made fun of and stay silent while her fans and Hilton went back and forth, Hilton going directly at Grande with an unsubstantiated, potentially career-damaging allegation and then rubbing it in her family's and employer's faces was a stunningly egregious move. It also reeked of desperation, as if Hilton knew that a messy fight with a big star was just as good, if not better, than an appearance on Good Day New York.
"I could have kept that to myself," Hilton says, though the smile on his face betrays any notion that he regrets how the whole thing went down. "I was just really upset that she wasn't telling her fans to leave me the fuck alone! It was affecting me, and I probably—well, not probably—I let that manifest itself in not the most positive way."
On Feb. 20, Grande asked her fans to put down their weapons, and Hilton deleted his tweets.
"I am [always going to be Perez Hilton], just like Joan Rivers was always Joan Rivers," says Hilton. "At the end of the day, even though Joan Rivers pissed off a lot of people and said horrible things about a lot of people throughout her career, the good outweighed the bad. … I use my platform to draw attention to important topics, like [the controversial religious freedom bill] in Indiana. I am more mindful about how I talk about celebrities. But at the same time, I'm not giving a fuck—that's what Joan Rivers did."
Hilton has a tendency to play the victim, and he often does so with hardly any self-awareness. At times he seems genuinely surprised that people hate him, and he doesn't spend too much energy thinking about his role in that. When asked about the Ariana Grande controversy, he places most of the blame on her fans. Despite his reaction to their barbs, he claims he doesn't give a shit what other people think. Later, he admits that there is a part of him that considers outside opinion but assures that his more immature, impulsive tendencies usually win out. It elucidates how this celebrity blogging, dick-drawing monster was born, and grew and grew until a change had to be made, for the sake of Perez Hilton's career and personal life.
It's two weeks after the radio appearance and Hilton is taking a vocal lesson from Broadway fixture Liz Caplan. Currently the vocal advisor for Hedwig and the Angry Inch, Caplan has worked with people like Stephen Colbert and Neil Patrick Harris and is the kind of woman who can nonchalantly begin a sentence with "Amanda Seyfried said to me…." It's not totally clear why she and Hilton are working together. They met in 2012 when Hilton guest starred in the Off-Broadway production NEWSical the Musical, a show that parodies big news headlines (Hilton performed an original number spoofing Chick Fil-A), and he kept taking lessons even after his run was over. Hilton says he has pipe dreams of starring in a Broadway show but the vocal lessons are more a form of meditation. He can go to Caplan's studio and belt out his stress, and then if an actual singing job comes up, like the time in 2014 when he sang the song "My Simple Christmas Wish (Rich, Famous & Powerful)" for the Christmas benefit album Carols for a Cure, at least his vocal cords will be ready.
Caplan's Chelsea studio is located in a building with a lobby that smells like body odor and an elevator that smells even worse, but her place is serene and decked out with modern leather chairs and the fruits of Caplan's career, including signed posters from the casts of Once and Xanadu and a framed letter from Hugh Jackman. She's clearly a proud teacher, almost like a parent who thinks their children are the best at everything, and before Hilton even begins warming up she tells him, "They gotta get you to be Hedwig. You could put all your NYU acting skills to use!" Even Hilton, who never seems to limit the scale of his dreams, reacts to this with a slight eye-roll, but he clearly doesn't mind the notion of being on stage in front of a thousand people every night.
"At least [people are] not coming up to me like 'I HATE YOU!' anymore!"
—Perez Hilton
The vocal lesson progresses with a combination of positive reinforcement, cathartic release, and yoga-like stretching. Caplan works with Hilton on his breathing, making him contort his body and bend into awkward positions while inhaling and exhaling, and in this moment it does indeed appear to be meditative—breathe the good Perez in, breathe the bad Perez out. As for Hilton's singing voice? It's a lot like his speaking voice: booming and nasal. He can project in a forceful way, but his voice isn't exactly revelatory. Caplan calls it "resonant," and notes that Hilton always performs better in front of people, whether it's doing exercises in front of a visiting journalist or performing in his underwear in front of a live audience at a cabaret, which he did last year. "He does it in here and then he goes and does it a thousand times better on stage," Caplan says. Of course Perez Hilton rises to the occasion for an audience.
After an hour of singing out his demons and being preemptively handed a Tony, Hilton is in a great mood. As he crosses 23rd Street, a woman in her 40s casually acknowledges him as she passes. "At least they're not coming up to me like 'I HATE YOU!' anymore!" he says.
Perhaps people are responding to what Hilton says is his newfound empathy. He recently wrote a letter to Lady Gaga, who he was close friends with in his meanest years, until they turned on each other when an interview between the two went south in 2011 (her account of what went down differs from his). "I sent her a message along the lines of, 'I just want to let you know I genuinely wish you only well, I don't want or expect you to respond to this message and I don't want you back in my life,'" Hilton says. He's also apologized to Adam Sandler for calling his then-2-year-old daughter ugly. He's said sorry to Rumer Willis for calling her "Potato Head" for years. He's made peace with Jennifer Maniston Aniston. Perez Hilton isn't a different person—he's just finally trying to be a better person. "I'm not an evil person," he says. "Nobody's really evil. People are trying to do the best they can and sometimes they fuck up. Sometimes, they fuck up more often than not."