Michael Keaton, the man who those of us born pre-1990 see in our heads when someone says Batman, returned to host Saturday Night Live for a third time on Saturday night. How long had it been? This long: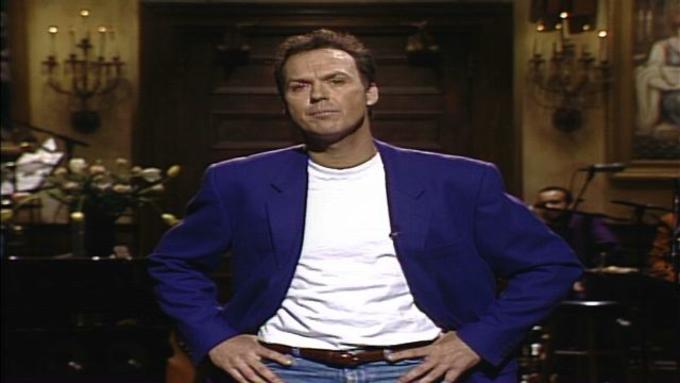 But Keaton is back (thank god), and flying high thanks to the success of Birdman, and with a bunch of other movies in production (including a biopic on McDonald's founder Ray Kroc).  Here's how things went down on Keaton's first appearance on SNL since '92. 
BATMAN RETURNS, SORT OF
OK, musical opening monologues are usually the worst, but this one might be top-10 all time. And they got the Batman/Beetlejuice references out of the way right at the beginning of the show. 
WEEKEND UPDATE: THE WALKING DEAD
Pete Davidson, resident young person, shows up to talk about, what else, but weed (and The Walking Dead, kinda). We won't spoil it, but prepare for a surprise celebrity cameo ahead. 
SCIENTOLOGY NEUROTOLOGY MUSIC VIDEO  
It appears that the SNL writers have definitely seen the HBO Scientology documentary Going Clear. Also, nobody does realistic, 1990s-fashion-filled, VHS-quality footage like SNL. 
EASTER BASKET
It's time to get weird as Keaton takes you on a terrifying trip through his demented Easter basket. 
R0a3Ftczp2aBhZTpUwldQFTFiuqv821D