Jeb Bush hasn't made it official yet, but it looks like he'll be following in his father and brother's footsteps by making a run for the presidency come 2016. It's just too bad the former governor just made his first major mistake—before his campaign even took off. 
The younger Bush brother just released a batch of emails that he sent and received while serving as governor of Florida from 1999 to 2007. And by a batch, we mean a collection to the tune of 250,000. Yep. That's a quarter of a million emails from his account over the course of eight long years, all and searchable in a massive database that you can visit right now. 
When I was governor, I often used email to correspond. I hope you find these notes as interesting as I did: http://t.co/QYBqGClV7F

— Jeb Bush (@JebBush) February 10, 2015
"In the spirit of transparency, I am posting the emails of my governorship here," he says on the website set up by his political action committee, Right to Rise. "Some are funny; some are serious; some I wrote in frustration." He even calls himself the "eGovernor" in the website's introduction, because he spent some 30 hours a week answering messages to his public email address while he was in office (starting during a time when email wasn't the modus operandi it is today).
Now doing something in the name of transparency is just fine. In fact, we need more of it. (Emails about every day people writing about their mundane—or sometimes racist—concerns isn't high on the list of things I want to know about, but I digress.) Yet, as is commonly the problem with releasing a bulk of content without thoroughly inspecting the contents, Bush and his team didn't redact emails that had the names, emails, addresses, phone numbers, and, in some cases, the social security numbers, of its senders. So, people who sent emails more than a decade ago just had their info doxed out of no where. Happy Tuesday.
The Verge uncovered an email that had the email sender's SSN, which they redacted before publishing: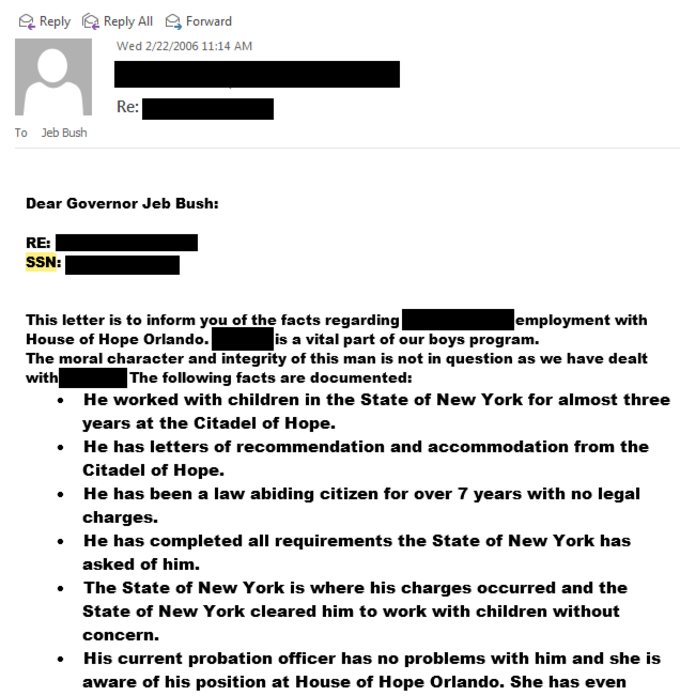 Another email had the SSN and phone number of the mother of a child who was in need of a life saving surgery: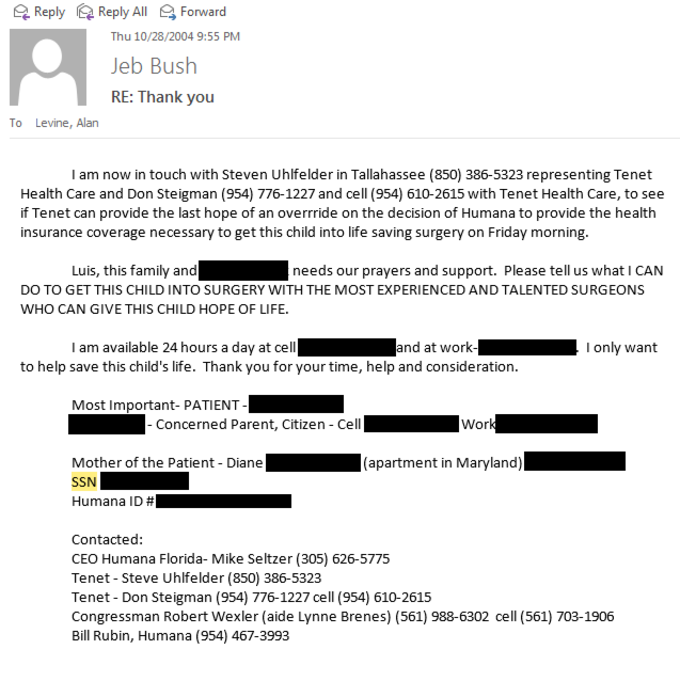 Here's one that contained the SSN of a Florida resident with a unemployment claim: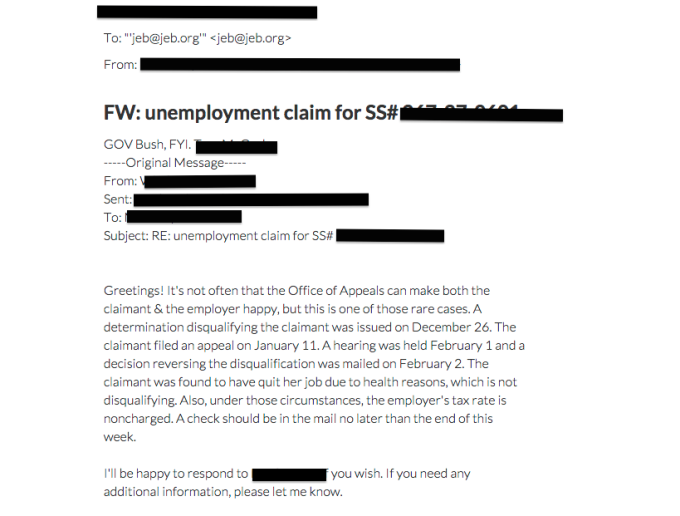 Now, many of the emails were of public record, and Floridians could have requested access to them. But dumping emails out for all to see (instead of requesting them) without combing through their contents for sensitive information is just plain, well, messed up. It's especially messed up since many of the emails were from people who obviously didn't understand how important it was to keep their information private at the time and that this was only a publicity stunt. As of now, Bush's committee has been made aware of the personal information in the emails and they've said they're going to censor them out. I'm not sure how long it'll take, but I imagine you're going to need a few cups of coffee if you're going to go through 250,000 emails. Not to mention, this is the Internet we're talking about here, so anyone who was looking to grab a SSN could have screenshot-ed that thing quicker than you can say "misunderestimated."
As this stunt shows, the former governor is trying to make moves to tap into the youth vote for a potential presidential run. Releasing the emails was meant to show he's transparent and that he was embracing email communication way back when like President Obama embraces social media today.
To give his Internet presence additional boost, Bush also hired Ethan Czahor as his chief technology officer earlier this month. Czahor is the co-founder of the old photosharing website, Hipster.com (who once referred to women as "sluts" on his Twitter account). Even the "eGovernor" can't have it easy.