Japanese officials are working to determine the authenticity of an ISIS video released today which appears to depict the decapitated body of one the hostages being held by the extremist group. Earlier in the week, ISIS demanded $200 million from the government in exchange for their lives. 
According to the New York Times, the clip shows the other hostage, 47-year-old Kenji Goto, holding a photo of 42-year-old Haruna Yukawa's body.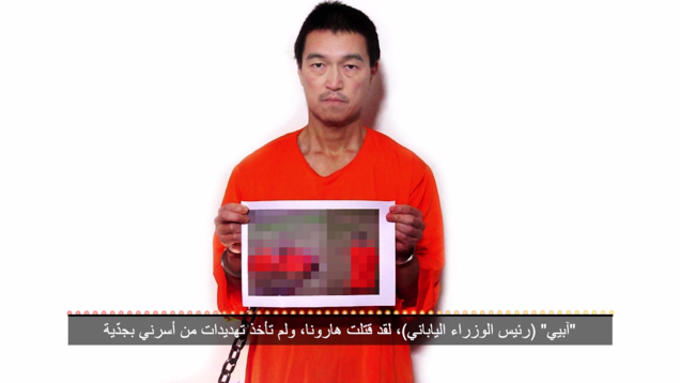 Audio footage that reportedly came with the video is directed towards Japanese Prime Minister Shinzo Abe, blaming his failure to pay the ransom for Yukawa's death: 
Abe, you killed Haruna, the voice says. You did not take the threat of my captors seriously and you did not act within the 72 hours.
The Times adds that ISIS had threatened to kill Goto and Yukawa if their demands were not met by Friday. While the Japanese government still has yet to confirm Yukawa's death, Spokesman Yoshihide Suga delivered a statement on the incident during a press conference: 
"This action is an unforgivable act of violence that leaves us at a loss for words, and we condemn it," he said.
[via New York Times]