"Too much of anything is bad," Mark Twain said. "But too much good whiskey is barely enough." How Twain came to that conclusion without, to my knowledge, ever having visiting Ireland remains a mystery. Unlike Twain, however, I have and finally have the authority (and the liver damage) to officially concur. Here's the story of one Complex editor getting really drunk for three days on Irish whiskey.
Day One
A few weeks ago, I was invited to Tullamore, Ireland to attend the opening of the Tullamore D.E.W.'s newly-completed 35-million Euro distillery. Though Ireland sounded nice enough on paper (rolling green hills, black pudding, selkies, etc), I'll be honest and say that the Emerald Isle wasn't on the top of my list of cross-atlantic countries to visit. Then again, three days of whiskey-drinking isn't an offer that can be easily refused, so my Air Lingus flight was booked and I was off to Dublin in less time than it takes to read the first page of Finnegan's Wake.
The first day of my trip involved a lot of free time, which was more than fine with me. Tullamore set me up in the boutique Dylan Hotel, whose padded-leather elevator and blood-red carpets exude the vibe of a (very chic) sex dungeon. Since aimlessly exploring European cities is my second favorite thing behind luxury hotel bathrooms (the shower heads feel so amaaaazing), I decided that's how I'd spend my day. Hey, I'm a simple man with simple pleasures.
The idea was to shake my post-flight Klonopin fog by walking to the city center, which took me north across the River Liffey. On the map it seemed like I was in for a trek, but it took me less than half an hour. The grey streets, slight chill in the air, and numerous catholic churches were all suitably picturesque; it was easy to imaging Joyce walking the cobblestones whilst imagining new ways to bugger Nora.
Here's an Instagram I took of a church—see what I mean?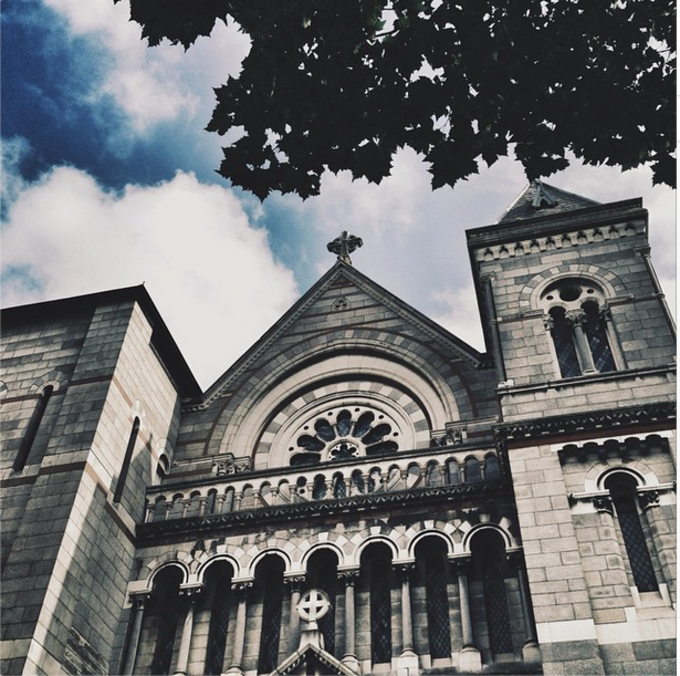 ​
The first event of the night consisted of a spectacular dinner at Fade Street Social—a restaurant whose locavore-leaning New Irish cuisine was very much in-line with what I'd see in Brooklyn. (The beef tongue and carpaccio of scallop was particularly fantastic.) That was also when I got my first taste of Tullamore D.E.W., which I would be drinking copious enormous amount of for the next few days, so bear with me if some of what follows is more than a little blurry.
The group I was with included a cadre of travel writers, many from Eastern Europe and Scandinavia, where Irish whiskey is still hugely popular. As was explained to me throughout the trip, Irish whiskey was once the most popular whiskey in the entire world, but a variety of economic factors eventually resulted in it ceding its spot to bourbon and Scotch.
As the dinner wore on I was introduced to a Bulgarian screenwriter named Emil who either produced or starred in the Bulgarian version of Survivor (like I said–blurry). At some point I found myself explaining the plot of The English Patient to a very nice Latvian journalist, because when you're with 12 different nationalities trying to find common ground that's just what happens. 
Here's is everything I managed to write down that night: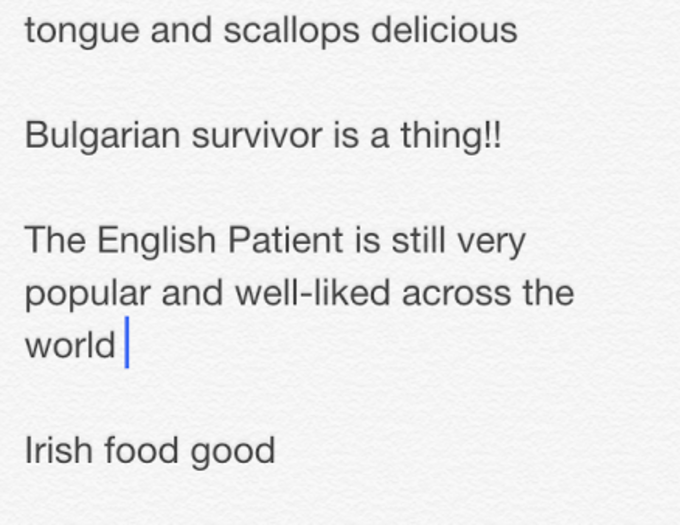 Our dinner was followed by a pub crawl, where Tullamore's rakish, James Bondian Brand Ambassador John Quinn took us through Dublin's streets to some of the city's best pubs. (A Brand Ambassador is basically the face of a brand, but Quinn turned out to be an incredibly charming raconteur with a sincerely deep love and knowledge of whiskey.) We hit McDaids, Kehoe's, and Doheny & Nesbitt all of which had their own charms. (I liked Kehoe's best, if only because James Joyce supposedly hung out there.) I also learned some interesting facts about pubs. For instance, did you know that they don't play music because Irish people are expected to actually talk to each other? How quaint.
Day Two
Waking up after a night of whiskey, Guinness, and bummed cigarettes (hey, if you never start, you don't have to quit) is never a fun thing to do. But waking up after a night of whiskey, Guinness, and bummed cigarettes to a walking tour of local gourmet eateries has a way of helping you push through a hangover.
The plan was to start at the crack of nine in order to hit half a dozen of Ireland's best restaurants before hopping in a mini bus and heading for Tullamore. Our tour guide stressed that Ireland had just came into its own when it comes to world-class food in the last few years, but you'd never have known it sampling the food. Highlights included fantastic cheeses from Sheridans Cheesemongers and—oddly enough—fabulous bagels with lox from The Pepper Pot.  Living in New York has made me a bagel snob, so I was pleasantly surprised by just how perfect The Pepper Pot's baked goods really were. Honestly they could go head to head with Black Seed without a problem. They were that good. 
Here are cheeses we sampled: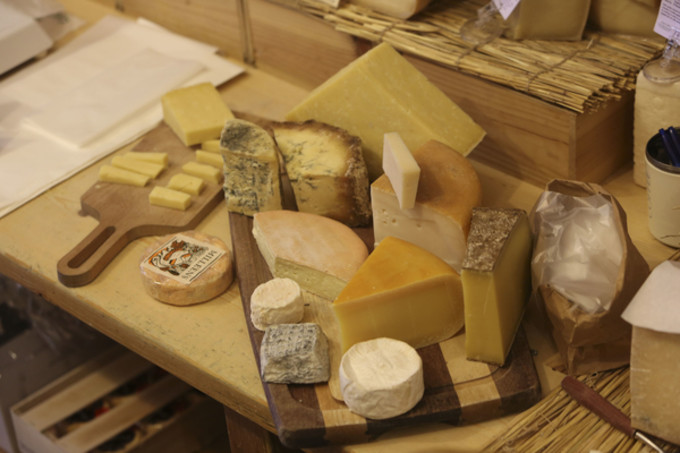 The amazing bagels: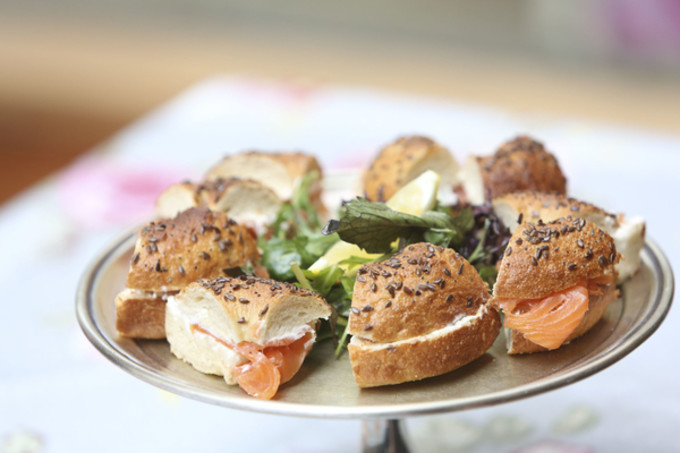 After a few more stops, including some delicious chocolates, curry-infused street-food, and a glass of wine in the basement of Dublin's Whole Foods style supermarket (the wine was Italian, not Irish, thankfully) we hopped on our bus and headed for Tullamore. At this point I was in drastic need of a nap, so even though the ride was an hour and half through the Irish countryside I basically slept through all of it. There were gorgeous green fields (I was told), and bucolic pastures filled with happily grazing sheep (I was also told), but I didn't get to see any of it. Still, the trade-off was worth it. I needed to save my strength for what was to come. 
A picture of what I was probably slept through that I found by googling "bucolic Irish hills":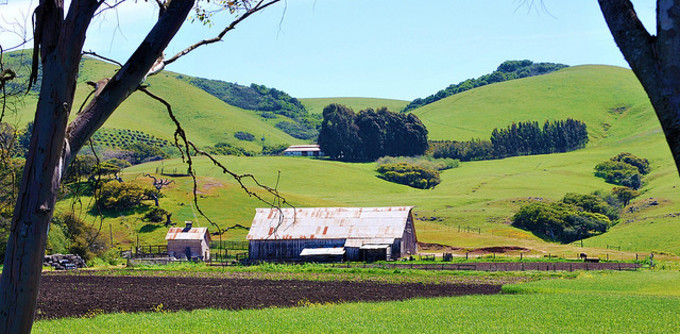 The first thing we did after arriving in Tullamore was head to the Tullamore Visitors Centre (the Irish spell "center" all classy-like). While we were there they gave us snacks followed by a nice guided tour of the whiskey-making process. While the Visitors Centre isn't the same thing as the distillery (I'l get to that later), it serves as place for folks to come learn about how whiskey is made and eat delicious Irish food. It's also the only place you can buy the highly coveted and #VeryRare Old Bonded Warehouse whiskey. The tour involved a short, excellently-produced video starring John Quinn and then a short lesson in the storied history of Tullamore's whiskey production. 
Here are some barrels of whiskey I took a picture of. They don't actually have whiskey in them but look cool anyway: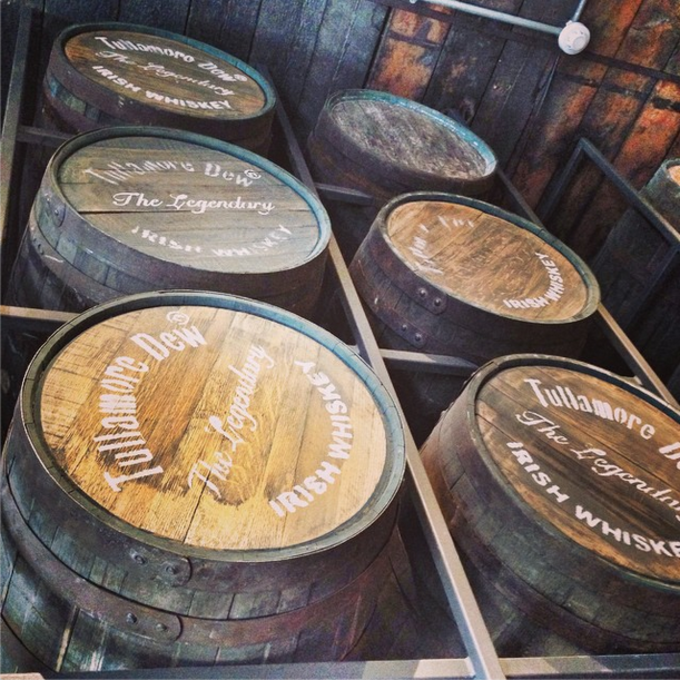 Next it was back to the hotel for some rest, before the evening's festivities. 
Day Two: The Evening's Festivities  
When we returned to the Visitors Centre for our evening dinner, everything was different. The dress code for the event was to be "Smart Casual, with a '50s Twist" and they weren't kidding. They even hired a woman to sit on a vintage motorcycle and a guy to pretend to read a newspaper all night. That's commitment. 
A photo with me and one of the actresses that I did not end up posting to Instagram: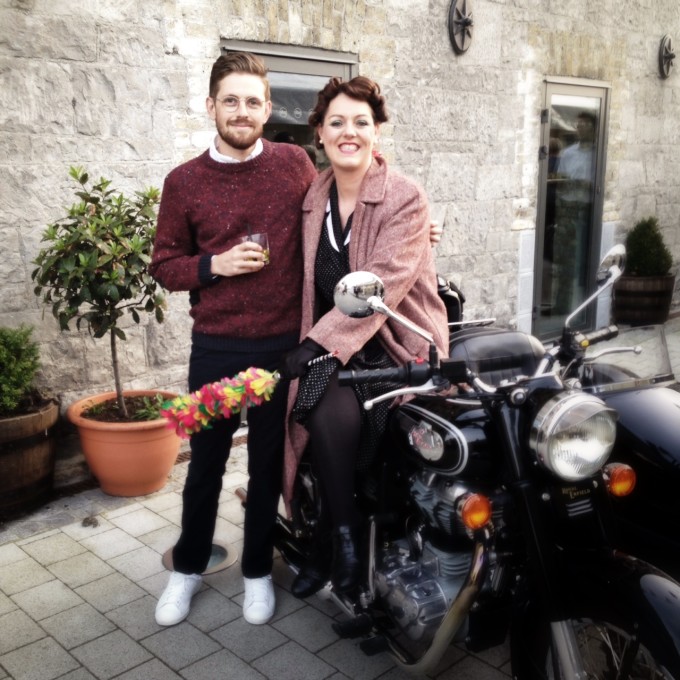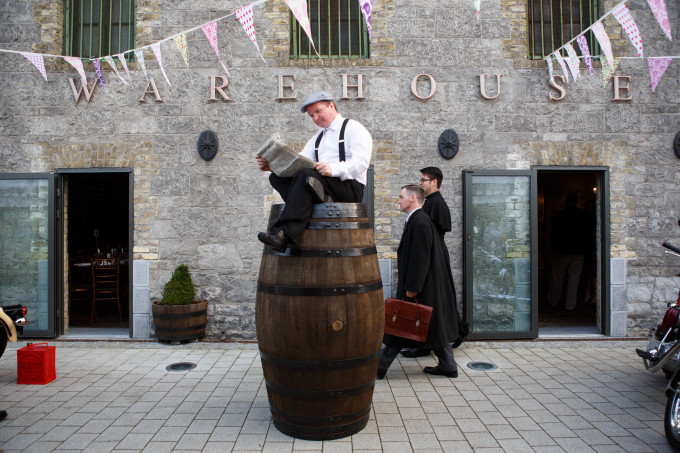 After a few rounds of cocktails and hors d'oeuvres we headed back inside the visitors center for a celebratory meal. As I mentioned at the top of this piece, the whole reason I had been invited to Ireland in the first place was because the brand was opening a new distillery—the first new Irish whiskey distillery in half a century, in fact. This is obviously a huge deal for a small town like Tullamore, not to mention Ireland as a whole. The dinner that night reflected just how special the occasion was. Each course was prepared to pair perfectly with the whiskey, from a delicious chicken dish to the evening's highlight of black pudding. (Black pudding, BTW, is a blood sausage made with pork blood and oatmeal. It sounds gross, but it's actually delicious.) 
This is what it looks like (it's the brown stuff):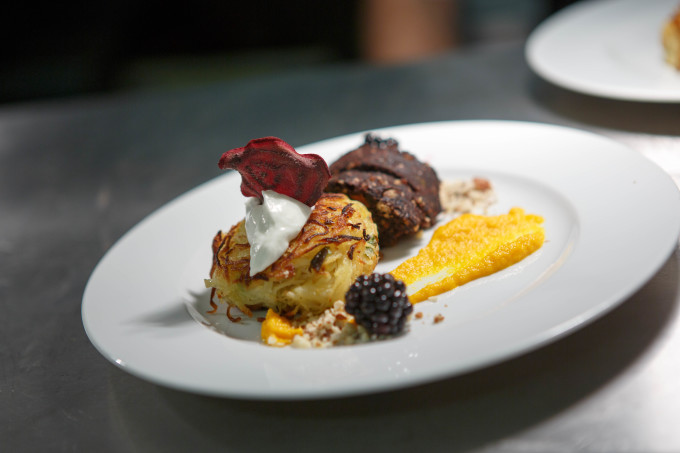 I had the pleasure of sitting at the table with Tullamore D.E.W.'s Master Blender Brian Kinsman, who, aside from being a really nice guy, knows more about making whiskey than just about anyone on the planet. As a big whiskey fan, it was fun to pick his brain. In addition to overseeing the entire production of Tullamore D.E.W., Kinsman is also charge of other Williams Grant & Sons products including Monkey Shoulder and Clan MacGregor of which I also enjoy.  I asked him how he could possibly survive tasting whiskey all day every day, and he said that more often than not he just "nosed" the whiskey (a.k.a. he smells it). Having a super-powered nose isn't quite flying or invisibility, but it's a close third. I also asked him what he thinks of the number one-selling Irish whiskey, Jameson, and the answer was suprisingly diplomatic: "I think Jameson whiskey is great," he said. "They don't use malt, it's a different flavor profile. Skillwise, I'm sure we'll ever or even want to be number one; I think we want to do our own thing." 
The dinner was followed by a bunch of speeches from Tullamore D.E.W. employees, as well as an oddly wonderful reenactment of Irish history through the ages by stage actors. (The point was, I guess, that Tullamore D.E.W. has always been around and that people have been getting drunk regardless of silly trends like cell phones and washing machines.)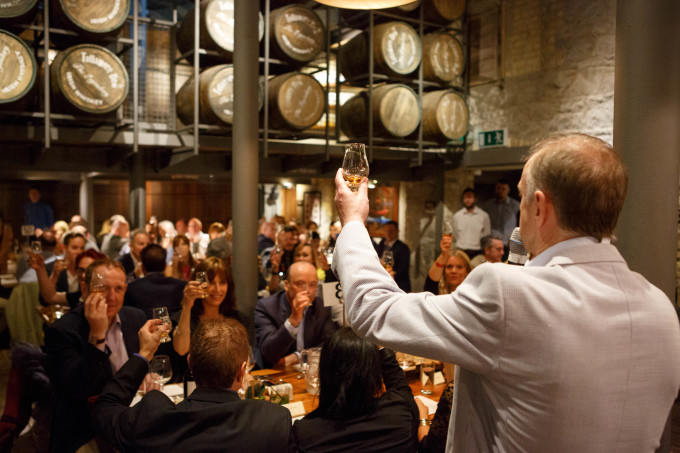 After dinner we went upstairs for a night of dancing. This included actual Irish dancing—like Lord of the Dance Irish Dancing—something that is very goofy to watch on television but very impressive to see in real life. There was also an Irish indie band that did covers of pop hits. My favorite was when they played Simian's "Never Be Alone" a.k.a that song Justice sampled for "We Are Your Friends."  Everyone was pretty wasted by that time and ended up having a fun dance off. As far corporate events go, this was certainly one of the most spirited (get it?) I've ever been to. But by 12:30 it was time to head home, so that's what I did. (I later heard that some of the other journalists stayed up until the wee hours of the morning drinking in the hotel lobby. Aside from a some minor FOMO, I'm glad I abstained. My hangover was bad enough as it was.) 
Day Three   
Not going to lie, the morning of my third day in Ireland was pretty rough. At this point I had been drinking whiskey continuously for two days, with the occasional glass of beer or wine to help me sober up. The fact that I had succeeded in not acting a total fool in front of the very nice Tullamore D.E.W. PR people was a minor miracle, but being the equivalent of four-to-ten drinks under for two days takes its toll. Still, today was the big day: I had to wake up and head to the new distillery for a tour and the opening ceremonies. While the Vistor's Centre was very nice, is just for show; the actual distillery is anything but. I simply can't under-stress how massive the thing was. (During the tour I kept imaging John Hammond's "Spared no expense" line in Jurassic Park.) Everything from the tasting room to the grounds are beautifully conceived. We were some of the first people to tour the facility and it the smell of fresh paint and grain hanging in the air was inescapable. It also made me feel vaguely woozy what with my pounding headache. 
The distillery from the outside—you can see the giant whiskey stills through the windows in front: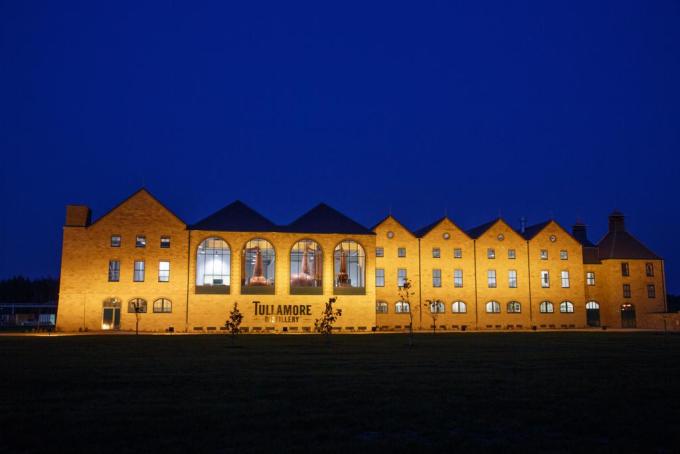 Our tour eventually took us from the special tasting room through the distillery's massive whiskey stills, out to the warehouses where the finished project would eventually be bottled. Until recently all of Tullamore D.E.W. was produced in the same distillery as Jameson at New Middleton Distillery in Cork, but this new facility returned Tullamore's production to Tullamore proper 60 years after the original shut its doors. I could go into exactly how Tullamore is made—which our guide covered in great detail—but if you want to read about whiskey production there's more than enough other resources to be found online. Instead, I'll try to lay down a brief description of what makes Tullamore D.E.W. Tullamore D.E.W.
So: Tullamore is blended whiskey with three ingredients: grain whiskey (corn and malted barley), single-malt, and pot-still whiskey. "All Irish whiskey is going to be fresh and fruity because of the triple-distilled nature," Quinn told us during our tasting. Brian Kinsman told me something similar when I asked him what makes a good whiskey: "Balance. I don't want a whiskey that takes you aback. Some bourbons have big and powerful flavors, some Scotches are like that, but this is all about smooth, accessible, easy drinking." 
As it turns out blended whiskey—though made in other countries—is originally an Irish invention. And, hilariously, it was first made by the name of Aeneas Coffey. (Quinn: "Aeneas is an unfortunate name, but apparently he was a bit of an asshole anyway.") But regardless of the technicalities, the stuff is delicious. During our tasting we sampled four whiskeys from across the Tullamore D.E.W. product line: the 12 Year Old Special Reserve, 10 Year Old Single Malt, The Phoenix (a special edition to commemorate the new distillery), and the Old Bonded Warehouse release. They were all delicious, but the ultra-smooth, chocolate Special Reserve was my personal favorite. 
One of the shiny new stills where the whiskey is made: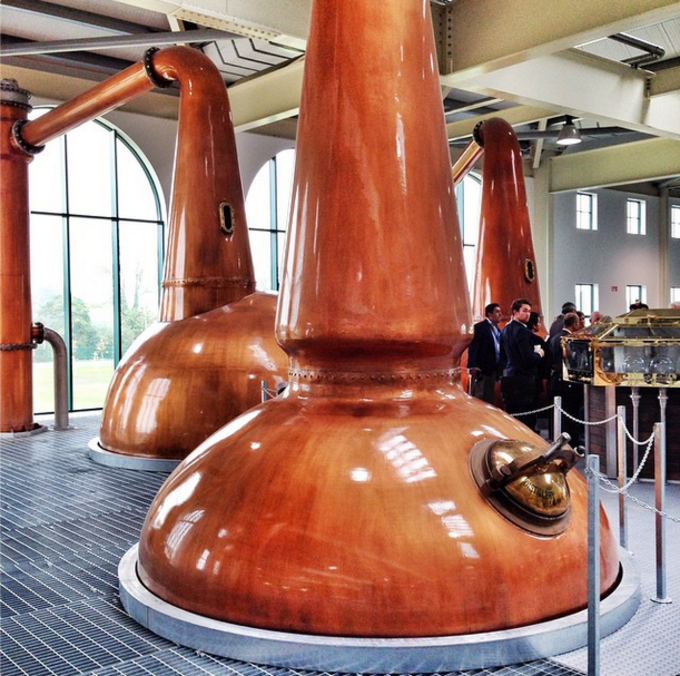 <span></span>
After the tour, it was time for yet another party. But first, there were most speeches from the folks at William Grant and others involved with the company. There was even an appearance from the Simon Coveney, Ireland's Minister for Agriculture, Food and the Marine. I was told he could someday become Ireland's President (or Taoiseach? Irish politics are confusing, but basically the guy is a pretty big deal). Of course before (and after) all the speeches cocktails were served. Over a drink with Kinsman I asked what his personal favorite was. "My favorite cocktail is an old-fashioned, because I'm an old-fashioned kind of guy." I was officially back off the wagon.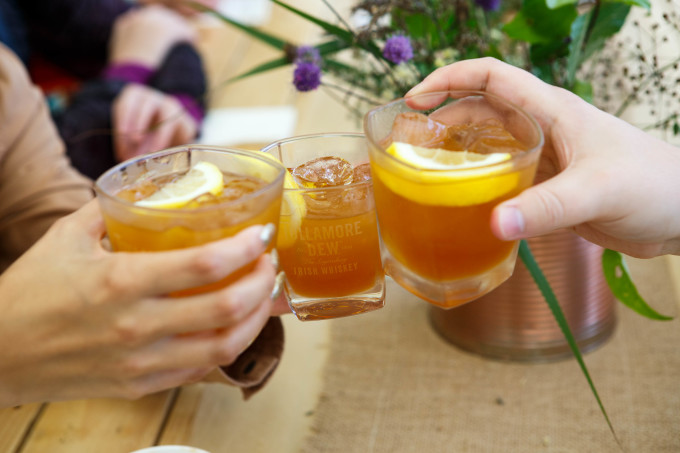 A giant roast pig with a flower carved into it: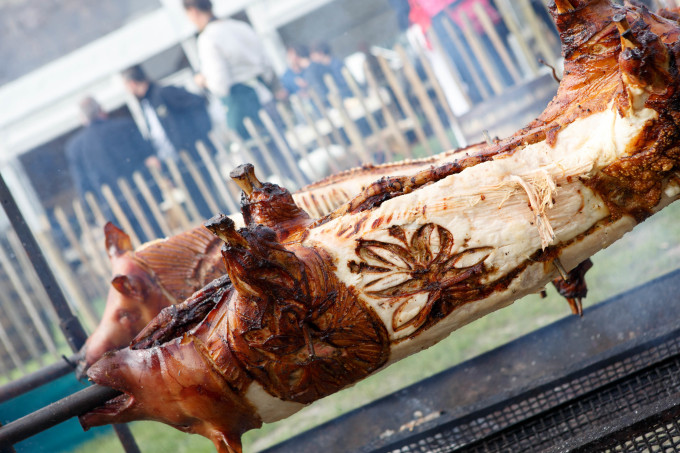 After consuming the above pig and about nine more drinks, it was back to Dublin for one more night. And while the hangover took more than a week to fade, the memories that I actually retained will last a lifetime. 
Nathan Reese is a News Editor at Complex. He Tweets here.