The box-office success and general cheesy-B-movie excellence of 2008's Taken reignited the career of Liam Neeson, who revealed a badass side which had only been fleetingly glimpsed before (as in 1990's Darkman). That out-of-nowhere hit also turned the then-56-year-old actor into a bona fide action star. The Neeson films that have followed in Taken's wake have further reinforced his status as an expert kicker of all sorts of bad-guy ass—and, as in his finest such effort, 2011's The Grey, that includes wolves.
Neeson's rock-'em-sock-'em behavior continues this weekend with A Walk Among the Tombstones. He plays Matthew Scudder, an NYPD detective tasked with looking into the kidnapping of a drug dealer's wife. It's yet another opportunity for Neeson to flex his muscles and show his adeptness at wielding a firearm. But it's also one that, at this point, will continue the Irish-born actor's transformation into something of a snarling elder-tough-guy caricature.
At least Neeson will get some company in the grumpy-old-badass club next Friday, when Denzel Washington re-teams with Training Day director Antoine Fuqua for The Equalizer, a bloodlust saga based on the '80s TV show in which the Oscar winner stars as a vigilante out to right society's wrongs via violence and mayhem. Like Neeson, Washington is a talented actor who finds himself repeatedly drawn to projects that require him to strut about with a gun in his hand—think Training Day, or Man on Fire, or 2 Guns. And like Neeson, Washington, even at the age of 59, strikes a formidable pose, be it while sticking a pistol barrel into some punk's impertinent face.
On the one hand, Neeson and Washington's continued action-genre exploits are no different than that of Arnold Schwarzenegger, Sylvester Stallone, and the rest of their Expendables ilk. With a dearth of legitimate up-and-coming He-men to take their place (only Dwayne Johnson seems a legitimate heir to their throne), they remain Hollywood's most viable figures of macho-man strength and righteousness. But on the other hand, Neeson and Washington are not Schwarzenegger and Stallone—i.e. muscle-bound cartoon characters whose entire careers are predicated on smashing skulls and blowing away anonymous foes. Their persistent desire to pigeonhole themselves in such roles has made each of their action films grow staler and staler by the year.
In other words, both Neeson and Washington need to drop this sort of stuff.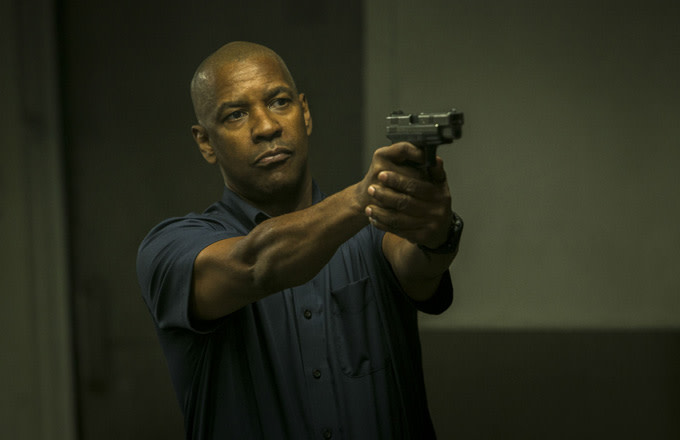 Don't get me wrong, I love disreputable cinema. I've greatly enjoyed Neeson's kill-everyone forays into the Eastern European sex-slave industry, or Washington's howling-mad dealings with drug dealers, blackmailers, and child kidnappers. However, for actors of their stature, the repetitive nature of their action sagas is turning them into bores and reducing them to pale imitations of their former selves. By playing off only one aspect of their personas, these films make them seem larger-than-life in the moment, but diminish their stature in the long run. While on a case-by-case basis they have proven exciting and interesting, these one-against-many parts, on the whole, have turned both Neeson and Washington into blunt instruments no different than hundreds of others, and thus somewhat degraded their magnetism, and their uniqueness, in the process.
For Neeson, the sense of humor exhibited in Hannah and Her Sisters, or the goofy over-the-top heroism he showed in Darkman, or the stern sense of moral authority and purpose that earned him an Academy Award nod for Schindler's List, no longer manifest themselves on screen. Instead, Neeson has chosen to primarily rely on his physical size and gift for gruff growling—a mode that, though put to good use in Taken, The Grey, and the underrated Non-Stop, now seems like the only register in which he can operate. When he's tried to return to comedy, as in Seth MacFarlane's wretched A Million Ways to Die in the West, or drama, as in Crash director Paul Haggis' dud Third Person, he seems ill at ease, as if all that time shouting orders, making threats, and then following through on his dire promises to kill and maim have left him incapable of nuanced expression.
Washington has done slightly more in recent years to keep his dramatic instincts sharp, most notably via 2012's Flight, for which he received a Best Actor Oscar nomination. Alas, the rest of his output for the past decade has shown a consistent interest in big-budget genre pictures that—e.g., Man on Fire, American Gangster, Déjà Vu, The Book of Eli, Safe House, and 2 Guns—that involve him acting like a badass, and usually doing so with a deadly weapon in his hand. In some of those, Washington is more grim and determined; in others, he's playfully cocky and charmingly wily.
But in all of them, he eventually winds up at the same place: affecting don't-tread-on-me gravity with the aid of a gun. Long gone are the days of his complex work in Malcolm X and He Got Game, or the smooth-operator subtlety of his performances in Mo' Better Blues or Devil in a Blue Dress, or even the commanding virtuousness of his turns in Glory and Courage Under Fire. Ever since the Academy saw fit to reward him for his scenery-chewing malevolent-villain routine as a corrupt LAPD officer in Training Day, Washington has increasingly sought refuge, and relevance, in action material that, each subsequent time out, affords him fewer and fewer novel things to do.
This isn't to single out A Walk Among the Tombstones or The Equalizer as particularly egregious; rather, it's to lament once-interesting actors who, in the name of indulging in some (admittedly entertaining) Charles Bronson-y B-movie thrills, have gotten themselves stuck in a rut. Here's hoping that, unlike their vigilante heroes from Taken and The Equalizer, who are destined to forever be called back into duty for further righteous-fury heroism (see: Taken 3 in 2015!), they soon rediscover their former, more versatile selves.
Nick Schager is a film critic who's contributed to The Dissolve, Esquire, and The Atlantic, among numerous other publications. He tweets here.