The Emancipation of Kendrick Lamar
Kevin Powell asserts that Kendrick Lamar's latest album, 'Mr. Morale & The Big Steppers,' is his emancipation proclamation and love letter to us.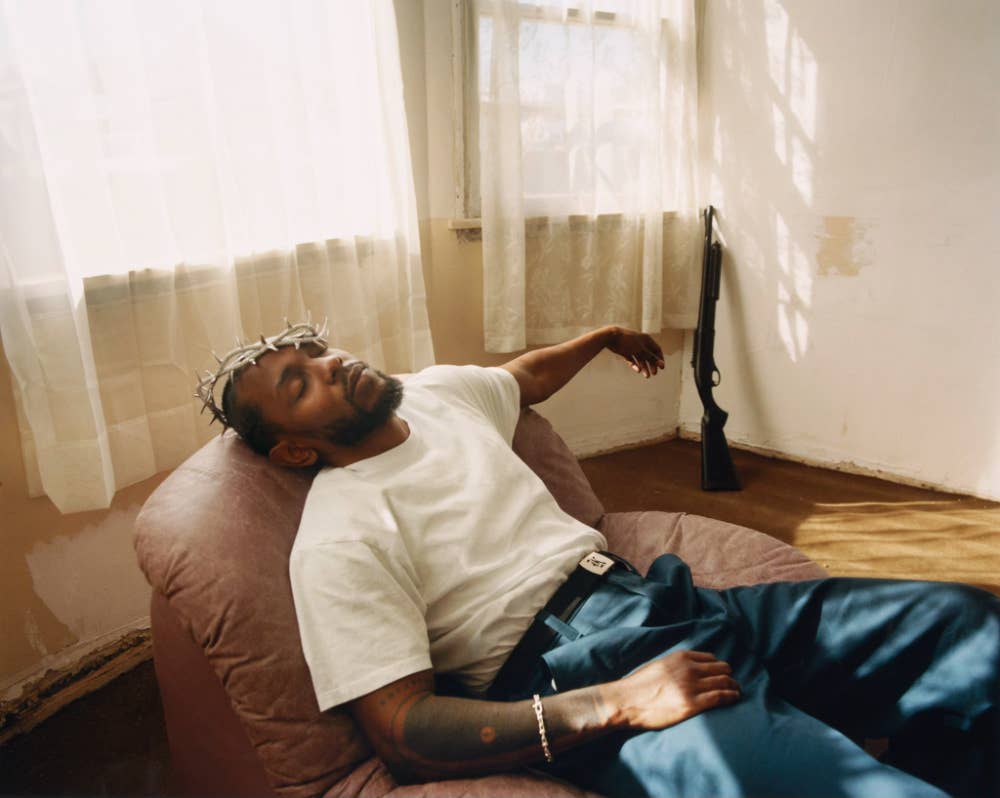 Publicist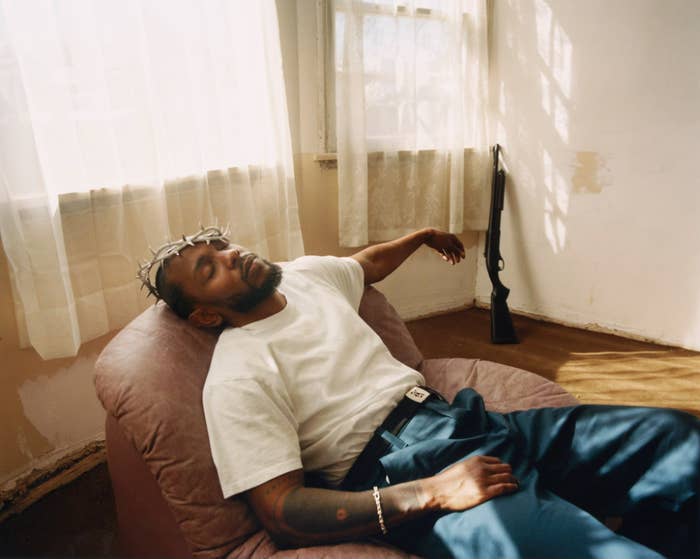 "To be, or not to be, that is the question" —WILLIAM SHAKESPEARE
"I want you—the right way" —MARVIN GAYE
My mother used to say to me, when I was a youth, that she did not know if I would make it, if I would have a long life. Because I was Black. Because I was male. Because I questioned and talked and did too much. Because my emotions were unpredictably wild: sometimes unbelievable joy, sometimes unbearable depression, both rooted, to be blunt, in childhood traumas and generations of abuse and neglect.
Plus, my ma knew, stored deep in the guts of her own history, that I—we—lived in a land that did not seem to want us or want us the right way, except to entertain, except for sport, play, jokes, except for our culture. Because I could get killed, crucified, crushed, for real, by the ugly and oppressive racism of White people, and by the ugly and internalized racism of Black people. Many of us feel this way, whether we say it loud, as Kendrick Lamar has done brilliantly and unapologetically on albums like the Pulitzer Prize-winning DAMN., or largely keep it to ourselves for years, as Kendrick has similarly done since he was a shy and socially awkward ghetto boy just like me. Because to be Black in America—especially the urban poor Kendrick focuses much of his art on—is to be a trapped and pimped-out butterfly with battered and bloodied wings as you struggle to soar inside a concrete box. 
This is why Kendrick Lamar matters. His very spirit gives voice to what it is to be who we are, particularly the Black male experience, the way fellow Black male writers named Langston Hughes, Richard Wright, James Baldwin, Amiri Baraka, Curtis Mayfield, Stevie Wonder, August Wilson, and Kanye West did before him. But, likewise, his art squeezes and pulls nearer to thee all people, all identities, because who has not felt the brutal loneliness of simply existing that Kendrick rhymes about? Or the belly-churning hunger for freedom that his verbal gifts evoke? Or those close cousins, mentioned above, we call joy and depression that he relentlessly excavates in his art, sometimes in the very same line or song?
But I would be lying if I did not say that legions of Black men and Black boys, specifically, desperately seek, consciously, subconsciously, something, someone, who can speak for us, who is unafraid to be us when we are wholly afraid to be ourselves. Hip-hop has lacked a dope and self-aware and self-critical superhero since, well, Kendrick's last solo album five years ago. To cut and paste some old-school sayings, hip-hop has saved a nation of millions, my life included, but we must also honor the truth that hip-hop has been as dumbed down and socially ignorant as reality television and the worst aspects of social media for, say, at least the first two decades of this century. That said, Kendrick ain't perfect, never claimed to be, which is what makes him so refreshing, his unbandaged scars there for everyone to download: He got into this game mad young, a Charles Dickens-like character with a Forrest Gump lucky streak and has had to grow up fast in a blinding spotlight of celebrity and great expectations; Kendrick has been accused of sexism because of joints like "Be Humble"; and for sure he has used language that has made me cringe mightily, including his overwhelming fondness for the n-word and the b-word. 

But then I recall the toxic things I have said, written, done when I was so much younger than today, not really considering every part of humanity either. My hope, as he continues to grow as both a man and an artist, including with and beyond this new album, Mr. Morale & the Big Steppers, is that Kendrick Lamar understands, or will, that saving half the race (if we are speaking of the binary), Black or human, means we are not saving the entire race, Black or human, and that we need far more than the limited Black boys club thinking; we need a steady and heavy dose of the equal legacies of Zora Neale Hurston, Gwendolyn Brooks, Lorraine Hansberry, Nina Simone, Maya Angelou, Toni Morrison, Angela Davis, Alice Walker, bell hooks, Audre Lorde, jessica Care moore, Lynn Nottage, and the mother of his two small children, Whitney Alford. Or, recall, there would not be one of Kendrick's major idols, Tupac Shakur, without the giant of a woman and human and thinker and doer that was his mother, Afeni Shakur, she of the Civil Rights Movement, she of the Black Panther Party, she the mama in Tupac's "Dear Mama." Her life matters, too.



Because to be Black in America—especially the urban poor Kendrick focuses much of his art on—is to be a trapped and pimped-out butterfly with battered and bloodied wings as you struggle to soar inside a concrete box.
Or, moreover, while Kendrick has been away these five years, we've seen the meteoric rise of Lizzo, Cardi B, and Megan Thee Stallion. But I dream a world, this very minute, where a Black woman rap or pop star can be as celebrated as a Kendrick Lamar no matter what she has on, or not, where we talk about her genius, and the content of her lyrics, whatever they might be, as much as we cite the genius and content of a Kendrick Lamar. And when a woman rap artist—Megan—is shot and it is not savagely skipped over like it did not happen, yet we make waves, or mourn, or memorialize, or muralize, Black male artist after Black male artist when something violent happens to them. Say their names loud and consistently please, Kendrick—Megan Thee Stallion, Breonna Taylor—not just the dudes. Their lives matter, too.
But I digress, because this I do know as an avid listener of his music from his lift-off in the 2000s: Kendrick Lamar is the chanting revolutionary drums of The Last Poets. Kendrick Lamar is the mystical liberation theology of Bob Marley. Kendrick Lamar is the holy water blues of Donny Hathaway. Kendrick Lamar is the shirtless political manifestos of Fela Kuti. Kendrick Lamar is the bombed-out 'hood journalism of hip-hop forebears Ice-T, KRS-One, Chuck D, Ice Cube, Snoop Dogg, and JAY-Z. And Kendrick Lamar is the Basquiat portrait of the artist as an ever-shifting rabbit hole in the persons of Charlie Parker, Little Richard, Sun Ra, Miles Davis, Thelonious Monk, George Clinton, Prince, Slick Rick, Andre 3000, and Robert Glasper. That just means that Kendrick Lamar, Gemini card-carrying member like Lauryn Hill, like Prince, like Tupac, like The Notorious B.I.G., like Kanye, is in a league of his own.
But Kendrick Lamar is not Frederick Douglass, nor W.E.B. DuBois, nor Marcus Garvey, nor Malcolm X, nor the Reverend Dr. Martin Luther King, Jr., nor Nelson Mandela, and he may never be a leader on that level the way some think he is already. Nor is he even a full-time activist like me. Kendrick Lamar is a truthful and critically thinking artist, one with a conscience, one with a soul plugged into the sorrow songs of the wretched and ignored of this earth. 
This is why Kendrick Lamar can be famously out of sight for five years, save a few guest appearances here and there; have two children on the relative low with Whitney, his high school sweetheart and rumored fiancé; start new brands and business ventures with his from-way-back artistic collaborator, Dave Free; and drop this message on his website in months past: 
"Love, loss, and grief have disturbed my comfort zone, but the glimmers of God speak through my music and family. While the world around me evolves, I reflect on what matters the most. The life in which my words will land next."
Because we have been waiting for Kendrick Lamar the way diehard Black believers like my mother have been waiting for Jesus—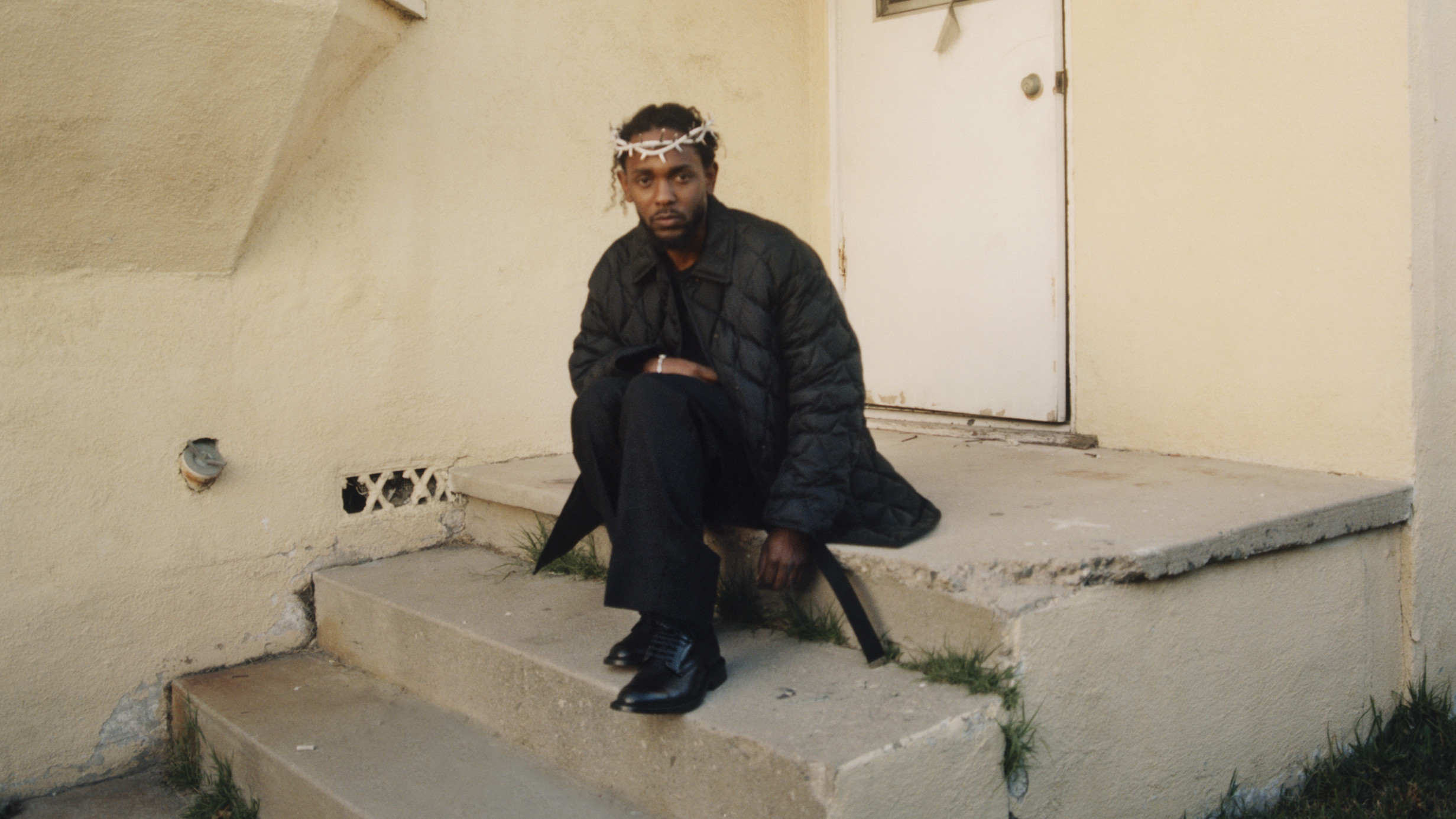 Thus, and seriously, how does any human being, let alone an artist as sensitive and emotionally naked as a Kendrick Lamar, digest and interpret Donald Trump, a global pandemic, endless mass shootings and murders and violence, the explosion of #MeToo and Black Lives Matter, Russia's war on Ukraine, tragic deaths like that of Kobe Bryant and Nipsey Hussle, and the gruesome videotaped murdering of a breath in the form of George Floyd?
What must you feel when one of your tracks, "Alright," becomes a universal anthem for protest and change as omnipresent as John Lennon's "Imagine" has been for half a century?
Or what do you do when the multitudes are begging for a hero, a savior, and they choose you? A chosen one because Kendrick Lamar, like Marvin Gaye and Tupac Shakur, is unafraid to machete his mind in half and let the blood flow where it may. 
Take his latest single not on the new album, "The Heart Part 5." It is a pulsating five-plus minutes of a sermon to himself, to Black America, low-riding atop an interpolation of Gaye's under-appreciated romance opus "I Want You." 
What Marvin is crooning about is the flesh, but so is Kendrick, kinda. The difference is Gaye wants a sensual love here while Kendrick wants to be mentally and spiritually hugged by Black communities, and for us to put arms around ourselves, around each other, to stop destroying ourselves, and each other. The mind-jarring part of the cut is when Kendrick slides into the persona of Nipsey Hussle philosophizing from the heavens to his family, to his fans, even to his alleged killer.
There are few songs in pop music history that so boldly probe who and what we are. Think Billie Holiday's "Strange Fruit." Think Bob Dylan's "Blowin' in The Wind." Think Nina Simone's "Mississippi Goddamn." Think Lauryn Hill's "That Thing." Think Marvin Gaye's "What's Going On." And think Tupac's "Keep Ya Head Up."
That the accompanying promotional would be a starkly minimalist Kendrick on screen with white tee shirt, black bandana around his neck, a maroon-ish background, and semi-twisted locks framing his weary eyes like a lion's mane, was surprising, given his penchant for music videos as cinema verité short films. Until we see him deepfake into the faces of O.J. Simpson, Kanye West, Will Smith, Jussie Smollett, Kobe Bryant, and Nipsey Hussle. Some of these Black men are dead. Some of these Black men are alive. Each of them controversial for one reason or another, and some of them totally problematic. But Black men, nonetheless. And the questions they have in common with Kendrick, with me, with pretty much every Black man who has had to battle racism and the contradictions within ourselves are these: When can my life stop being the amusement park and punching bag for y'all, when can I stop being the envy of the world, and its number one enemy, too?
This brings me to Mr. Morale & The Big Steppers. My mind is on fire and my mind is blown. It is Kendrick Lamar's masterpiece, the way Tapestry  is that for Carole King, the way What's Going On is that for Marvin Gaye. Meaning it is a remarkably personal record of a life and a time, and times past, and times yet to be. And yeah, Gaye is an immediate inspiration, with Kendrick sonically vomiting his heart across 18 songs, 9 each on the two-part album. It is a forehead-gripping therapy session that seemingly admits that there is an epidemic crisis of manhood in America, and like everywhere, through the lens and multiple lives of this 34-year-old Black male born Kendrick Lamar Duckworth. 
It is Nelson Mandela in that South African prison cell for 27 long years shadowboxing with his mortality. It is Shakespeare's "Hamlet" rassling, in excruciating ways in the mud with himself, with the meaning of life; it is James Stewart's George Bailey in the film It's a Wonderful Life pleading to God for answers on why he should live, and how. It is a cry for understanding, and for help, I feel, from an artist literally praying and meditating not to go the path of Elvis Presley. Or Marilyn Monroe. Or Jimi Hendrix. Or Janis Joplin. Or Marvin Gaye. Or Tupac Shakur. Or Michael Jackson. Or Amy Winehouse. Or Whitney Houston. Or Naomi Judd. It is what I have been waiting for from a musical artist, particularly a male musical artist, since the golden era of hip-hop in the late 1980s and 1990s, since the heyday of Kurt Cobain and Nirvana, The Red Hot Chili Peppers, and R.E.M. when Bill and Hillary were in the White House. It is the counterpart to Lauryn Hill's The Miseducation of Lauryn Hill a generation later; but it is also what I fantasize Beyoncé's Lemonade and JAY-Z's 4:44 would have been had they done a public conversation as an album, together, during that tumultuous part of their marriage. It is free jazz, loose funk, imperfect harmonies, jagged edges, screaming splinters everywhere; it is spoken-word masquerading as hip-hop, often, Kendrick on an intimate platform at Los Angeles' World Stage or New York's Nuyorican Poets Cafe; and it is as 'hood as one can get at the barbershop, at the beauty salon, at the fried chicken spot, at the dusty storefront church, at the California swap meet, on the street corner in slippers sucking on a cig. Mr. Morale & The Big Steppers is blow-out combs and curling iron burns, it is baby mommas and baby daddies, and it is a very necessary venting for Whitney and Kendrick of their love for each other, Kendrick's blatant and disturbing adultery notwithstanding. Like what man admits to these things so publicly without the pressure of his wife, as JAY-Z was forced to do because of Beyoncé's bold Lemonade checkmate in the same 2017 as Kendrick's DAMN.?

And Mr. Morale ascends to heights of soulful musings with Eckhart Tolle, the self-help guru, interspersed throughout the record. Yet it also lags, pitifully, when you realize Kendrick's opposition to cancel culture is so severe that Kodak Black, a hugely problematic brother with countless sexual and criminal accusations on his resume, also populates Mr. Morale. Not sure what point Kendrick is making, perhaps he is genuinely mentoring K.B., or thinking he is, but the entire album would have been better served leaving someone like Kodak Black completely off. Same with Kendrick Lamar's excessive use of the n-word and b-word I noted previously. He is too dope of a poetic prophet to be sandbagged with those dangerous words forever.



Because with 'Mr. Morale & The Big Steppers,' Kendrick Lamar has decided to be free—by any means necessary.
That notwithstanding, what makes Mr. Morale a masterpiece, to me, is its spare but impactful music, which feels, frankly, like a movie score that a Terence Blanchard or a John Williams might have concocted. Because what matters most are the words, the bars and beats that clearly have been tugging at Kendrick's brain cells for a long minute. There is the supremely progressive that challenges homophobia and transphobia ("Auntie Diaries"); there is the scathing but sympathetic assessment of his father and fathering ("Father Time"); and there is the holistic breakdown of Black America's post-traumatic stress disorder that unfolds his mother's sexual and physical abuse and scratches furiously at the mental health challenges, and abuses, Kendrick himself warded off as a child, challenges and abuses that dog him into adulthood, that have fed his reckless disregard for women, including Whitney.
To say Mr. Morale and The Big Steppers is dense would be wrong. It is a purging, a baptism, it is the self-surgery of a Black man trying not to fall into that gutter permanently like Ralph Ellison's Invisible Man; but also, a Black man who does not want to be Richard Wright's Bigger Thomas from Native Son, either. As I listened to the voice of his partner, Whitney Alford, narrate parts of Mr. Morale, I could not help but think of the powerful cover image featuring Kendrick and Whitney and their two children, as beautifully photographed by Renell Medrano. The man has hundreds of millions of YouTube views. The man has sold tens of millions of records. The man has won every kind of award imaginable. The man has traveled to places some of us will never see, doing sold-out concerts. But there he is, in this scrunched up box of a space, standing, holding their daughter, a gun peeking ominously from the waistband of his pants, while Whitney sits on the bed holding their son. I don't own a gun, never have, never will, but as a Black man I get why Kendrick, symbolically at least, has the gun in the photo. Who will protect him if he does not protect himself? His family is what he has, what he needs, the cover art is stating emphatically. And the way Nipsey Hussle was blown away, in broad daylight, will leave any Black man super paranoid, be it me or Kendrick Lamar. Especially if you were also badly violated as a child, as he was, as I was. 
Better yet, what is manhood if it is just a cycle of chaos and violence and damage all around you? Or how can you ever love another if you never knew how to love yourself? That is the beautiful struggle, the spiritual tug of war of Mr. Morale & The Big Steppers. I ain't saying Kendrick Lamar has the answers because he does not. But he is trying, and that, no doubt, is half the battle.
The above said, if you can survive what many of us have been forced to survive, only because we are Black and male, then you just want a peaceful life, a peaceful home, and it does not matter the bed is unmade, that there is a lonesome radiator in the corner, that paint is peeling from several parts of the wall. That is the hand-me-down life I came from, that Kendrick Lamar came from, that many of us know, from Brooklyn to Compton to Kingston to Brixton to Soweto. It is a universe you never really escape no matter how much money or fame you might achieve, no matter how much career success you might obtain. Because there is always lurking, like a masked mugger in the alley, that survivor's guilt: Why me, God, when others are dead, or in prison, or otherwise broken? There is the sense of doom that your life still might end prematurely, as it did for Marvin Gaye. For Tupac Shakur. For Nipsey Hussle. For Trayvon Martin. For George Floyd.