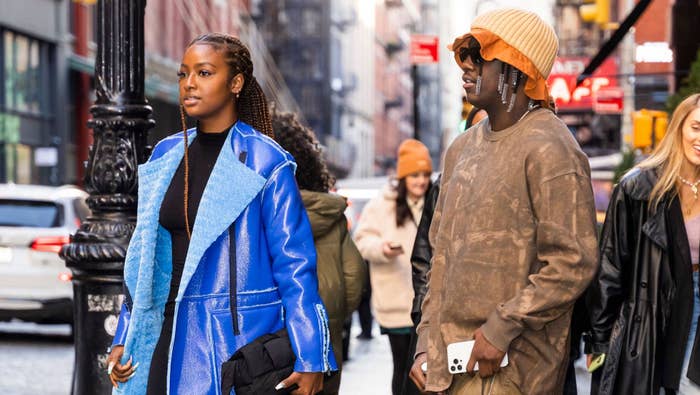 Lil Yachty and Justine Skye have finally responded to the dating rumors that have swirled around the pair since the beginning of January and shared their reaction on TikTok.
The R&B singer and Michigan Boat Boy rapper had been spotted hanging out on multiple occasions but confirmed via Yachty's TikTok, which has since been deleted but was captured by The Shade Room, that they're just friends.
The video starts by showing a headline from the media site The Blast, which asked whether the pair were "coupled up" because they had been spotted celebrating Skye's birthday together. The "Collide" singer then pops into frame and uses the platform's "come look at this" sound to ask Yachty to peep The Blast's headline. Yachty then enters into view, and the pair both burst out laughing. The caption of the video reads, "When Blogs Be Loud & Wrong."
During a candid Instagram Live address in December, Justine Skye spoke openly about how messily her last relationship ended, which fans speculated was with R&B singer Giveon.
"As soon as he would hang up off the phone with me, as soon as he would hang up with me, he would literally be texting bitches like 'FaceTime me. What are you doing? I'm here. Why aren't you calling me?'" Skye recalled during the livestream.
"I see what he's doing, the girl just pulled up," Skye said later around the video's 4:17 mark. "So I'm just like, 'Call me, bro. Just call me. I'm giving you so many opportunities.' … And then I just let it rip. I say, 'My friend just saw you go up to your room with a girl.' No response from him. Complete silence from him. But I have his phone so I see him texting everybody."
"He's texting his best friend like, 'Oh, I fucked up,'" she explained. "He's texting his people like, 'I fucked up.' His best friend is like, 'Uh, just tell me what happened so I can get the lie ready,' which is crazy because I thought these people actually, like, loved me. It's been, like, 14 months since I've been with this fool. Like, living with this fool [and] around everything."
Check out Justine's full Instagram Live session below.