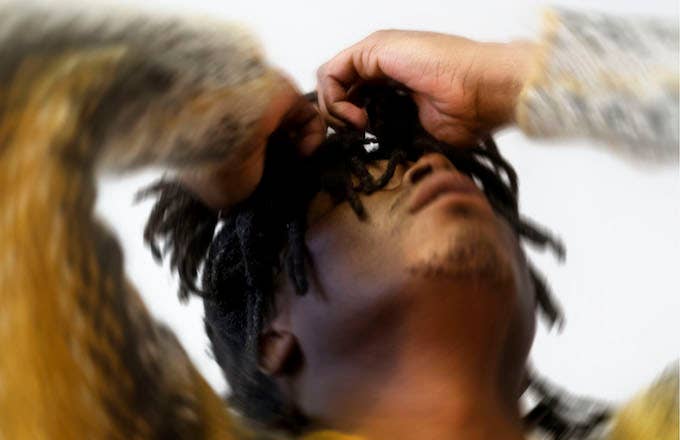 Lucki has been applying the truths of this life to his music for the better part of a decade. Since the release of his first official project, Alternative Trap, in February 2013, the Chicago MC has preferred to be open and honest about his relationships with women, with his hometown, with the opps, and with drugs. Altogether, these parts impact Lucki's day-to-day feelings, thoughts, actions, and artistic output.
On Freewave 3, the long-awaited third installment of his Freewave series, Lucki swan dives into these personal references, which serve as the musical backbone of his work. His new video for "More Than Ever," the lead single from Freewave 3, is a reflection of the lifestyle he's built over time. Shot by Jake Osmun, the visuals feature Lucki riding around Chicago with his homies, goofing around, and smoking blunts with lavender-tinted Mountain Dew bottles in hand. 
Lucki came through Complex's office in New York City, the day after performing at Baby's All Right. Our conversation, edited and condensed for clarity, is below.

How are you doing?
I'm pretty good right now, yeah. I'm in a good space, for real. I'm good. 
How was your show last night?
It was fun. But it was like, my longest set ever. So it was like, tiring. But, it was super fun, though.
How long is a long set?
Like a hour and some change.
That's a long set.
[Laughs]. Yeah, that's a long set.
I saw on the Pigeons and Planes Instagram Story that some of the kids in the crowd already knew full verses from songs off of Freewave 3. What is your relationship like with your fans?
It's a genuine relationship. They know I really appreciate them. The fans that I do got, that's always been around, they really happy that shit going fast now, shit popping now. They really want to make sure I keep pushing, you feel me? It's real fun with them. They just want to make sure that people know what they been preaching for years. So it's kind of fun. I talk to other rappers all the time. Not sounding jealous, but they be like, "Bro, your fan base." They'll be talking about, "If I had your fan base," type of shit.
Yeah. People call it a cult following often.
I don't like calling it that, you know?
I agree, but that's what people online say. Like I was saying, your fans are so invested in you. They're willing to sit and learn every song just to rap it back to you. It's beautiful, but some people also misconstrue what it means to be a fan. In "2012 Summer," you said "My fans worried 'bout my health, so I ain't sipping in public."
You see the picture I posted yesterday, right? I got a baby bottle in my hand. It's like an ounce of lean in there, and people were talking about dying. It's because a lot of rappers be dying from it, but they be over doing it with me.
So sometimes, when I get high, I be hiding it. But sometimes, if I'm happy like this, and I really don't care what they're talking about, I be getting high in public. Sometimes I be hiding it from them because they be doing the most. I really just gotta get used to it. Because sometimes it'll be love, but it's like, fake love. People just wanna have something to say. They'll be like, "Oh, I love you Lucki, but don't die off that shit." You know I'm not finna die off one line of lean, bruh. You feel me?
That shit is annoying. I appreciate it though, but it's kind of annoying, for real. Because it's people out here really burnt out. I don't look burnt out and I'm not burnt out. I'm obviously not burnt out. A lot of shit I talk about in my music is theatrics, you know?
Chicago, Illinois is my support system.
By theatrics, you mean, not embellishment, but making a more interesting story?
Yeah. It be the truth, but it's like, being dramatic. Like, I'll be feeling down and out, but I obviously don't. You see what I'm saying? If that makes sense.

Yeah. We're premiering the video for "More Than Ever" today. It looks like you're just having a good time with your homies, doing your thing. Tell me about the video.
Yeah, right? [Laughs]. That video, I swear to God, that's so funny you said that. That's why I just laughed. Because when we shot it, I had just gotten into it with my friend. He was just telling me, like, "Bro, if you just lock in—like super, super lock in." Because after I finished Freewave 3, I was just not kinda locked in. Freewave 3 been finished since like, October. Besides like two songs. But he was telling me that.
Then we shot the video for "More Than Ever." This happens the night before. It was like the whole day was fun. It was just doing what we do, getting high, having fun, shooting the video. And he was like, "You know, everyday could be like this. Like, you doing some rap shit and working, if you just lock in." That day was pretty fun. The cameraman just caught the guys and our glow. That's why it was funny, because that was just a regular day riding around. That shit was so fun, for real. It was nothing going on—that's just what I like to do. I don't like going to clubs, stuff like that, doing that. Cooling with my friends—not getting high with my friends. 'Cause Pitchfork killed me!

How are you hoping this video will be received by your fans?
I don't really... I be hoping certain people see my videos. I know the fans are going to like it. I'll be happy if certain people see my videos.

Like?
Just certain people.

You have said that Freewave 3 is like a whole year of your life. And you talked about how it was made before and after a breakup. What else affected the outcome of this project?
Going home after tour, I just went around family and friends. I was living out here for like a year. I really haven't been home. So, I had to go home after the hurt—after the breakup. I had to go home to be around my real friends and recoup, you know? That's what happened. And it really worked.

So, to take it back a little bit, it's been around six years since Alternative Trap dropped. How would you say you've evolved since then?
There's one thing. So, when Alternative Trap came out, everybody I grew up with knew that I knew how to rap. But there was just a thing like, "Alright, he know how to rap, he's going to make music for the white kids," type of shit. It was like, "Lucki fire, but it's never going to be something we'll listen to it in the car." So when I got older, when I was like 19, I'm going, "I need to make sure I can make something we can listen to in the car." You feel me? And it just happened. I just make music. I didn't even used to listen to my music at all. I just—

You just made it?
Yeah, I made it. I promise I didn't used to listen to my music. I listened to it to see if it sounded good, but I didn't used to listen to it, to listen to it. But you can ride in a car to it now. I know everybody says it's "versatile" but I'm way above versatile now. I felt like I was rappity rap at first...

You felt you were rappity rap at first?
Yeah.
I'm really close with God. I've been praying every day. I've got a lot of faith.
But you've loosened up since then?
Facts. Yeah. I remember in like 2012, people would be like, "Yeah, you just gotta dumb it down a little bit." I'd be like, "You sound like an idiot, bro." I ain't dumbing it down. But I just really had to find a way to simplify it.

When you drop, people get really excited. Like, they feel seen by you. When was the first time that you saw that reaction and you were like, "Yo, I'm doing the right thing. I'm in the right place." Do you remember?
The first time, I didn't even want to drop it. I rapped it, it's called "Master Plan." I went home, I sent it to my homie, and he was like, "Bro, this shit fire." I took a nap, I woke up, and it was out. Everybody I grew up with was tweeting me, like, "Damn, you know how to rap? This shit go hard."

I was shy. But I was like, obviously I should keep rapping. People fuck with this shit hard, you feel me? It didn't start being the way it is now, until like—it just happened over time. When Alternative Trap came out, I just remember people receiving it [well]. That's why I took a little break until people fell back. Because, when I first went rapping, I released Alternative Trap and it was received so well. Like, with the blogs and everything. I'm like 16 and I'm thinking, rap is this easy. You feel me? My first manager was Scott Vener, so my first show was like a Red Bull Sound Select show. So, I ain't go through like a struggle rap phase. I just thought rap was easy like that. I really did for real.

I feel like I hear you in a lot of these new rappers. Like, just the kinds of productions that you've put your raps over—
Mm-hmm. It's been like that.

Do you feel like a pioneer in a way?
Yeah. Now, I don't really talk to people no more. But when a lot of people blew up, I never was a hater, because they would call me. There's some people I keep a relationship with. Like, people tell me, "I used to listen to you all through high school." Like, Juice WRLD? I fuck with him so much. He's supporting me so much. It is so crazy, for real. With him, it's like, "I used to listen to you in high school, and we friends. Like, I want everybody listen to you." I swear, he do the most, like just retweet stuff. I really appreciate Juice WRLD, specifically. A lot of other people used to do that when they first get on. But I just cut that off from people, because a lot of it is fake.

Who would you say is your support system?
My mother. And I'm really close with God. I've been praying every day. I've got a lot of faith. That's why I like letting kids know God is real. Like, I don't be preaching, but I feel like if you let kids know God is real, he's going to bless you in return. Because you know, we get high, we do a lot of drugs, preach a lot of worldly shit. So, you've got to return that a little bit. I got God, my mom and dad, and then all my friends for real. All my friends for real, for real. Like a whole group of people. Really Chicago, Illinois is my support system.

That's beautiful.
Right? It really is, though.

Yeah. I feel the same about my home state, Texas. I feel like people are supporting from afar. Because, you know—
Because they've been seeing you grinding, so they just be loving it.

I know you said that Future really inspires you, in terms of the way that he's able to talk about his life and his music. Would you ever like to do a collaboration with him?
That's one of the only people. I'd like to make a whole album with Future. You see that I don't collaborate because... Bro, if a nigga super famous and you send him a song, and he sends you a weak ass verse back, you can't ask him to send another verse. You see what I'm saying? So, it's just like, "Fuck it." It sounds like people are rushing. They don't be writing or nothing. So it's just pointless to make music with those people. Because they don't really be taking it serious. They're just making money off of it. And I don't have a problem with that, because I make money off music. I remember I saw one thing and it was like: The person who cares the most about the art is usually the brokest. And basically, the vultures be the richest. But I'm pretty sure we could care about both.