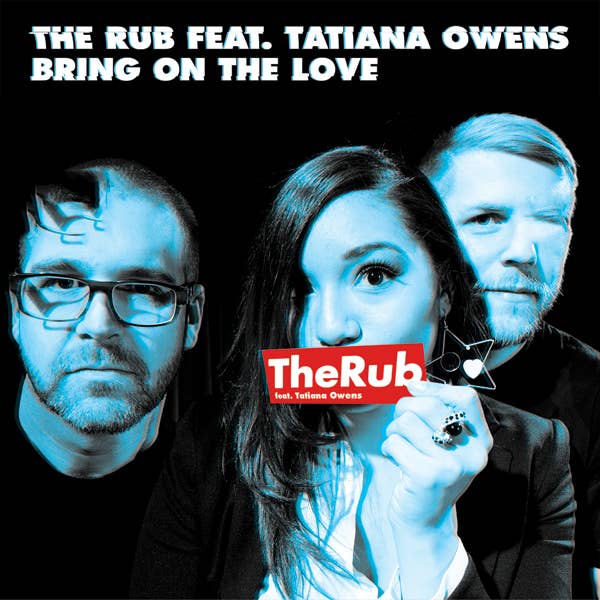 If you know partying in Brooklyn, you should know about The Rub. We're talking about a gathering that recently celebrated its 12-year anniversary bringing dance music, sans bullshit, to the NYC area, a party heralded by the Village Voice and the New York Press as the city's best. You might also remember their stunning "History of Hip-Hop" series of mixtapes. They're practically encyclopedias of hip-hop and dope music altogether—a.k.a. "real-ass DJs."
DJs Ayers and Eleven aren't just celebrated DJs, though; they hold it down as producers in their own right. This week they released a new single with talented, New York-based vocalist Tatiana Owens, who's been featured on a number of DJ Ayers' recent collaborations. Their latest is a full-on The Rub party titled "Bring on the Love," which highlights the club-oriented vibes that The Rub continues to strive for. The disco mix of this tune is just that, complete with funky guitars and uptempo vibes.
Keeping it ultra New York, The Rub turned on the Latin-influenced freestyle sounds for the second mix of this tune; Tatiana's vocals sound epic over the electro-infused beat. Roller skate vibes, forreal. To round out the single, famed DJ and co-Fool's Gold head Nick Catchdubs (who has been getting his production chops up over the last year or so) brings in a slower, more trap-inspired sound for his remix. Three different takes on one dynamic vocal? Sounds like a must-cop. You can do just that via iTunes, or snag it for free via SoundCloud:
To celebrate the release, The Rub will be performing live at The Bell House in Brooklyn on Friday, Aug. 15. This 21+, $15 event won't just feature the two DJs doing their thing; they've invited Tatiana Owens to perform a live set, along with Prince Klassen and Escort, a live, eight-piece disco band. We have a feeling that a live performance of "Bring on the Love" is in the works, but honestly, you have to hit the event to get the full low-down. Check out the flier (above), as well as this premiere of this Escort x The Rub promo mix, which you can listen to in its disco-fied glory below:
Here's the tracklist for the mix:
1. Womack and Womack - "Baby I'm Scared of You"

2. Suzy Q - "Get on Up Do It Again"

3. Nancy Martin - "Can't Believe"

4. The Popular People's Front - "I Love Only You" (Trussel Re-Edit)

5. Jimmy "Bo" Horne - "Spank"

6. Escort - "Barbarians"

7. The Players Association - "Turn the Music Up!"

8. Munk - "Happiness Juice"

9. The Rub f/ Tatiana Owens - "Bring on the Love" (Disco Mix)

10. Roxy Music - "Love Is the Drug" (Original + Todd Terje Dub)

11. Metro Area and Karen Young - "Hot for Miuria" (Prince Klassen Edit)

12. Curses - "Winter Talks"

13. Odysseus - "Used to Be My Friend"

14. Rufus Du Sol - "Sundream" (Classixx Remix)

15. Hugh Masekala - "Don't Go Lose It Baby"

16. Discotheque - "Disco Special"