Memory Lanez: Talking Nostalgia and Timeless Music with Tory Lanez
The Toronto singer and rapper talks about his new album and the importance of memory and nostalgia in his own life and creativity.
Complex Original
Memories are important to Tory Lanez. In fact, the concept comes up at least five or six times throughout our brief conversation, each time with different context. It's no secret that Lanez is inspired by the R&B hits of the past—look no further than his massive hits "Luv" and "Say It," or any of his Chixtape projects for proof—and many of the tracks that he's flipped hold personal significance for him. But it's not just his own memories that play a significant role in his life and his artistic output. He's concerned about creating memories for others too, and seems driven by the idea that he himself could be to one of his fans what Tanto Metro and Devonte or Brownstone were to the younger version of himself.
He went by Daystar Peterson back then, and was born in 1992 in the Toronto suburb of Brampton. His mother passed away when he was young and his father's work as an ordained minister and missionary meant that he moved around a lot as a child, spending time in environments as diverse as the vibrant, Hispanic metropolis of Miami to the historic, French-speaking city of Montreal.  "I think it made my music more seasoned," he says of his unconventional upbringing.  "If I didn't have that, I wouldn't be able to get all the flavours and perspectives of all those places." Despite being a bit of a nomad, Toronto is still his "hometown."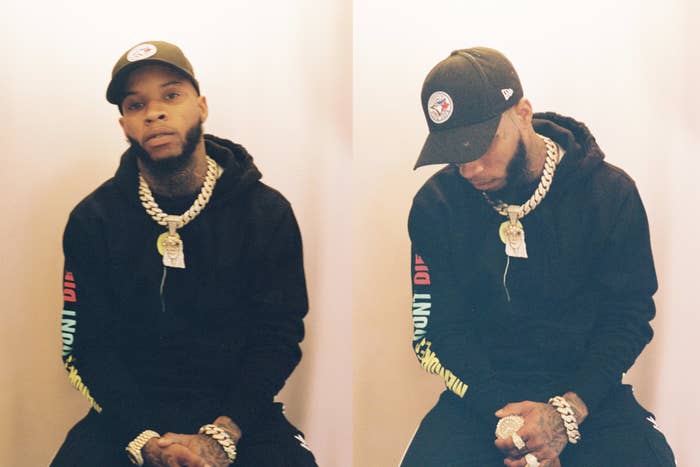 And that's exactly where we meet on a Sunday afternoon in March, at the multipurpose space atop the adidas flagship store on the city's famed Queen Street. He's in the midst of a whirlwind press tour for his new album that sees him hitting four cities across North America in the span of a week, with free concerts and meet and greets in each stop. He had one "day off" between the New York and Toronto but, as is the case when you're a huge popstar in the middle of a promotional blitz, he had to squeeze in a club appearance the night before and as a result was out late. Despite the dizzying and demanding schedule, the singer/rapper/entertainer is pleasant when we meet, apologizing for his tardy arrival and then apologizing again for taking too long while changing his outfit a few times (and trying to decide between chain "out or in" his hoodie) before our interview began. Everything is for the fans, Tory says, and being done in an effort to create memories for them that will hopefully last forever.
Memories Don't Die—which debuted at the #1 spot in Canada its first week of release—is a true sophomore album in that it feels like a progression. While it might be only his second official full length, Tory Lanez has 17 mixtapes, an EP and countless singles and features under his belt. While his "swavey," genre-blurring style is developed enough to be considered a signature sound, Lanez manages to keep things fresh by always be open to evolving: Memories sounds more refined than I Told You, and has seen Lanez move away from elements that didn't get a positive reaction before (the numerous skits and interludes, for instance) and start embracing things he left off the debut— namely, featured artists. 
We already know Lanez's penchant for nostalgia so one can only imagined how excited he must have been to be able to tap a childhood hero, 50 Cent, for one of the album's deeper cuts, "Pieces." Over the same Sting sample as Nas' "The Message," Tory and 50 weave a chilling tale of a young girl who is a victim of rape at the hands of her uncle who eventually gets her revenge. "The first time I ever met [50] we were supposed to have a meeting for 30 minutes but we ended up talking for three hours," Tory tells of how the track came together. "Our relationship grew and we found out we both liked cinema—directing, watching and listening to screenplays. He listened to my track and the screenplay played in his head and he thought, 'I gotta jump on this.'"
It's not your typical rap song, and worlds away from the dancehall-inflected pop music that has given Lanez his widespread notability. While R&B might be what made him famous, rap is his roots, and you can easily find footage on YouTube of a young Tory kicking flows in an outdoor cypher. In the "mumble rap" era, Lanez is one of the few contemporary rappers keeping the art of the freestyle alive.  "I started rapping before I was singing, so rapping is like second nature for me," he says when I ask how he's able to achieve such feats with seeming ease, and the importance of memory pops up yet again: "Everything gets written in my mind; I don't really write too much stuff down on paper. I have things I written in my head, so I can just go for mad long." In case you were wondering just how long "mad long" is, Lanez recently threw down a blistering nine-minute session on Sway In The Morning.
I can't help but wonder how an artist who is so influenced by timeless music and nostalgia reconciles his position in a world where we create content that is only consumed once or twice before disappearing after 24 hours. When I bring up the concept, Tory doesn't skip a beat or show any sign of hesitancy: "I think it's a matter of how honest you can be with people. When you have a conversation with your friend and it's an honest conversation, you always remember those moments because they are 100% transparent. It's the same thing what makes music timeless."
After the North America promo tour is done, Tory will head to Europe for another three dates in London, Paris and Berlin—more fan experiences, more free shows and more memories waiting to be created. So how does an artist who is so drive by memory want to be remembered? "I want to leave a legacy for my son whether he picks up music or not," Lanez says. "I want to be remembered as the dude who came in and did it the illest."