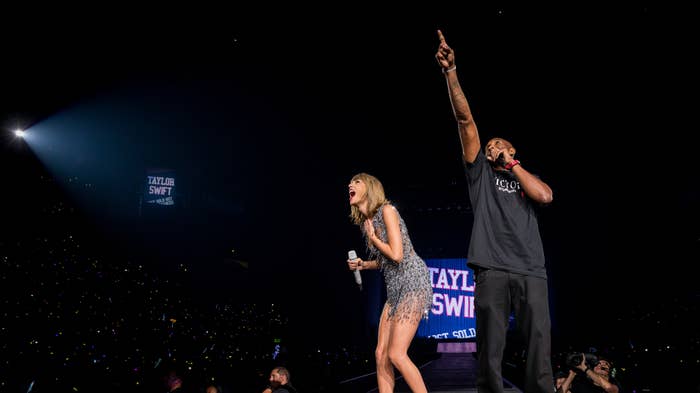 The mystery of the missing Taylor Swift banner has been solved.
Arash Markazi of The Messenger recently spoke with Lee Zeidman, president of Crypto.com Arena, Peacock Theater, and LA Live, who revealed that he knows where the banner is located.
"We have the banner here," Zeidman said. "It's folded up and locked away in a room here at the arena where we store other things."
Zeidman shared that the plan is to display the banner again next year. "We are going to look for a place to display it on the main concourse," he said. "We want to make it a photo-op where fans can take a picture with it."
The return of the banner would coincide with the departure of the Los Angeles Clippers to their new home, the Intuit Dome. According to Markazi, Clippers fans were unhappy with the pennant because they were subjected to jokes about how Swift has one more championship than the NBA franchise.
It appears Crypto.com Arena, which was then known as the Staples Center, removed Swift's banner sometime in 2020 to make room after the Los Angeles Lakers captured their 17th title.
In 2015, Swift was presented with the banner by the late Kobe Bryant onstage in honor of her reaching 16 sold-out shows at the Staples Center, the most in the arena's history.
Bryant spoke highly of Taylor in an interview on the Jordan Harbinger Show, admitting he had taken away some lessons from the Grammy-winning singer.
Bryant's wife Vanessa shared a photo of Swift hugging their youngest daughter Bianka during her performance on The Eras Tour in Los Angeles last month.